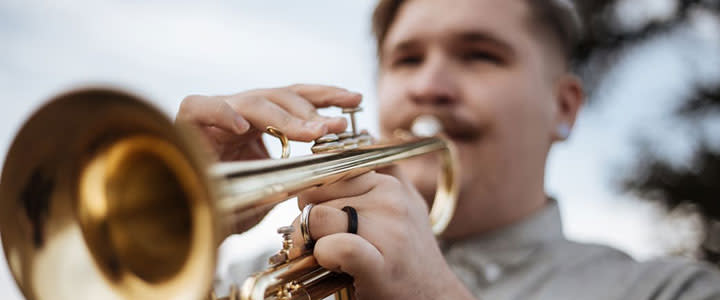 Yes, Steamboat Springs' most acknowledged claim to fame is its status as one of the world's most beautiful outdoor playgrounds. But another of its standout qualities is its rich art and cultural scene, ranging from rodeos to gallery walks. In fact, the town was recently named a Colorado Creative District, one of 23 such communities designed by the state. With striking landscapes in every direction, it's no surprise that numerous creative talents have made Steamboat their home and spend their days capturing its surrounding beauty.
Translating the inspiration of the landscape's colors and textures onto canvas has consumed the days of local painters like Cully Kistler and Lance Whitner, while local wildlife photographer Abby Jensen has captured miraculous shots of cranes descending into meadows and white foxes leaping in play. Their work is just a glimpse of what's on display in the area's many art galleries. In addition, Steamboat has its own pavilion and performing arts theater, which keeps it moving to a constant soundtrack of live music.
All over town, there are countless ways to soak up culture, often while simultaneously enjoying Steamboat's breathtaking surroundings. Here are just a few:
Free Outdoor Concerts
For nearly three decades, internationally lauded artists have made their way to downtown Steamboat's outdoor stage for free summer concerts. Recent artists bringing good vibes to The Boat include the Motet, Stephen Marley, Ziggy Marley, Drive-By Truckers, Trombone Shorty, and Galactic, to name just a few. And yes, you read correctly - these shows are free. It's the most social scene of every week all summer as thousands of locals and visitors alike turn up with their chairs and blankets. It's also an ideal opportunity to sample Steamboat's culinary, cocktail, and craft brew offerings, with dozens of vendors on site. There's a children's play area as well, making this a great activity for the whole family.
During the Mountain Music Series another free lineup of A-list artists lands smack at the base of Steamboat Resort in Gondola Square. In addition to music, the series hosts a free bouncy castle for the kids and a 4 p.m. to 7 p.m. happy hour.
If you can't wait for summer, every Saturday, March through April, the already amplified spring skiing experience reaches high volume with the 20th annual Bud Light Rocks the Boat. Music begins at 3:30 p.m. in Gondola Square and the 2019 lineup spreads the gamut of musical genres, from hip hop/funk masters Main Squeeze (March 16), roots rockers Freddy Jones Band (March 23), and iconic reggae with Bob Marley's original The Wailers (April 14).
First Friday Art Walks
First Friday Art Walks are an enjoyable way to see creations from local artists while strolling along the historic streets of town, with the surrounding mountains providing a constant reminder of nature's own artistic handiwork. Steamboat's collection of museums and art galleries rivals that of most major cities, and every time the first Friday of the month rolls around at least a dozen establishments host one-of-a-kind exhibits and serve refreshments from 5 p.m. to 8 p.m. Here is a map of the upcoming Friday's exhibits.
Chief Theater
This historic, stone-cut building in downtown Steamboat dates back to the 1920s when it was the entire region's go-to venue for everything from live jazz performances to first-run films. Today, The Chief is Steamboat's centerpiece of live, year-round entertainment, hosting everything from full-blown music festivals to improv and theater performances, stand-up comedy, film series, and its spectacular Songwriter Series, an intimate opportunity to catch both America's next big deal songwriter or current Grammy winner.
Movies on the Mountain
Even die-hard movie buffs might feel guilty about spending a beautiful evening in the Rocky Mountains sitting in front of a screen - except if that screen happens to be situated on the mountain, directly under the stars. Such is the setup for Movies on the Mountain, a free showing of popular films aired on an enormous outdoor big screen in Gondola Square at sunset every Saturday of the summer. Bring a chair and a blanket and enjoy family-friendly new releases as well as some classics, think films like Star Wars and The Goonies. Snacks and drinks are available for purchase.
Opera Steamboat
If you think you have to travel to a place like Prague or New York City to catch world-class opera, think again. That's right, Steamboat Springs is home to its very own opera, hosting indoor performances ranging from regional a cappella groups and musical ensembles to classics (á la Don Giovanni), summer outdoor festivals, master classes, and community concerts.
Strings Music Festival
Don't let its name fool you: The Strings Music Festival is a celebration of all musical instruments and abilities. Strings are just the beginning. The spectacular, 500-plus-seat Strings Pavilion hosts year-round ticketed performances by world-class, genre-spanning musicians. Yes, this glass-encased venue crowns the booming acoustics of the globe's greatest orchestras as well as the harmonic intricacies of folk singers (Grammy winner Marc Cohn was just here), African ensembles, and rock bands. You name the umbrella of a musical category, and this is the place to find it. See who's coming on the calendar.
The Depot Art Center
As far as Steamboat sees it, art is produced in many ways, from a paintbrush to a yoga pose. The Depot Art Center is housed in a beautiful brick building that was, in fact, a railroad depot dating back to 1909, when the very first passenger train rolled through town. It has become a venue for all manner of artistic energy thanks to Steamboat Springs Arts Council founder Eleanor Bliss. The center hosts regular gallery exhibits, community activities and classes covering dance, writing, yoga, painting, and every other art form under the sun.
Museums
Situated in an 120-year-old Victorian home, the Tread of Pioneers museum displays artifacts and information from every era of Steamboat's glittering heritage—arrowheads and artwork from the Ute tribe (from whom the Yampa River gets its name), weapons and spurs from infamous Old West outlaws, and a comprehensive and fascinating collection of gear spanning Steamboat's long-standing Winter Olympic tradition. The museum offers a variety of tours, interactive exhibits, family activities, and scavenger hunts. Meanwhile, the Steamboat Art Museum features a jaw-dropping array of regional talent and stunning masterpieces capturing the beauty of the area's landscapes and wildlife. Artists are highlighted in ongoing special exhibitions and admission is free. The art museum also offers ongoing presentations and workshops.
Steamboat Springs Pro Rodeo Series
Grab your boots: The Pro Rodeo Series offers a piece of culture harkening back to the exciting days of the Old West. Beginning in June, the rodeo features the modern world's most talented cowboys and cowgirls in ticketed bull-riding, roping, and cattle wrestling events. There are even clown and barrel acts that the kids will love. Most events take place on Steamboat's own rodeo grounds near downtown.
So while you're in Steamboat Springs, enjoy all the outdoor activities that have helped build its reputation as one of the country's premier mountain towns. But don't forget about everything else there is to do in town - there's a reason that Steamboat draws creative people of all types to make their home here.
Written by Shauna Farnell for Matcha in partnership with Steamboat Springs Chamber.