Employee Resources Toolkit
The Steamboat Springs Chamber has created this toolkit to assist the immediate needs that employees may be experiencing with a range of resources from medical resources, assistance options, and more.
Routt County Assistance Options
Routt County has compiled support resources and options for our community members. This includes unemployment, childcare, food, housing, emergency assistance and more. Learn more about what options are available and how to access them by clicking here. Please share these with your employees and networks.
Unemployment Insurance
Basic guide to unemployment: click here.
Job Attached Unemployment. "Job Attached" means that the employee is expected to return to their most recent employer after a separation of up to 16 weeks. Restaurant employees may be entitled to this benefit should their employer decide an extended closure is necessary. click here.
File for unemployment: click here.
Colorado Workforce Center offers free services to both employers and job seekers. For job seekers, it is a one-stop location for job training and placement assistance. Their resource center offers Internet access, resume preparation assistance, training, local resources, and more.
Critical Resources
If you or someone you know are in need, please call 970.875.3630. The Northwest Colorado Health Partnership is standing by to help individuals navigate available resources. NCHP Care Coordinators can help connect you to emergency assistance funds, food assistance, transportation assistance and mental health resources. See below more details on available resources.
Lift Up Routt County
LiftUp Routt County has three foodbanks located in Steamboat, Hayden and Oak Creek providing food assistance. If you are in need of assistance your first step is to fill out this application.
Parents, be sure to access food support for your children available through the Steamboat Springs School District. A free "brown bag" lunch and next day breakfast starts March 18, 2020 and will continue, excluding Saturdays and Sundays, until further notice. View distribution centers here.
LiftUp encourages Routt county residents at an income level of 300% or lower of Federal Poverty Level (FPL) to shop in the Food Banks to save money on food. That saved money  can then be spent on other bills, or used as needed. Food Banks - LiftUp of Routt County (liftuprc.org)
Many people are surprised to learn that they qualify for this service. The column on the right below shows the monthly income level at which LiftUp serves folks. The left-hand column shows family size. So, for example, if you have 2 people in your household, and you earn $4,930 per month or less, you qualify. Once you are all registered, you can shop once per month for food, and twice per month for fresh produce. Given the price of groceries right now, that can be a substantial savings from the grocery store. They also have other USDA food programs for which folks at lower income levels can qualify. The Rocket Pack program provides summer lunches for your children. Rocket Pack Program - LiftUp of Routt County (liftuprc.org)
Additionally, LiftUp has a Grab N Go section in the front of their Food Banks, where anyone can walk in and grab food every day when they're open, and leave without registering for services.
LiftUp also offers emergency financial assistance with rent, mortgage, utility, medical and other expenses, as well as clothing assistance and a scholarship program. And, of course, an awesome, affordable Thrift Store and a Donation Center! Please visit their website to learn more, see if you qualify, and check out the application and required documents. You will find the applications (in English and Spanish) and more info here: Financial Assistance - LiftUp Routt County (liftuprc.org) , or call 970-870-8804. The Steamboat Food Bank is open Mon-Fri 12:00-5:00pm, and the first Saturday of every month 11:00am-3:00pm.
Here are the income levels at which Routt County residents can qualify for LiftUp's services: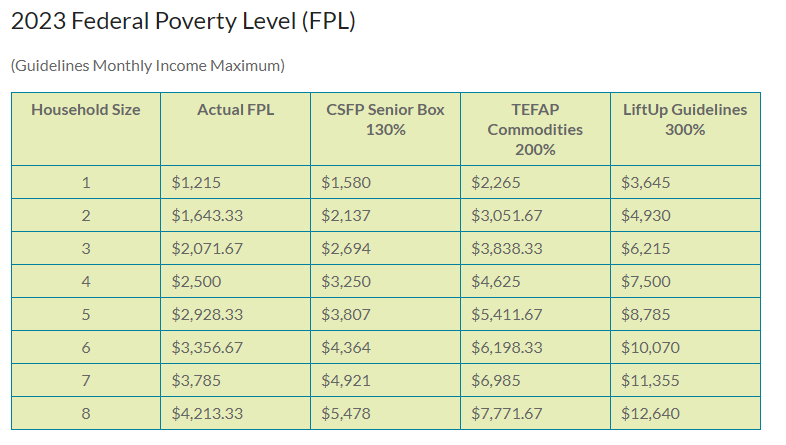 Housing Assistance
Emergency Housing Assistance Fund - If property owners or tenants have been unable to pay rent due to financial hardship caused by COVID-19, you may be eligible for rental assistance from the state. The Colorado Emergency Rental Assistance Program (ERAP) can help renters as far back as April 2020. Help can include past due, current, and two additional months of expected rent costs.
LiftUp Routt County has emergency funds to help Routt County residents stay in their homes during times of financial distress. This is short-term, one-time help based on financial needs. Email: casemanager@liftuprc.org. Phone: 970.870.8804
Utility Assistance
Energy Outreach Colorado – Providing bill payment assistance, heating system repair/replacement, efficiency upgrades, and energy education.
LiftUp Routt County, working with Energy Outreach Colorado (EOC) and internal funding, offers help for Routt County residents who are struggling to pay for water and energy bills during times of financial distress. This assistance is limited to short-term, one-time based on financial needs. Email:  casemanager@liftuprc.org. Phone: 970.870.8804
Love INC of the Yampa Valley provides referrals for utility assistance. Call 970.824.4400
Mt. Werner Water has made adjustments for both residential and commercial customers due to COVID-19.
Visit the Utilities page for more information. 
Transportation
Steamboat Springs Transit Public Transportation Services provides daily fixed route transit throughout the City of Steamboat Springs and curb to curb para-transit service. Starting Sunday, March 29, the free local schedule will be identical to summer service operated last year.  Regional Service will not change. 970.879.3717
LiftUp of Routt County provides gas vouchers for qualifying individuals and families needing to relocate out of Routt County. 970.870.8804
Routt County Veterans Affairs Veterans Assistance provides transportation for veterans to medical appointments in Grand Junction and Denver. 970.870.5469 136 6th St, Steamboat Springs, CO 80487
Routt County Council on Aging Senior Ride Program provides transportation for senior citizens of Routt County to and from meal sites, medical appointments, shopping, banking, and the post office.  970.879.0633
PeopleCare West provides transportation to medical appointments, grocery shopping and errands to all private pay customers. 970.874.0136
Medical
Health First Colorado (Colorado's Medicaid Program) is public health insurance for Coloradans who qualify. Health First Colorado is funded jointly by a federal-state partnership and is administered by the Department of Health Care Policy and Financing.
UCHealth Yampa Valley Medical Center-provides 24/7 emergency medical services. 970.870.1163 1024 Central Park Dr, Steamboat Springs, CO 80487 
UCHealth Virtual Urgent Care Visit with an expert local provider on your computer, tablet or smartphone. No drive time, no waiting room, no need to leave home. They will bill your insurance or you can elect a flat fee of $49.
Northwest Colorado Health provides primary care at Community Health Centers in Steamboat Springs and Craig. They serve everyone, regardless of ability to pay. Most insurance accepted including Medicaid. Discounts are available for those without insurance. On-site interpretation and telehealth appointments available. (970) 879-1632 
The U.S. Department of Labor Wage and Hour Division issued the Families First Coronavirus Response Act (FFCRA) requiring certain employers to provide employees with two to twelve weeks of paid sick leave or expanded family medical leave for specified reasons related to COVID-19 at two thirds to full pay. These provisions will apply from the effective date through December 31, 2020. Review the Employee Paid Leave Rights information and FAQ page. 
Mental Health/Crisis Services
State Crisis Line- provides suicide prevention and immediate crisis intervention services. 1.844.493.8255/text TALK to 38255
Advocates of Routt County provides a safe and confidential safehouse for victims of domestic or sexual violence and their families. Basic needs, such as food and clothing, are provided while at the safehouse. All residents also have access to advocacy services that include goal setting, navigating the criminal justice system, locating long-term housing, accessing financial assistance or public benefits, etc. Hotline: 24/7 970.879.8888 Office: 970.879.2034
Routt County Department of Human Services 970.870.5253
Mind Springs Health delivers and facilitates quality, cost-effective mental health and substance abuse services and provides evaluation and assistance for admission to mental hospitals on a voluntary and involuntary basis.
Steamboat Springs Outpatient Clinic Client Crisis Line: 1.877.866.8192
Connect with Colorado Spirit - Mind Springs Health is a proud partner of Colorado Spirit.  If you are stressed or other-wise impacted because of the pandemic, help is available. Colorado Spirit is a FEMA-funded recovery program to provide disaster survivors with community-based outreach, stress and resilience education, and connection to mental health and other community resources free of charge. Ver en español
Integrated Community assists with limited English-speaking clients in accessing resources. 970.871.4599 443 Oak Street, Steamboat Springs, CO 80487
REPS - Reaching Everyone Preventing Suicide - 970-846-8182 To talk to a mental health professional. Offering free services. 
Northwest Colorado Health provides integrated Behavioral Health care in their Community Health Centers and Dental Clinics, and sees all patients, regardless of ability to pay. Virtual appointments are available through secure video chat or phone consultation. (970) 879-1632