New Bike Trails in Steamboat Springs
Mountain biking in Steamboat Springs is getting better and better. Since 2013, new trails have been built all over the city and surrounding areas, thanks to a lodging tax-funded program. Great progress has been made by the US Forest Service and trail-building crews on the exciting new trail network in the Buffalo Pass and Emerald Mountain area. Emerald Mountain trails are a quick ride from downtown Steamboat Springs and feature a variety of difficulty levels. Buffalo Pass trails can be accessed from Dry Lake Campground off County Road 38 and can be connected to create big loops and can even funnel you all the way down into town.
New Trails on Buffalo Pass
Panorama 
Easy | 1 mile | 174 ft climb | Multidirectional 
The trail is a 1-mile loop which begins (and ends) near the top of the Spring Creek trail, just down from the Dry Lake parking lot. It is a family-friendly beginner-level trail that features a gradual grade, and 360-degree vistas at the top.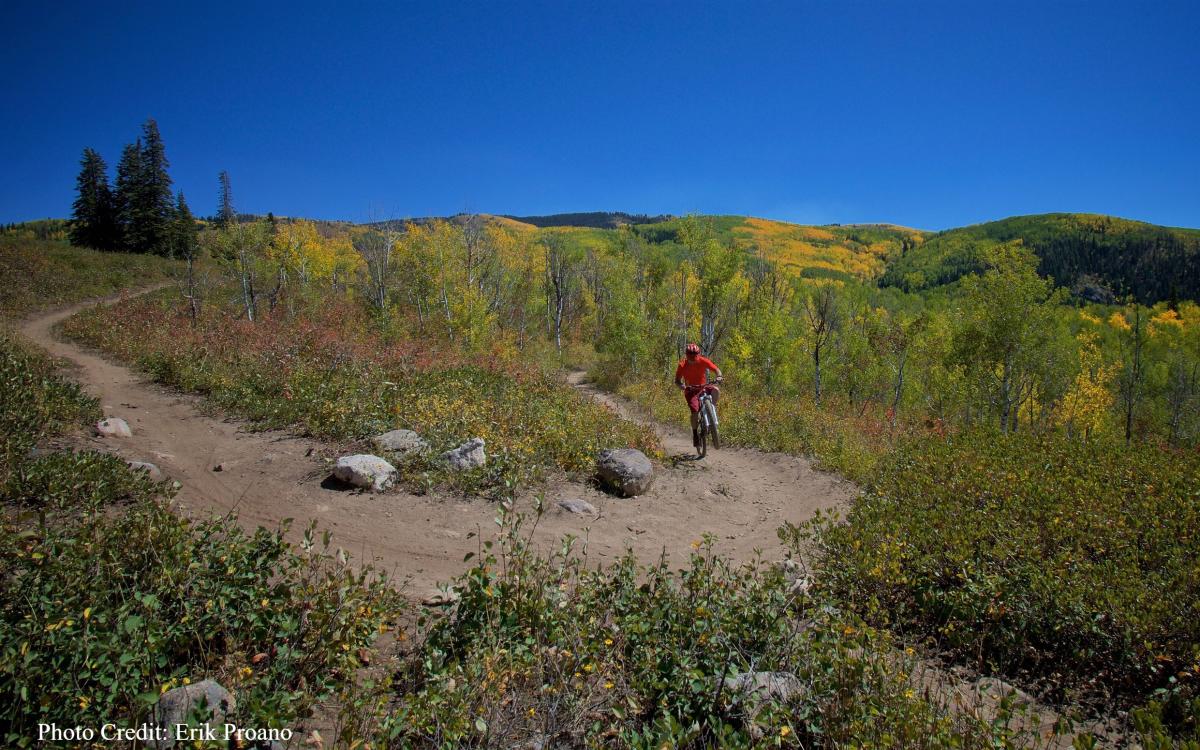 Fiddlehead 
Easy | 2 miles | 135 ft climb | Multidirectional 
Great for kids or anyone wanting to ease into riding on Buff Pass, this green-rated trail winds through its namesake fern groves and aspen trees. The trail has little elevation gain and serves up great views of Soda Mountain and the Zirkel Wilderness beyond.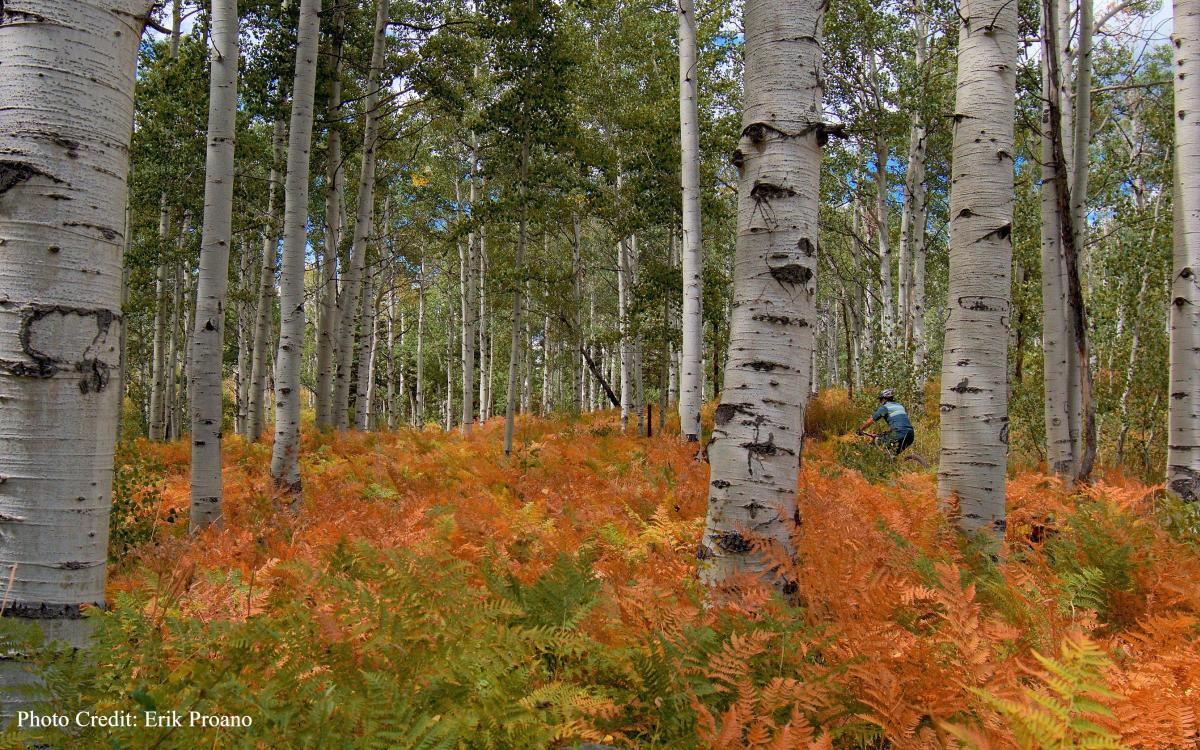 Spring Roll: Spring Creek Trail Downhill Trail
Moderate | 3.2 miles | Downhill 
This new trail creates an intermediate directional downhill route that parallels the popular Spring Creek Trail. Riders access the route from the top of Spring Creek, near the intersection of Flash of Gold and Panorama trails. Trail features include small berms, flowy rollers, rock gardens and optional jumps. Can be combined with Flash of Gold or BTR to create a longer descent into town.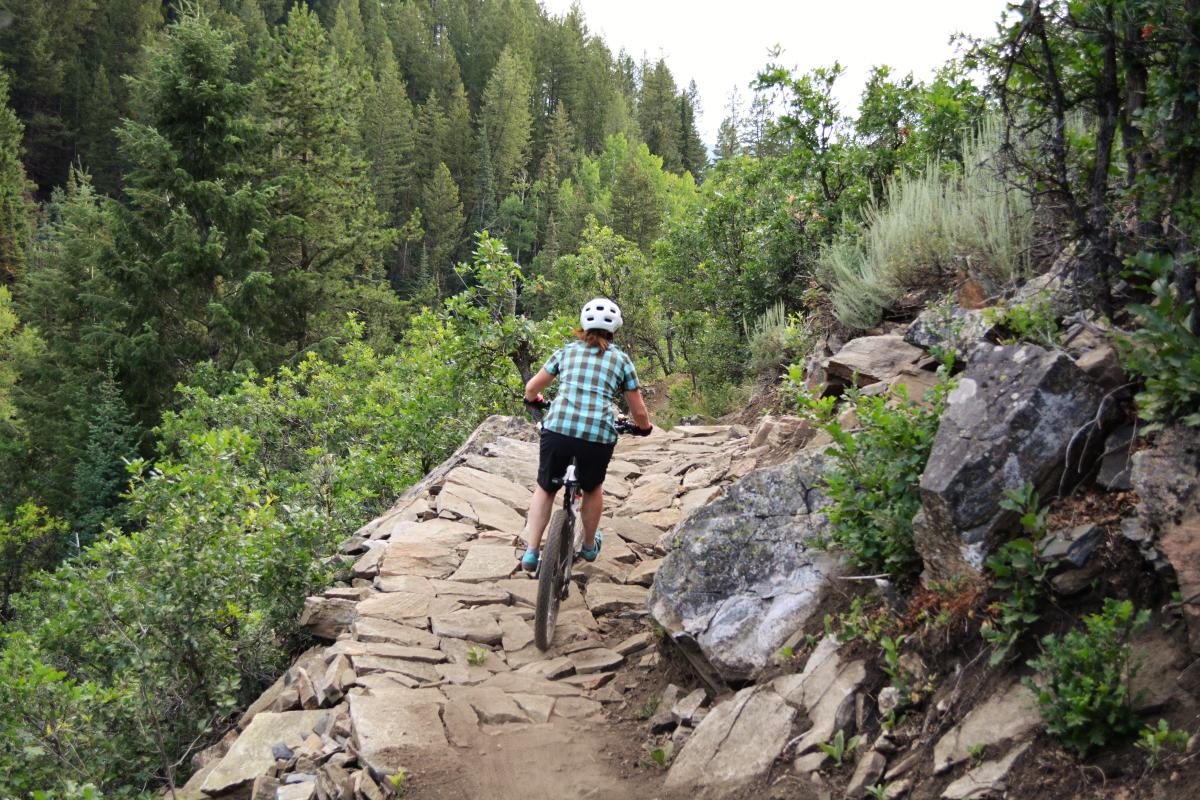 Flash of Gold 
Moderate | 5 miles to BTR 12 miles to GEM | 1766 ft climb | Multidirectional 
There is a 'Flash of Gold' in the fall when the aspens change colors. It can be done as an up and back down, or a loop connecting Buffalo Pass Road (Routt County Road 38), or BTR. This flowy route has quickly become a fan favorite for it's easier uphill coupled with a seamless downhill and spectacular views.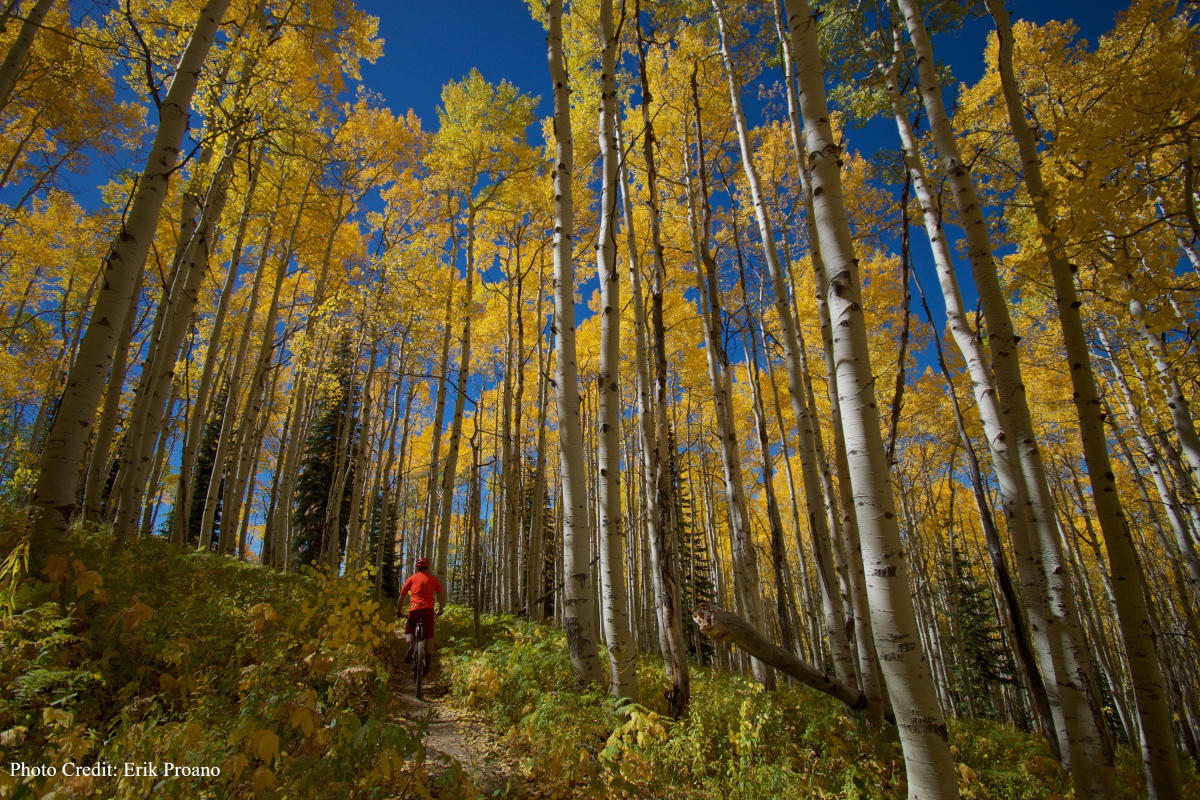 Grouse  
Expert | 3 miles | 173 ft climb | Downhill 
Grouse is the staple "black" trail on Buffalo Pass. Expert mountain bikers enjoy the cliffside edges, big rocky drops, wall rolls, and steep maneuvers through narrow passageways. If you seek expert downhill terrain with a quick uphill, you can bike up CR 38 from Dry Lake TH– Grouse will appear on your left-hand side. However, the most preferred is by taking Flash of Gold, which connects with Grouse after 11.8 miles, making for a 21-mile loop.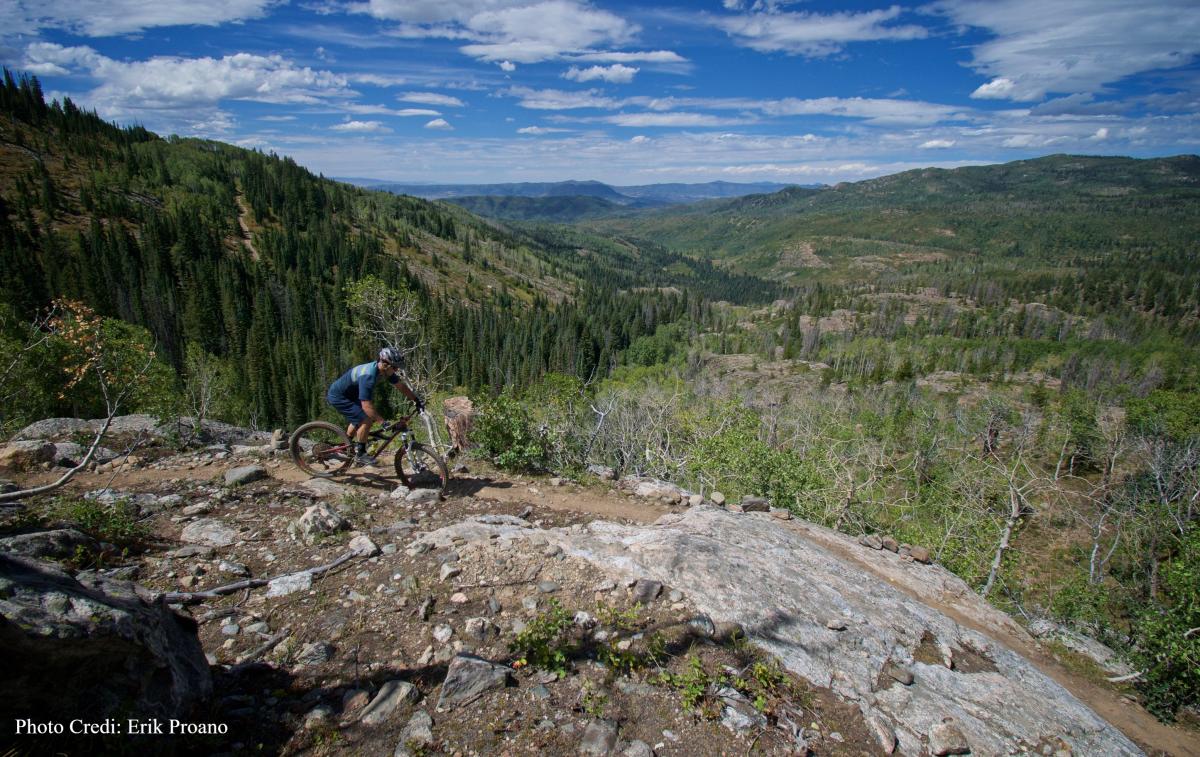 GEM
Expert | 3 miles | 603 ft climb | Multidirectional 
This trail is suitable for intermediate riders, but is accessed by a challenging climb up Flash of Gold. The trail is remote and delivers great views of iconic Rabbit Ears peak and Fish Creek drainage and Lost Ranger Peak. The upper portion features rock gardens and berms, and the trail creates a lollipop option with Flash of Gold.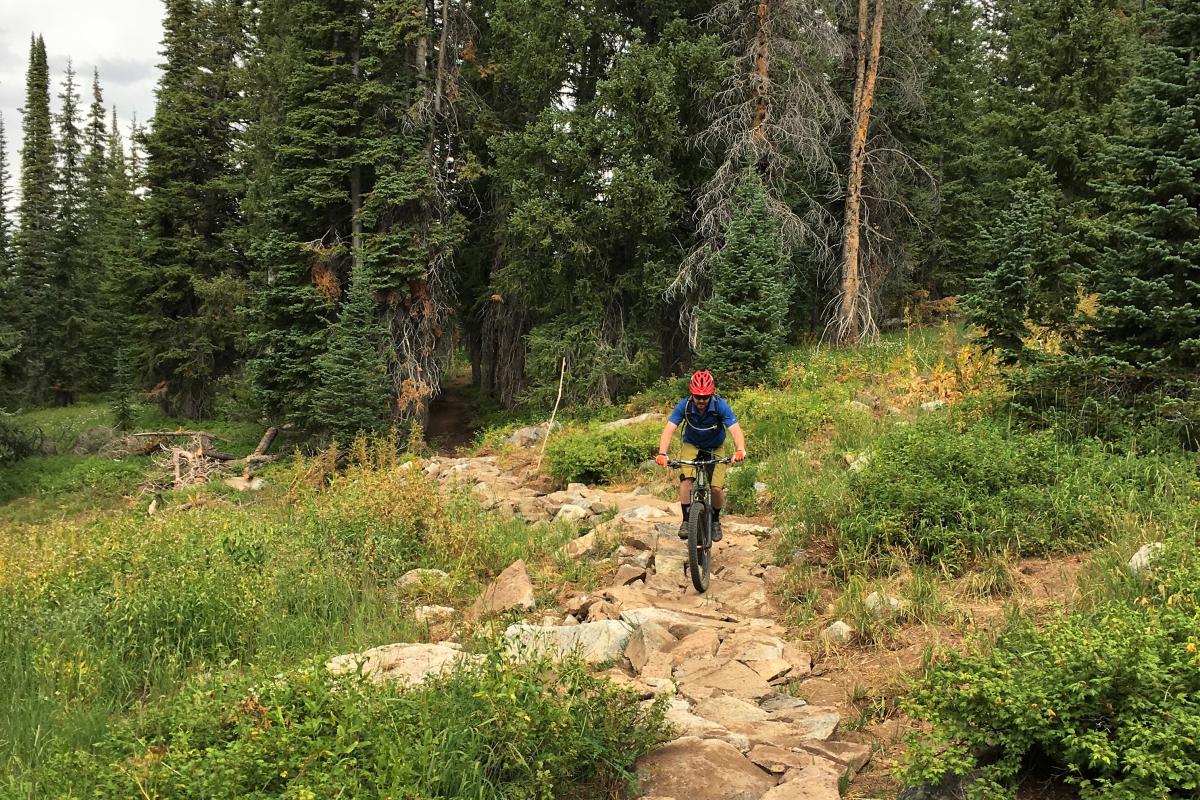 BTR
Advanced | 2 miles | 43 ft climb | Downhill
Accessed directly from Buff Pass Road or by climbing Flash of Gold, this downhill trail has plenty of drops, rock gardens, jumps, and other technical features. In 2017, BTR was revamped from an unauthorized trail into a challenging, sustainably built trail that minimizes resource damage.
Buffalo Billy's
New for Summer 2021
Be one of the first to ride the newest trail in Steamboat Springs. Completed in late fall 2020, Buffalo Billy's trail is the most recent addition to the Buffalo Pass trail network. Accessible from Flash of Gold, the trail meanders through high alpine meadows and across rocky outcrops, making for fun, flowy singletrack that continues to the top of Grouse. The trail officially opened in summer 2021.
New Trails on Emerald Mountain
Wild Rose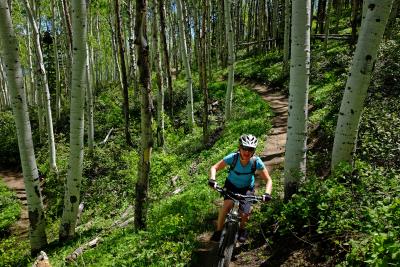 Moderate | 1.5 mile | 188 ft climb | Multidirectional 
The new 1.5-mile Wild Rose trail features an average grade of 3 percent and provides a direct connection to the Beall and Ridge Upper trailhead from the front side of Emerald. Riding up, access it about a third of the way up No Mo' Bluez from the bottom of the Stairway to Heaven climb. From the top, access it just north of the two-track across from the Ridge and Beall trail junction. Perfect for riding up or down, it gives riders a pure singletrack option to access the backside of Emerald. Plus, it puts you in one of the best aspen groves in town.
NPR 
Moderate | 2 miles | 27 ft climb | Downhill 
No Pedaling Required (NPR) is another great addition to frontside riding on Emerald. This flowy, rampy and jumpy one-way trail between Blackmere Drive and the Orton property line lives up to its name, letting you coast the entire way once you have it wired. It also reduces conflicts between trail users while giving cyclists a better route to the bottom of Emerald. If you like smooth, man-made berms and tabletops (that you don't necessarily have to air out), this trail's for you.
To learn more about these trails and start planning out your next epic ride, use the interactive maps below.