Flying to Steamboat in the Winter
The Yampa Valley Regional Airport (Steamboat/Hayden HDN), located just 22 miles from Steamboat Springs, features nonstop flights from 16 major airports across the country on six major airlines including Alaska, American, Delta, JetBlue, Southwest, and United Airlines during the winter months. These direct flights combined with convenient connections from hundreds of airports worldwide, makes Steamboat one of the most easily accessed resorts in the Rocky Mountains.
Plan Your Colorado Mountain Vacation
Winter 2022/23 Non-Stop Air Service to Steamboat
Steamboat Ski Resort has announced the 2022/23 winter air schedule with 16 nonstop airports accessible via six major airlines, including the addition of Nashville on Southwest. Steamboat continues to be the most accessible mountain airport in Colorado and now skiers and riders will be able to fly nonstop from Nashville (BNA) on Southwest Airlines to the home of Champagne Powder® on Saturdays starting Dec. 17, 2022. Other highlights for service this winter include the return of flights from Minneapolis/St. Paul (MSP) on Delta Air Lines. JetBlue's Boston (BOS) and Fort Lauderdale (FLL) flights are also returning with condensed, but more frequent schedule. United Airlines, Steamboat's largest carrier, offers nonstops from all seven of their national hub airports into HDN.
Steamboat (HDN) is the only Colorado mountain destination to feature 16 nonstop airports and service from six major carriers with Alaska, American, Delta, JetBlue, Southwest, and United. More information is available at Steamboat.com/flights. Flights are available for purchase on their respective airline websites or by calling Steamboat Central Reservations® at 1-800-922-2722.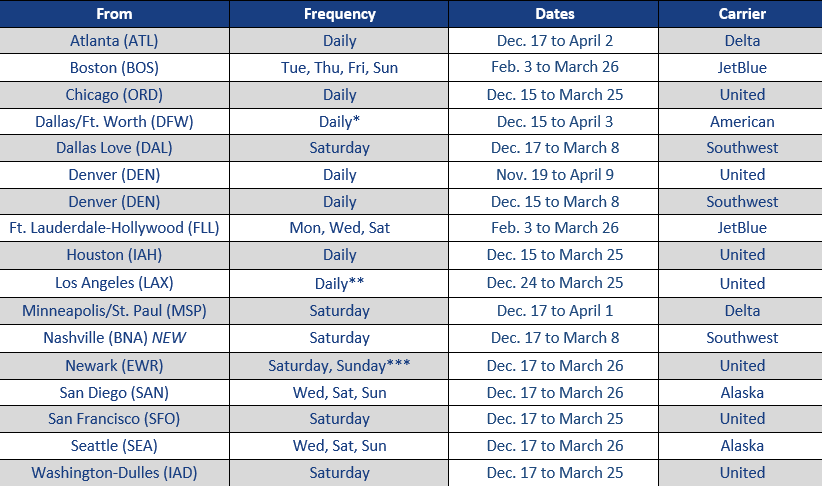 About this Information
This air schedule was last updated August 18, 2022. Schedule and times are subject to change at any time.