Ground Transportation
Not only is getting to Steamboat easy, it's also easy getting around in Steamboat. Airport transfers are available from both the Steamboat/Hayden Airport and Denver International Airport making travel very convenient. Steamboat offers many options once you're in town including shuttle service, private transfers, taxi and limousine service, rental cars and free city-wide bus service.
Airport Shuttle Service and Private Transfers
There are many options for the 30 - 40 minute transfer between Steamboat/Hayden Airport (HDN) and the city of Steamboat Springs.
Storm Mountain Express
Storm Mountain Express offers shuttle service and private transfer service including such amenities as TV, DVD and complimentary bottled water. Their primary goal is to provide a first class, safety oriented and affordable transportation service to and from Yampa Valley Regional Airport, Denver International Airport, Steamboat Springs and surrounding areas. Large group charter rates are available.
GO Alpine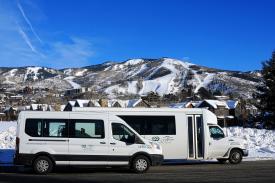 GO Alpine meets all flights at the Yampa Valley Regional Airport (Steamboat/Hayden) in the winter and offers either shared ride shuttle service or private vehicle service to Steamboat. They also provide daily scheduled, ride share shuttles to/from the Denver International Airport – four daily trips in the winter and three in the summer. Charter rates throughout Colorado are also available as well as local taxi service. GO Alpine offers convenient 24-hour reservation assistance and has been serving the community of Steamboat Springs since 1984.
Powderhound Transportation
Powderhound Transportation provides private non-shared shuttle transportation for groups up to 14 passengers to or from Steamboat Springs from DIA and Denver. Going on 11 years in business, Powderhound offers safe, comfortable transportation, honest friendly customer service and low competitive rates.
Slope Transportation
Slope Transportations Denver Airport to Steamboat Springs shuttles is private and can hold up to 10 passengers with ski gear and luggage. With Slope Transportation, you can choose any pickup time at any location and be dropped off right at your front door. They provide a free 30 minute stop on the way up for groceries, supplies or anything else you might need. Their rates are per vehicle which makes them one of the most affordable options for groups traveling to and from Steamboat Springs. No deposit is necessary to reserve your shuttle and you have up to 7 days before your trip to pay. With over 12 years of ski transportation experience, you can trust Slope Transportation to safely get you to the slopes!
Bus Between Denver and Steamboat 
Snowstang 
New in 2019/2020, the Snowstang offers convenient bus rides between Denver and Steamboat Springs. Riding the bus takes away the hassle of driving and offers amenities such as wi-fi, USB/power outlets and a restroom for all passengers. The Snowstang will run from mid-December through mid-April. Fares are $20 one-way with discounts available for children, people with disabilities and people ages 65 and older. Click here for the full schedule and to purchase bus tickets.
Local Rental Car Companies
If you prefer to have your own means of travel while in Steamboat we have rental car options as well.
Enterprise-Rent-A-Car
Enterprise has a variety of rental cars, trucks, vans, suv's available during all seasons. They also have child seats and GPS units, available, as well as ski racks for the winter enthusiasts! More Info
Around Steamboat
Whether you prefer a taxi service, on-site shuttle, or opt for the free bus system, there are many options for easy travel within Steamboat Springs.
GO Alpine
GO Alpine has provided the community of Steamboat Springs with local taxi service since 1984. Services available 24 hours a day, 7 days a week!
Lodging Property Shuttles
Many of the local lodging properties offer shuttle service. The extent of the service is dependent on each property and the season.
The Chamber would like to kindly remind guests not to request stops on or immediately next to Lincoln Avenue. We encourage guests to request pick-up only on cross streets for drop-offs and pick-ups at the alley entrances between Lincoln and Oak/Yampa Streets. Click below to view Shuttle Stops and Staging Areas.
Steamboat Springs Transit (SST)

For those without their own transportation, the city of Steamboat Springs offers a comprehensive system of free transportation between the ski area, downtown and most hotel, condominium, restaurant, grocery and entertainment locations. The ski area is located 3 miles southeast of downtown Steamboat Springs.
The SST runs continuously daily with schedules changing seasonally, stopping at each location approximately every 20 minutes. For more information on local transportation, contact the Steamboat Springs Transit at (970) 879-3717 or visit the City of Steamboat Springs website for the seasonal schedule.
Plan Your Colorado Mountain Vacation
Map and Directions
Click on the map links below for full color maps of the Steamboat Springs area that show lodging, dining, attractions, campgrounds, parks and much more. If you have any questions while you're here, call or stop by the Steamboat Springs Visitor Center to help you find your way.
Call: (970) 879-0880
Visit: 125 Anglers Drive (across HWY 40 from Starbucks & McDonald's)
Directions to Steamboat Springs
There are many options to consider when arriving into the beautiful Yampa Valley, it just depends on the time of year and your time allowance. See the options below to begin planning your scenic journey.
From Steamboat/Hayden Airport
The Steamboat/Hayden airport is located just a few miles east of Hayden and approximately 22 miles west of Steamboat Springs off Highway 40. From the airport, take the access road about 2 miles out to Highway 40 and turn right. Steamboat is about 22 miles east. There is no public bus service from the airport however, shuttle services are available.
From Denver
Steamboat Springs, Colorado is approximately 157 miles Northwest of Denver or an easy 3 hour drive. Take I 70 West through the Eisenhower Tunnel to Silverthorne, Exit 205 (67 miles). At the exit, follow CO 9 North towards Kremmling (37 miles). In Kremmling, head West along US 40 to Steamboat Springs (53 miles).
Scenic Drive Options From Denver
Take I 70 from Denver to access US - 40 West towards Winter Park. Stay on US - 40 West and wind up the high peaks of Berthoud Pass and into Winter Park, Colorado. Continue on US - 40 West for another two hours along the Colorado River, leading to Rabbit Ears Pass and down into Steamboat Springs. (About 3.5 hours)
Have you always wanted to see Rocky Mountain National Park? Access the park via your drive from Denver International Airport to Steamboat Springs. Please note this will take about 5.5 hours of drive time. From Denver International Airport, take E470 North (toll road). Exit on I 25 North towards Fort Collins. Exit on US – 34 West towards Loveland. Continue on US – 34 West to Estes Park. Estes Park is the gateway to Rocky Mountain National Park. Drive through the park on US – 34 West where you will top out at 12,000 feet with magnificent views of the Rocky Mountains often seeing elk, moose, and bighorn sheep. Viewing areas and Visitor Center options are available. Once through the park, stay on US - 34 West towards Granby. Take US – 40 West from Granby to Steamboat Springs, CO.
From Colorado Springs
230 miles Northwest of Colorado Springs. Take I 25 north to C 470 (53 miles) then C 470 west to I 70 west (15 miles). Take I 70 west through the Eisenhower Tunnel to Silverthorne exit 205 (67 miles). Take CO 9 North to Kremmling (37 miles), then West on US 40 to Steamboat Springs (53 miles).
Alternate Routes
Take this route if US 40 over Rabbit Ears Pass is closed and you're coming from Denver or Colorado Springs. Take I-70 west through the Eisenhower Tunnel to Silverthorne, exit 205 (67 miles). Take CO 9 North to Kremmling (37 miles). Head west on US 40 until the intersection with CO 134 (6 miles). Turn left and go over Gore Pass (CO 134). At Toponas, take Colorado 131 north to Steamboat Springs (40 miles). Or, take I 70 west (through Vail) until Exit 157. Take CO 131 North to Steamboat Springs (75 miles), then left on US 40 to town (4 miles).
From Ft. Collins
Take CO 14 West, through Poudre Canyon, over Cameron Pass until Walden, CO. Take CO 14 (toward Steamboat Springs) until US 40, and turn right (West) over Muddy and Rabbit Ears Passes to Steamboat Springs.
From Grand Junction
Take I 70 West through Glenwood Springs and Eagle to Exit 157(117 miles). Take CO 131 North (75 miles) to US 40. Turn left on US 40 to Steamboat Springs (4 miles).
From Park City/Salt Lake City, UT
Take US 40/UT 189 South to Heber City, UT. Stay on US 40, Steamboat Springs is about 5 1/2 hours from Park City.
From Laramie, Wyoming
Take WY 230 West (Snowy Range exit) through Mountain Home to the Wyoming/Colorado border, the road changes to CO 127. Stay on CO 127 to Walden. Take CO 14 West to US 40 at Muddy Pass and Rabbit Ears Pass to Steamboat Springs.
Special Offers in Steamboat