Tourism Matters
Our goal as your Destination Organization is t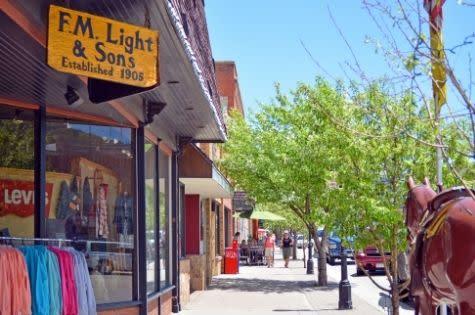 o leverage tourism to improve your quality of life.
The Yampa Valley is an incredible place to live. It's also a great place to visit. Tourism is a valuable part of our local economy and visitors have been coming to the Yampa Valley for many years to enjoy the natural beauty, ideal climate, and soothing hot springs. Visitor spending brings new dollars to our communities, creating jobs, enhancing the local economy and improving the quality of life for residents.
How Steamboat Springs Locals Benefit from Tourism
Every time visitors use the airport, stay in a local hotel, dine out, or soak in the hot springs they're helping the Yampa Valley thrive. Taxes and revenue generated from local attractions, hotels and restaurants help fund schools, roadways, police and fire services, and other infrastructure improvements that benefit the community.
Balancing Quality of Life and Visitor Experiences
Tourism is important, but so is our quality of life as residents. We're working hard to find a balance through:
Local Input
Community Partnerships
The tax locals don't pay.
Did you know, even beyond sales tax collections, visitors help pay for many of the incredible amenities we all get to enjoy in Steamboat Springs? A 1% Accommodation Tax (AKA 2A) is used to develop amenities in Steamboat Springs which promote tourism and enhance the vitality of Steamboat Springs as a premiere destination. Since 1986, these funds were used to construct:
By the Numbers
Economic Impact in Routt County
*Dean Runyan Associates 2021 Economic Impact Report
Frequently Asked Questions
All the Chamber does is promote our City, right?

That's only part of what we do. The Chamber has a contract with the City of Steamboat Springs to serve as the Destination Organization of the region. Marketing often gets a bad rap, mostly because many people only think of the most visible side of marketing: advertising. And advertising in our region has had tremendous benefits over the years.

Our staff does much more though, including:

Visitor research
Maintaining visitsteamboatsprings.com
Staffing the Visitor Center
Fielding public relations requests
Promoting local businesses
Why aren't the Chamber's Destination efforts funded by a lodging tax?

In Steamboat Springs, current funding from the accommodations tax, goes toward trail building and planning, and as the community just voted on, an STR tax will fund affordable housing infrastructure. 

Destination funding comes from the City's general sales tax collections, of which visitors pay an estimated 40%. This funding plan has been in place since 1984.

 
Why do we continue to fund Marketing even when it feels busy in town?

Marketing is all about sharing ideas and in 2023, we're focusing on Destination Management communications and Stewardship instead of promotional messaging to bring people to town. We're sharing educational messaging on what it means to care for Steamboat Springs and how to be a good visitor.

In a County where an estimated 4,400 jobs and $177 million in direct visitor spending during summer alone come from visitors to our area, it's clear that tourism matters. Talking with current and future visitors is an ongoing effort. Consistency is key. We strongly believe in balancing the quality of life of locals with the need for tourism.