Gateway Community 
In 2018, Steamboat Springs, CO was designated an official CDT Gateway Community. Gateway Communities are recognized for their part in promoting awareness and stewardship of the CDT and creating a welcoming environment for travelers along the Trail. We are happy to take steps to ensure the protection of our natural, cultural, and recreational resources, including the CDT, for generations to come. 
Trail Maps
Facts about the CDT
3,100 miles total
It takes the average thru hiker 6 months to finish the CDT – that's an average of 17 miles per day!
Highest elevation on the trail: 14,270ft at Grays Peak in Colorado
76% of the CDT is complete and located on mon-motorized trail

Welcome Hikers
If you're one of the hikers passing through Steamboat Springs, we are thrilled to welcome you and share our community with you. Here are some resources to help you get the most out of your respite from the trail.
Local Resources
Free Transportation
Getting around town for hikers is incredibly easy in Steamboat Springs with the free, citywide bus service that runs year-round, seven days a week. This convenient service runs early morning to late evening. Rest your feet and legs and let us do the driving and hop aboard the free buses! Check out all the bus schedules here. 
Food
Freshies: Freshies is a healthy, family-friendly, neighborhood place to eat a delicious breakfast and lunch. 
Creekside:  Incredible outdoor dining on the creek's edge surrounded by an award-winning garden. The Creekside's extensive breakfast and lunch menu highlight local ingredients. 
Yampa Sandwich CO:  Accessible to locals and visitors alike looking for tasty, healthy food in a down-to-earth, hometown atmosphere. Dine inside or take it to go on your next adventure. 
GEAR SHOPS
BAP: Outdoor gear and clothing shop for every need. Visit them for repairs, gear, and great like-minded company!
Ski Haus; Ski Haus is Steamboat's oldest and most complete mountain shop. They feature outdoor gear and clothing for biking, hiking, camping, climbing, and relaxing. 
Christy Sports: Outdoor gear located in Central Park Plaza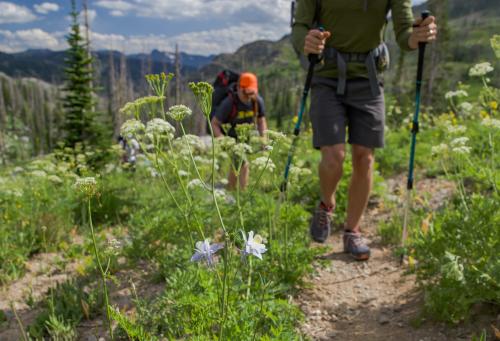 Lodging
Steamboat Springs KOA: Located west of Downtown Steamboat, this KOA is on the free bus route, offering a camping experience with proximity to some of Steamboat's best restaurants and shops
Forest Service in Steamboat Springs + Pearl Lake camping + Stagecoach camping
Holiday Inn: Fun hotel with the spirit of guest service excellence & great rates year-round which features Rex's American Grill & Bar, one of Steamboat premier eateries.
Rabbit Ears Motel: Located in the heart of downtown Steamboat Springs, offers all the comforts of a modern lodge facility without the fancy pretense or big price tag. 
Resort Group for Condos: Resort Group is a unique collection of companies that together offer a variety of rental options from condos to homes.
LIBATIONS
Off the Beaten Path Bookstore, Coffeehouse & Bakery Cafe: Off The Beaten Path is a bookstore, a coffeehouse and a bakery cafe. They have a full espresso bar and wine in the evenings.
Mountain Brew: Mountain Brew is a local espresso cafe and bakery. Serving the finest quality coffee and espresso, fresh baked pastries, breakfast, soup and sandwiches.
Mountain Tap Brewery: A socially responsible brewery serving fresh, innovative beers and artisanal wood-fired cuisine served up in a casual, family-friendly atmosphere.
BARley: This concept is focused on offering the best draft beers and craft spirits that Colorado has to offer.
Storm Peak Brewery: Aside from their staple brews, Storm Peak offers a range of seasonal styles that explore the beautiful and ever-changing seasons of the Yampa Valley.
LAUNDRY & SHOWERS
Ski Town Cleaners: For all your laundry needs, visit one of their two locations in Steamboat.
Old Town Hot Springs: If you're in need of a shower, stop by Old Town Hot Springs and for the daily admission you can get a shower. While you're there, you can soak those tired muscles in the historic hot springs.
INTERNET
Bud Werner Memorial Library: Aside from the local coffee shops, visitors can use free internet at the Bud Werner Memorial Library. The library is conveniently located in downtown Steamboat Springs, along the free bus route and on the Yampa River.