Hiking in Clark and North Routt
Mad Creek Trail
The best hikes are peppered with small wonders and end with big rewards. From a dip in a cool creek to exploring a 110-year-old barn, it's no wonder the Mad Creek Trail and its endless rewards is popular with hikers, mountain bikers and horseback riders looking for a cultural outdoor experience amongst the beautiful scenery of the Routt National Forest.
Nestled peacefully next to the Zirkel Wilderness Area, Mad Creek and its surrounding network of trails wind through aspen groves, wide-open meadows filled with wildflowers, steep canyons and lush fern forests.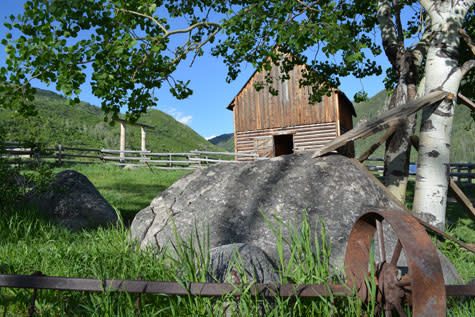 Two miles up the Mad Creek Trail sits the Mad Barn, built in 1906 by homesteaders. Take in local history and take a photo in the doorway of the barn. Or, enjoy a peaceful picnic lunch up in the loft, accompanied by the sounds of chirping birds and the rushing Mad Creek.
Turn around and head back to the trailhead, or if you have the energy, continue up to the Zirkel Wilderness Area Boundary. Make it a loop by turning left at the Mad Barn onto Red Dirt Trail which ends just down the road from the Mad Creek trailhead.
Hot Springs Trail
To access the Hot Springs Trail from the Mad Creek trailhead, walk back down Routt County Road 129 approximately 400 yards on left (trailhead not marked) to NFSR 128. About ½ mile up, the hot springs trail cuts off to the right. Once you arrive at Strawberry Park Hot Springs, visit the front desk for access to the springs. 
Getting There
The Mad Creek trailhead is the hub for the trail system that includes the Mad Creek Trail, the Hot Springs Trail, the Red Dirt Trail and more. From downtown Steamboat Springs, head west and take a right onto Routt County Road 129/Elk River Road and follow it for about 5 miles.
More Clark and North Routt Trails
See below for hiking and backpacking trails, please note that many trails also offer biking and/or ATV.
See our biking trails for a complete list of biking options or view the City of Steamboat's interactive trail map for a more comprehensive list of trails managed by the city.
More Information
There are more than 80 maintained trails on U.S. Forest Service land. See the local Forest Service office for more information and detailed trail maps.
U.S. Forest Service
925 Weiss Drive
(970) 870-2299
8:00 a.m. to 4:30 p.m., Monday through Friday