Around Town
Trail talk, cycling news, race schedules, detailed maps, epic rides and more fill the pages of the 2019 virtual Bike Guide. If you're about to set out on two wheels in Bike Town USA® and you pack one thing to take along, this should be it.
To view the Bike Guide, please click here.
Yampa Valley Core Trail
The Yampa River Core Trail is a 7.5-mile paved multi-use trail that runs through the heart of Steamboat Springs and along the Yampa River. The Core Trail ties all aspects of Steamboat together: it's a straight shot from one side of town to the other, but more importantly it brings people of all ages onto one path to enjoy the outdoors.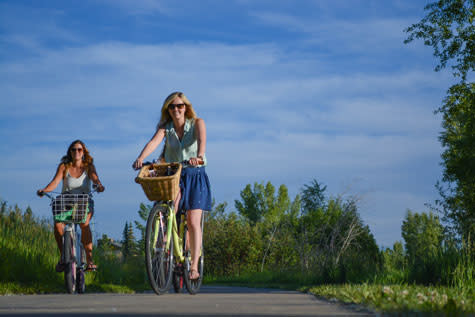 The Core Trail may be the means to an end, but don't forget to savor the journey just as much as the destination. Walk or bike your way from park to park, stopping at the various scenic stops to enjoy the views. Go ahead and check #4 off the 2019 Summer Boat list while you're at it.
The Yampa River Botanic Park is just one of those stops – a six-acre sanctuary of 40 gardens, ponds and sculptures. The pathways wind through the colorful flowers and native trees and offer a serene, meditative experience.

Hop back on the trail and you'll cruise over wooden bridges and alongside the picturesque Yampa, where rainbow trout are known to swim, waiting for a fly to bite on. The Core Trail offers excellent fishing access, as well as a place to start or end a relaxing float down the Yampa on an inner tube. As you walk or ride your way down the Core Trail, you can watch fishermen cast flies and listen to the delighted woops of children playing in the water at the famed Charlie's Hole standing wave, located on the trail just behind Bud Werner Memorial Library.
Points of Interest and Activities Accessible from the Trail
You can fill your Steamboat experience full of memories from this very trail, but don't forget to wander off the path now and again.
Special Offers in Steamboat