Mountain Bike and Dirt Bike Trails
See our Bike Guide for additional trails in and around the Steamboat area or visit the City of Steamboat's interactive trail map for a more comprehensive list of biking trails.
Please inquire about bike trail status with the Forest Service (970) 870-2299 or the Steamboat Springs Visitor Center, (970) 879-0880.
Steamboat, also known as Bike Town USA, offers a variety of mountain biking and dirt bike trails for all levels.
New Bike Trails in Steamboat Springs
Mountain biking in Steamboat Springs keeps getting better and better. Check out all the new trails being built around the Yampa Valley.
Biking Trails
---
Downhill Mountain Biking at Steamboat Bike Park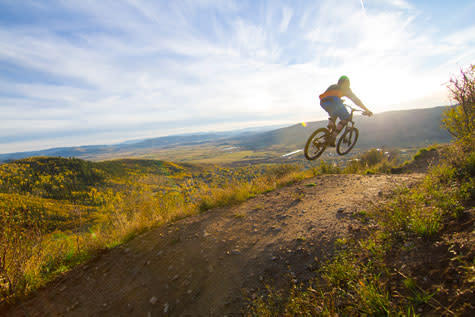 Take Mount Werner Road off of Hwy. 40 to Mount Werner Circle. Park in the Knoll parking lot and walk or bike into Gondola Square to the mountain base area. Trail maps are available whether you are biking up the mountain, or taking your bike on the gondola to access more terrain.
The Steamboat Bike Park has nearly 2,200 vertical feet of lift-served gravity fed and downhill flow trails, covering nearly 50 miles. The trail crew utilized every inch of the natural topography ensuring a thrilling ride that highlights the best of the resort's natural features including rocks, bridges, rollers, drops, berms, banks and manmade jumps; all while providing exciting terrain for all ability levels. For those learning to ride, the green trails feature dirt berms, banked turns and wooden slat and ladder bridges.
New at the Bike Park
Each summer, the freeride momentum continues with work on new trail segments. The Park continues to grow as five new trails were added last summer, and two additional trails have opened this summer.
In addition to these new trail offerings, the Steamboat Bike Shop has expanded its rental line and now includes a Premium option from both Specialized and Scott bicycles, boasting a top of the line component package and the latest in DH technology. Twilight Bike Park access offers evening riding on Thursday and Friday nights from 4 - 7 p.m. In addition, the downhill action heats up with the Captain of the Boat DH series, taking place every other week on Thursday evenings in July and August once the park is open.
Bike Park Operation, Summer 2019
Daily, June 14 - September 2
Weekends (Friday - Sunday) September 6 - 22
Weekends (Saturday & Sunday) September 22 - October 13, weather permitting
Learn More
For more information and gondola rates, please call (970) 871-5444 or visit the link below.
Special Offers in Steamboat