Steamboat Winter Carnival
February 3 - 7, 2021
For 108 years the Winter Carnival has celebrated Steamboat's Western heritage and long-standing tradition of winter sports. This year, the spirit of the Winter Carnival will continue to embrace that history while supporting Steamboat's Winter Sports Club with adjusted celebrations to keep athletes and community members safe.
Due to current local and state restrictions, there will be no Street Events, Night Extravaganza, or spectator events this year. The carnival will take place with outdoor activities for local youth to participate in and traditional experiences around town such as the soda pop slalom, snow sculptures, and the recognition of Winter Carnival Royalty and Grand Marshals. Athletes will also make numerous descents in smaller groups down the darkened backside of Howelsen Hill throughout the evenings of the Carnival to enjoy the experience and magic of skiing with flares. Fireworks will light up the sky on Saturday night and spectators can watch the display from home or lodging property, as no gathering at the blast will be permitted
We encourage all locals and visitors to keep the Winter Carnival tradition alive by playing outside and experiencing the winter wonderland of Steamboat Springs!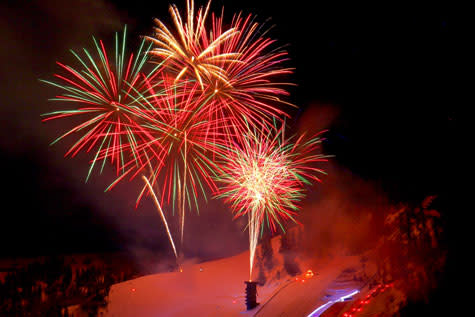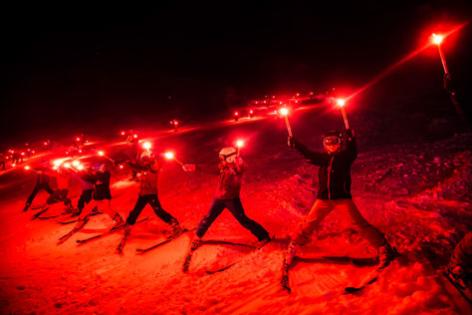 About the Winter Carnival
Winter Carnival was started by the Steamboat Springs Winter Sports Club (SSWSC) as a way to help residents cope with cabin fever during the height of the Colorado winter season.
The event continues to this day as a way to celebrate winter; as a reason for neighbors to gather; and as an opportunity for everyone to experience a piece of Ski Town USA® history and tradition.
Schedule of Events
Due to current local and state restrictions, there will be no Street Events, Night Extravaganza, Parade or spectator events this year. Please continue to check back for additional details on the 2021 event.
Thursday, February 4
Snow Sculptures presented by Steamboat Creates - Stroll down Lincoln to view hand-carved snow sculptures created by locals using this year's theme "Happy Outside". For more info, contact Steamboat Creates at (970) 879-9008. Location: Lincoln Avenue, Downtown Steamboat Springs
Friday, February 5
Christy Sports Soda Pop Slalom - This is fun race is open to any skier or snowboarder 11 and under or U10 program & below (U12 athletes are not eligible). Location: Steamboat Ski Resort, Mt. Werner, Stampede Run
Saturday, February 6
Livestream World Pro Ski Tour at Howelsen Hill - SSWSC is making plans to host the World Pro Ski Tour on Saturday evening at Howelsen Hill. The exciting side-by-side racing event with two huge pro jumps will conjure up images of some of our favorite Carnival events. While there will be no spectators, the event will be live-streamed allowing people to enjoy the event safely in their homes.
Fireworks Display - End the night with a stunning fireworks show presented by Yampa Valley Bank. Spectators are encouraged to watch the show from the comfort of their home or lodging property.
Winter Carnival Video Playlist
View our Winter Carnival video playlist below for an inside look at the amazing events that take place during the carnival, including an interview with Leif Howelsen, son of Carl Howelsen (founder of the Steamboat Springs Winter Carnival), that shows us the history and tradition behind this wonderful event.