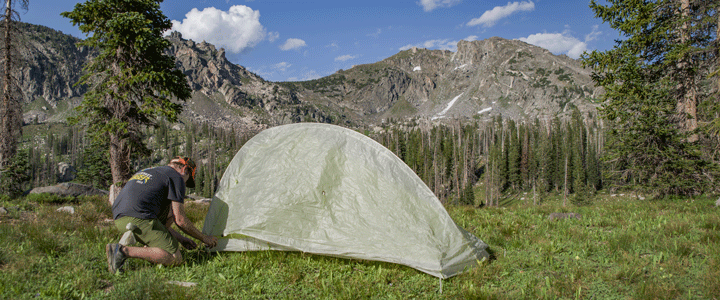 A roundup of local products and our recommendations on where to get the most of them!
Steamboat is an outdoor recreation hub, with many companies calling here home because of our access and authenticity. Did you know we are home to world-class brands including Moots, Big Agnes, Hala Gear, Honey Stinger and more? All of these products were inspired by the Yampa Valley lifestyle and can be best enjoyed right here in our own backyard playground. If you're not sure where to start, check out some of our favorite local products below and our favorite spots to enjoy them!
The Product: Hala SUP Board
The first line on the Hala Gear "About Us" page is "Hala Gear, born on the banks of the Yampa River" – it doesn't get more locally inspired than that! Hala Gear designs some of the best stand-up paddleboards and accessories you can find. Their boards are tested steps outside their downtown doors on the Yampa River. They make everything you need for a SUP adventure including boards, paddles, pumps, various fins, and more.
Where to use it:
Hit the lake! There's no better way to cool off on a warm summer's day than by taking your paddleboard to one of the lakes that surround Steamboat Springs. Visit Pearl Lake for a wake-less experience as you enjoy the views of North Routt County. Stop by Hala GearSpace in downtown Steamboat to check out their showroom and demos. You can even rent SUP boards, kayaks, and rafts if you don't have your own.
The Product: Moots Cycles
These titanium, handmade, road, gravel, and mountain bikes are true works of art. Moots is celebrating their 40th Anniversary this year in Steamboat – and have been based here since day one. They attribute some of their success to the fact that they are surrounded by some of the best singletrack, gravel roads, and scenic roadways you can find – and their staff lives and breathes cycling! All Moots cycles are made to order in the factory located on the west side of town.
Where to use it:
On our 600+ miles of dirt and hard-packed gravel roads! Check out the Sleeping Giant Gravel scenic ride that takes you around the legendary Sleeping Giant (Elk Mountain). Want something a little shorter? The Emerald Circuit is mostly paved with a bit of dirt adventure that will show you our Western roots as it takes you through ranchlands with spectacular vistas. 
The Product: Big Agnes Sleeping Bag
Big Agnes wants to inspire people to get outside – and they have been doing just that with their award-winning sleeping bags, tents, and other outdoor gear for the last 20 years. They take that goal seriously as they test all their products in the mountains surrounding Steamboat. They are well known for their "Big Agnes System" sleeping bags that makes typical tent camping incredibly comfortable. With so many sleeping bag options for all conditions including doublewide bags, kids' bags, sidewinder bags, mummy bags and more, you're sure to find the perfect bag for your adventure.
Where to use it:
The Flat Tops Wilderness Area is a pristine region waiting to be explored on your next backpacking trip. Access alpine lakes, incredible peaks, and miles of breathtaking views. There are various routes you can choose depending on the length and difficulty you are looking for. If you want to check out one of the Big Agnes sleeping bags, stop by BAP located in the red house on Oak Street to see all the Big Agnes gear and talk to one of their professionals.
The Product: Honey Stinger Waffles
You can't adventure without some fuel. Honey Stinger has been creating energy food for over 20 years for athletes of all kinds. They have a variety of products to help you prepare, perform, and recover as you bike, hike, run, kayak and more. One of their most popular products, the waffles, are some of our favorites! They come in various flavors and sizes and have special waffles that are protein-based and gluten-free.
Where to use it:
Pick from above! Really, you can take a Honey Stinger waffle with you wherever you go. They are travel size and fit great in a daypack, in your pocket, or in a bike bag. We recommend taking some waffles on your next all-day excursion on Buff Pass. You can start in town by biking up Spring Creek and connecting to the incredible trail system above that connects to local favorite trails such as Flash of Gold and Grouse.
The Product: Point6 Socks
Point6 socks are made with merino wool that is itch-free, quick-drying, and built to last! Say goodbye to blisters and smelly feet and say hello to the comfort of these socks. Point6 is based in Steamboat, family-owned, and they consider themselves "sock experts." Because they are a local company, they have socks made for all the activities we love to do here: cycling, hiking, running, and skiing.
Where to use it:
We can't resist talking about their ski socks – even though it's not quite winter quite yet – we always have snow on our minds. The Point6 ski socks range in size and cushion so you can find the perfect fit for you and your ski or board boot. Keep the toes warm and the feet comfortable as you explore our Champagne powder snow. Not a skier? Don't worry, you can use their socks for your winter snowshoe adventure or for your walk around town.