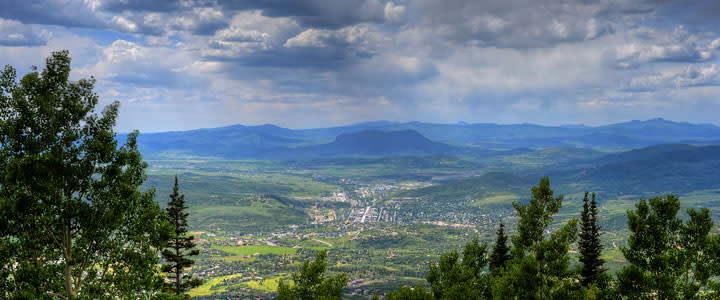 Wide-open spaces, endless outdoor adventure, and rich history make Steamboat Springs a perfect place to live and visit. Our natural environment is the core of our identity and we are working to preserve our wild beauty so future generations will be able to experience the allure of the Yampa Valley.
We love sharing our town and have created some ways for you to stay informed and educated on your next visit to Steamboat Springs!
Stay Healthy
Steamboat is committed to keeping locals and visitors safe and healthy no matter the season. We follow CDC guidelines that include encouraging you to wear a mask if you are not vaccinated, washing your hands frequently, and staying home if you are sick. Our free public transportation is available for you to use and requires face coverings. For more traveler information, visit here.
Know Before You Go
Whether you're hitting the trails, going camping, or hitting the hot springs, make sure to do your research and learn about your destination before you get there. Make reservations in advance for campsites and have a backup plan if you arrive somewhere and the parking lot is full. Mountain weather changes rapidly, so it's important to check the forecast, pack for all conditions and bring layers. Don't forget to read up on local rules and regulations. Steamboat has a plastic bag ban in place, so you'll need to bring reusable bags to stores. Some other packing essentials include a reusable water bottle, sunscreen, and maps (especially when you're out of service).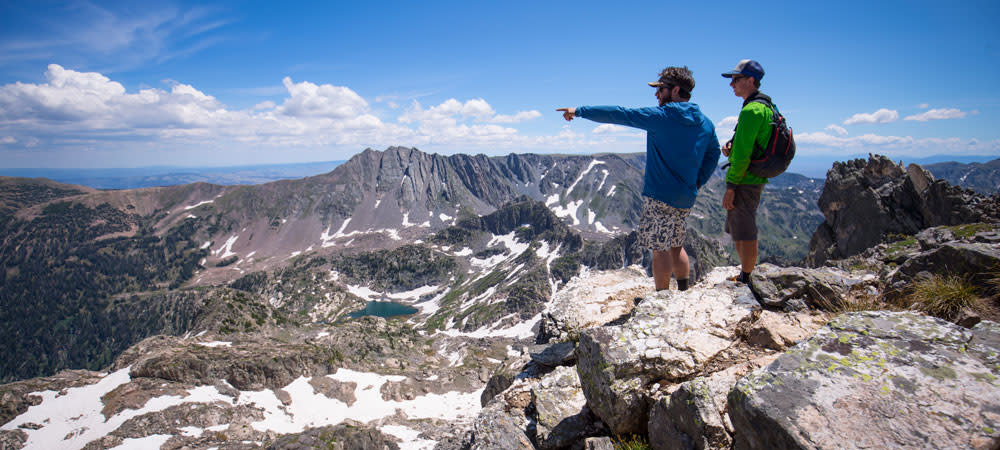 Leave No Trace
Steamboat Springs has partnered with the Colorado Tourism Office (CTO) and Leave No Trace Center for Outdoor Ethics on the Care for Colorado initiative. These 7 principles encourage and teach others how to visit our special places responsibly. Help us Care for Steamboat by following these 7 principles:
Know Before You Go
Stick to Trails
Trash the Trash
Leave It as You Found It
Be Careful With Fire
Keep Wildlife Wild
Share our Trails and Parks.
 
 
Be Wildfire Aware
There's a saying in Steamboat, "Come for the winter, stay for the summer" – so it's no surprise that summers here are nothing short of breathtakingly beautiful! But with our dry climate and warmer temperatures come fire danger. Before you camp or hit the trails, you need to be aware of what types of fires, if any, are permitted. You can even signup for alerts in Routt County notifying you of current fire restrictions! You should never let campfires get unmanageable, leave them unattended, or build them when and where they are not prohibited. For more information on wildfire safety, visit here.
Ditch the Car
Reduce your impact by opting to walk, bike, or ride the free bus available in Steamboat. Did you know the Yampa River Core Trail is over 7 miles long and takes you from the ski area to the West side of town? It's a perfect place for all users to stretch their legs and take in view of the river and more. You can even hop off to do some shopping and dining. Bonus! You won't have to search for a parking space in our historic downtown or other areas.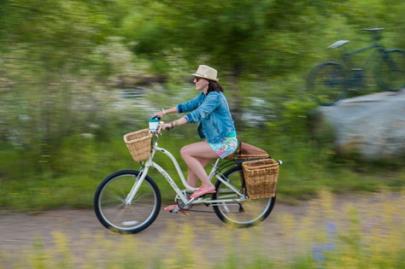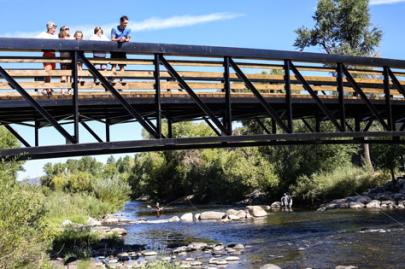 Give Wildlife Space
Never seen a moose, bear, deer, or elk before? Those are just some of the wildlife that call the Yampa Valley home. While these encounters can be awe-inspiring, it's important to remember that these animals are sharing their habitat with us. Be sure to view wildlife from a distance of 75+ feet, if possible. Never approach or try to touch a wild animal. In addition, Routt County has many seasonal closures to allow for animal migrations, nesting, and more. Respect these closures and stay on all designated trails. Finally, leash your pups to keep them and other wildlife safe!
Be Kind
Steamboat Springs is known for our Western hospitality and charm and we like to keep it that way! Remember to be kind to all the employees who help make your memories here unforgettable. Shop local and you'll most likely meet business owners who call this place home and are thrilled to share it with you. Practice patience when things get a little busy, and don't forget – we love saying hello and passing on friendly smiles wherever we go!
Respect the Yampa
When we say, "Respect the Yampa," we mean respect the entire Yampa Valley! This means taking care of our rivers and banks by cleaning up after yourselves and observing all rules put in place – including fishing restrictions, tubing regulations, and drink policies. When you're exploring our trails, be sure to pack out what you pack in, especially pet waste! Stay to all trails to keep our natural environment thriving. As a small town, we take care of each other, which means crossing at designated intersections, properly disposing of your trash, and parking in designated areas.
Give Back
There are plenty of ways to give back to help us maintain and preserve all the places you love! In 2019, Steamboat Springs joined 4 other mountain communities to form Pledge for the Wild. The purpose of this initiative is to educate the public on how to visit wild places responsibly and to encourage donations to the organizations that are working to keep these wild places special. Learn more and donate here. You can also donate to the Trail Maintenance Endowment Fund at one of the 10 trail meters located at various trailheads close to town. These donation stations are refurbished parking meters with credit card readers!