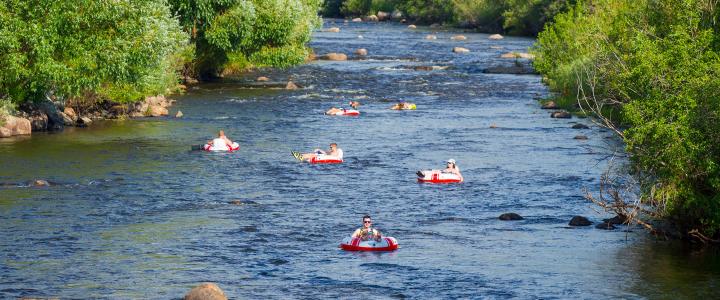 It's finally summer, bringing along all the activities that come with the high-altitude heat. From fly fishing to trekking over the Flat Tops, one of the most enjoyed activities for visitors and locals alike is taking a trip down the Yampa River in an inner tube. 

For every Rocky Mountain denizen, summer tubing season is the moment they have been waiting for since the snow started melting. As June passes by and the river flows with snow runoff, the local community hits the banks of the Yampa. Instead of a day stuck in a concrete amusement park, tubing allows for comradery, laughs, and splashes on the water. Here are a few recommendations, rules and tips that will make your tube trip awesome--and minimize impact to the local river habitat.

Tube Like a Pro
Steamboat offers incredible local vendors who provide tubes and transportation to get you down the river safely and comfortably. Tubes, water shoes, dry bags and not to mention, a ride back to your car, are few of the many bonuses offered through these amenities. The popular Backdoor Sports, conveniently located at the ideal tubing "put-in" spot, can set you up with all the gear and apparel you may need. This option allows for a kid-friendly experience, reservations for large groups, and warm, dry shuttle to pick you up after the float. This option is a must for families looking to ditch the heat and hit the water! Expect to start at the store's location off 8th street and enjoy a two-mile drift to the James Brown Bridge, where your ride home awaits. 
Rules of the River
Before escaping the heat of summer, there are some general rules to respect the Yampa. These rules and guidelines are set into place by not only the City of Steamboat Springs, but the Department of Wildlife to ensure the Yampa River remains healthy and clean.
No dogs. Though the animal lover in all of us will miss our pets, it is of the utmost importance for the safety of not only the river, but our dogs themselves. There are certain areas of the river that may include small rapids, which produce dangerous situations for pets. 
No littering. While this may seem obvious to the experienced mountaineer, there are different types of littering to consider while on your float. Snack packaging or bottles and lids are best kept safe in a dry bag to prevent losing them throughout the journey. In addition to that, bring durable and river-smart apparel. Losing a flip-flop down the river or a pair of sunglasses is also a form of littering, one that can be easily avoided with the right choice of clothing! 
No Styrofoam coolers. The easiest way to prevent this is to, again, bring a dry bag with snacks such as granola bars or trail mix. These items don't require any type of cooling system and are perfect for a mid-river snack!
No glass. To avoid potentially dangerous situations for our fellow locals and wildlife, it is best to avoid glass altogether. Level up and bring a Camelback! 
Respect for others. This pertains to not only the other folks on the river, but also those who live on the banks of it. Give space to those kayaking, fishing, or paddle boarding -- even aim to make a new friend! Do not exit on private property throughout durations of the float. There are certain designated places to pull off if needed, or just sit back and enjoy!
No alcohol. While rivers and a cold beer seem to go hand-in-hand, save the sour sippin' until the end of your float. There are several breweries near the James Brown Bridge where you and your friends can wrap up your day in the sun.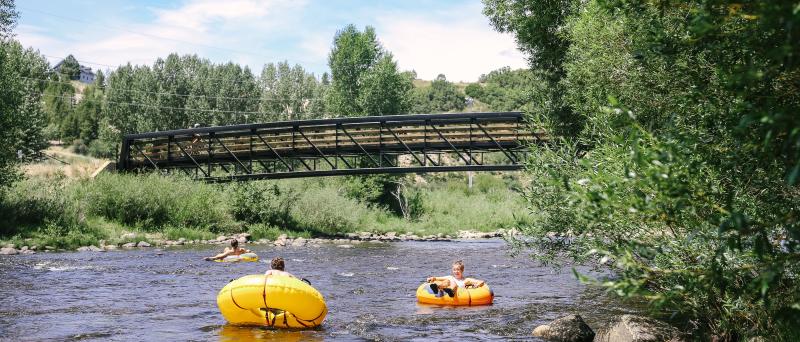 Tips and Tricks
Now that you understand the do's and don'ts of tubing the Yampa, let's get you equipped with the best hacks to have you floating like a local. Grab your tubes, your water shoes, and your croakies; we are hittin' the river!  
Water levels. The local papers usually share the water levels for the week in Steamboat - a definite resource to check when tubing privately. Normally, the shops close and do not allow tubers if the water level is over 700 cubic feet. Anything over is considered dangerous high waters in the river -- not somewhere you want to be in a $30 inner tube. However, below 700 cubic feet is fair game for you and the gang to hit the river.
Wear water shoes. Many river rental stores offer these for a discounted price, though the locals tend to purchase durable apparel. Consider investing in a pair of Chacos or Tevas, to not only avoid river pollution but to keep your feet safe and look rad doing it! 
Wear sunscreen. Hours out on the river can result in a pretty bad sunburn -- consider waterproof sunscreen beforehand and throwing it in your dry bag to take along. Some even choose to wear a shirt to protect against the mile-high sun.
Depart before 12. If you're looking for a more peaceful float, you can avoid crowds by getting out on the river nice and early. Avoid floating in the afternoon to sidestep afternoon storms or shops selling out of spots on the river.
Attach your sunglasses. Similar to flip flops, it is easy to lose a pair of sunglasses after a dunk in the river. To defend against river pollution and losing that brand-new pair of RayBans, head to any gas station or convenience store and strap those bad boys on tight. 
Secure a ride home. If you decide to go in on your own, consider parking a car near the James Brown Bridge. Most shops provide transportation for you, and if neither of these options work the local transit can get you where you need to go. However, keep in mind when using public transportation that wet clothes and inflated tubes are not allowed -- so plan ahead!
Trash the trash. If you do bring your own tube, bring it back off the river with you. Take everything from your discarded flip flops to deflated tubes back to your condo or hotel instead of leaving them by the side of the river. When everyone pitches in to keep our riverbank clean, it makes a world of difference!
You now are fully prepared to take on the river and another incredible Steamboat summer. Have fun out there!