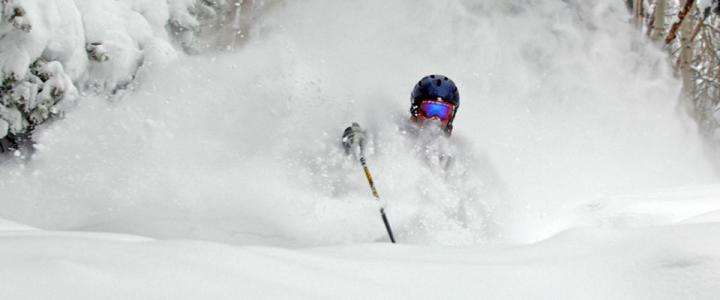 Nestled in Colorado's beautiful Rocky Mountains you'll discover the magical Steamboat Springs Resort. Pristine tree skiing, intoxicatingly famous Champagne Powder™, and western hospitality provides an unforgettable vacation for the entire family. We've compiled resourceful information to help plan your decidedly different vacation, to save you time, and most of all, make sure your ski vacation will be one you will never forget. Let's explore a few of our favorites to guarantee an unforgettable Colorado experience.
While Steamboat has always offered incredible ski terrain, our history, and laid-back style will ensure an experience unlike any other ski vacation. The quaint Yampa Valley provides various lodging options from home rentals, charming hotels, condos, even guest ranches for the full experience during your visit. Visit the Steamboat Springs Chamber lodging page to find the perfect place to book. You can also book your lodging, flights, lift tickets, lessons, services, and much more at Steamboat Resort. Planning your vacation has never been easier, with experts to guide you every step of the way.
Day One: Let the Perfect Vacation Begin
Start your epic visit with just the right equipment delivered directly to your door with Black Tie Ski Rentals or Ski Butler. Next, get fueled up with a homemade cinnamon roll and delicious breakfast at the local's favorite Freshies. Now you're ready to hit the slopes on Steamboat Resort's new gondola and over 2,965 skiable acres of breathtaking terrain with majestic views. Grab a tasty lunch or happy hour while enjoying the sun on the patio and Slopeside Grill at the base of the mountain. After a perfect vacation day, relax at the breathtaking Strawberry Park Hot Springs. End your evening with a locally crafted Colorado beverage at Mountain Tap!
Day Two: Steamboat Treasures and Adventures
Next, time to rise and shine for a one-of-a-kind adventure with spectacular views in a hot air balloon ride overlooking Steamboat with Wild West Balloon Adventures. Partake in another spectacular Colorado day on Mount Werner with tree skiing in solitude, coasting groomers, or even trying your skills in our terrain parks. Keep an eye out for the unique snowcat food truck, the Taco Beast, which roams the Steamboat Resort, parked at the bases of the ski lifts, and offers delicious Mexican flare. You've earned those turns, so reward yourself with some apres-ski next to the fire at Timber & Torch. Another fantastic new option is Steamboat's Wine Collective, a cozy coffee, hors d'ovres, and wine bar with lots of flavors sure to delight any palate. End the evening enjoying a peaceful sleigh ride dinner at Haymaker pulled by majestic draft horses, including inviting dining you're not soon to forget.
Day Three: Unforgettable Options and Experiences
Finally, complete your memorable Colorado ski vacation, indulge in a pampering massage or spa treatment at Rocky Moutain Day Spa. Another relaxing option includes exploring historic downtown Steamboat's fantastic retail stores, art galleries, museums, and over 100+ delectable restaurants. Lastly, celebrate your perfect ski vacation with a final foodie favorite Truffle Pig Restaurant & Bar.
The perfect balance of sublime nature, adventure, and eclectic options ensures you'll leave Steamboat Resort with memories, treasures, and a smile. No matter what your taste, style, ability, or age, a visit to this Colorado gem will be truly remarkable. Steamboat's genuine friendliness, breathtaking beauty, and numerous activities leave nothing desired. We look forward to your visit to Ski Town USA® and rest assured, Steamboat will live up to the legend.