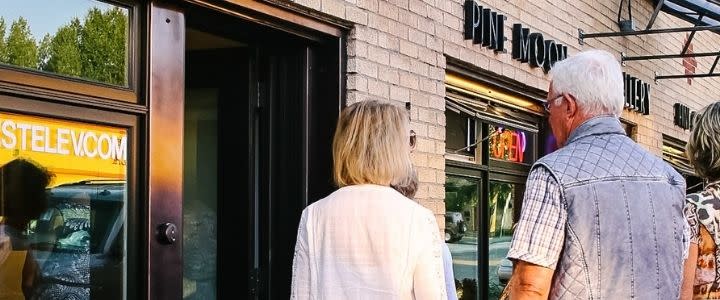 There's a reason as you enter our state it says "Welcome to Colorful Colorado." When it comes to Colorado beauty, it's easy to see why so many talented photographers reside and visit in picturesque Steamboat Springs. The abundance of light, nature, wildlife and color in all seasons is abundant in the Yampa Valley. Exploring Steamboat's photography galleries is a sensational way to take in the local artistic vibe and maybe just find some artwork to take home as a memento to brighten your space. When it comes to the photography culture, here are some of our favorites for you to experience during your Colorado vacation.
Western Photography With A Local Flare
Local photographer Jace Romick grew up on a ranch in beautiful Steamboat Springs, Colorado. His ranching heritage and extraordinary life experiences continue to influence his powerful photos and creative direction. The Jace Romick Gallery's sincere and memorable atmosphere hosts quarterly exhibitions, special events and provides year-round presence to the Steamboat Springs fine art community. Their curators select unique works that promote a contemporary western aesthetic. Jace Romick's active involvement in the local art community helps to ensure that the staff stays connected with the wonderful designers, collectors and art enthusiasts throughout the region.
Steamboat's Pine Moon Fine Art
Not to be missed during your Colorado visit, the Pine Moon Fine Art Gallery is a special gem, where you'll be able to meet local artists in person and view art inspired by the unique Yampa Valley. Steamboat photographer Abby Jensen is best known for her ability to create a connection with her subjects through the lens. Steeped in purity of purpose, Abby chooses to do the hard work in the field. Time, patience and command of the camera are essential for Abby, with her goal to connect the viewer with nature and wildlife. She has an enduring love and respect for the wild places in the world and strives to bring that alive in each piece. Take home one of her remarkable captures as a reminder of the treasure of Steamboat culture.
Bring Home Some Wild
Another new recent gallery addition located downtown is the K. Dietrich Gallery. Using natural exposure and his passion for travel, Kevin is an expert at showcasing animals, unique landscapes, and scenery that's truly special. Besides offering beautiful prints, you can also purchase home decor, apparel, tech accessories, and many other gifts of his photography as a reminder from your Colorado vacation. Discover nature's truth through the lens and see why his artwork truly makes you feel part of nature.
Mountain Gallery Popping with Color
After a gorgeous day on the mountain, stop by Zandee Gallery in Torian Plum for some colorful inspiration. Colorado-based photographer creates eye-catching captures that are truly breathtaking. Tim has been a full-time scenic photographer for almost two decades, proving that nature truly gives back with patience, sweat, and hard work. He captures the heart of nature in its purest form, hiking for miles and waiting for unique lighting and just the right moment. His award-winning pieces are becoming known worldwide, and it's not hard to see why. So, stop by, relax and take in the beauty that only nature can provide.
Nature's Nitty Gritty Details
Steamboat is where the old west meets the new west. Head downtown to the internationally known Mangelsen Images of Nature Gallery to explore nature that will inspire and capture all that Colorado offers. When digital technology is notorious, reprogramming its users to have shorter attention spans, Thomas D. Mangelsen's photography stands as a testament to the rewards that can come to people who slow down their lives and wait for nature's revelations to happen. His dedication to wildlife conservation, along with over 45 years of observing and photographing earth's wild places, stands the testament of time.
A New Standard In Fine Art
Located in the heart of downtown, Standard Gallery and Wine Bar is a unique new venue that offers fine art photography by Dustin Posiak-Trider and serves elegant delicacies from the Meatbar. Dustin's passion for photography has generated many opportunities to study unique social topographies of the human condition throughout society. Photography has created many areas of significance of which he pursues daily. Dustin works on many different projects and in many various capacities. He is always interested in engaging with new people and being a small part of big stories. The gallery hosts ongoing special events, artists' talks, story-telling, and micro-exhibitions throughout the year.
Specializing In Contemporary Realism
While many notice the life-size bronze sculptures along Steamboat's main street, what's truly inspiring is the photography that's inside. For decades, the Wild Horse Gallery has been a cherished Steamboat favorite, offering meaningful and timeless photography. Local photographers, including Greg Albracht and Rod Hanna, offer a window into the west that captures all the Yampa Valley offers. So take home a local piece of the Rocky Mountains that can be cherished for years to come.
Steamboat's photography culture has genuinely become a creative hub for internationally known photographers. A few other honorable mentions galleries with rotating photography that shouldn't be missed include the Riverwalk Collective Gallery, The Steamboat Art Museum, Gallery 89, and Steinberg Photography. No matter what your style, taste, or flavor, you're sure to find an abundance of Steamboat photography that will be everything your heart desires. Your Colorado visit is sure to be a priceless memory, and our local Steamboat Springs photographers are excited to share their passion with you.