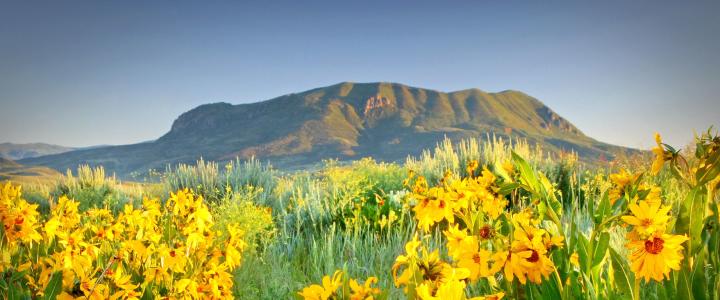 Steamboat Springs is not without legends of its own. The Yampa Valley is rich in history and stories from the Utes who lived here before the fur trappers stumbled into the valley. The Sleeping Giant, officially Elk Mountain, guards the valley from the west. Some say the Giant is responsible for the "Yampa Valley Curse," which makes people yearn to return to the valley.
There is the story of the Gentle Giant, as told by Kingo (Charlotte Perry):
Many years ago there lived a gentle friendly giant. He loved life and the people of the Yampa Valley and was always ready to protect anyone who lived here from any danger. The people knew he was their friend and would always take care of them. As the story goes, the giant was told that he would be granted eternal life and always be allowed to live in the Yampa Valley as long as he never harmed another living thing. One day a bad giant ogre came to the Valley and started to terrorize the people. The Giant was very worried about their safety and lured the Ogre up to Steamboat Lake where he fell into the quicksand. The people were relieved and happy that the Bad Ogre was gone and the Giant had saved them. But - because the Giant had broken his oath not to hurt anyone, even though it was a very bad Ogre, he had to be put to sleep. The whole valley came out for a ceremony to put the Gentle Giant to rest. They surrounded the base of the giant with rattlesnakes so that he would not be disturbed. To this day, the giant rests and the rattlesnakes protect his peace. 
When I was a rookie ski instructor, this is the story the vets told me:
The Sleeping Giant was a sacred place to the Ute Indians when they lived in the valley. When the fur trappers came to town, and white people began to settle here, the Utes were afraid that their sacred land would be destroyed. So the Utes went out and hunted out all of the rattlesnakes in the valley, and set them loose on the Sleeping Giant to protect him from the outsiders. To this day, you still cannot hike on Sleeping Giant because there are so many rattlesnakes.
Which one do you believe?