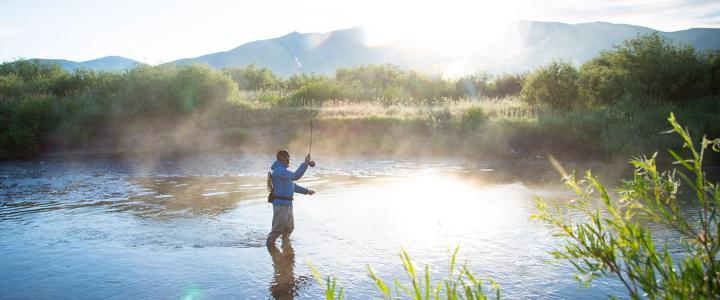 One of the best summertime activities in Steamboat Springs is an early morning or evening fishing trip. Whether it is an early Saturday morning, or a Monday evening after work, there is no better way to spend the day than along the Yampa River. There is some excellent catch-and-release fishing on a 7-mile stretch right through downtown Steamboat Springs, which allows both flies and lures. This makes for convenient river access without having to drive outside of town. There are also tons of local favorite spots, in and around downtown Steamboat, such as Sarvis Creek or the Stagecoach Lake Tail Waters.
The first thing to know about fly fishing is your hatches. Many veteran fly fishers can attest that this is learned through experience, but a healthy amount of research can only work in your favor. Right now, the Little Yellow Sally flies or midges are a common hatch. Someone who pursues the hobby frequently can oftentimes look over the water and be able to identify the appropriate type of fly to use. Local shops such as Straightline Sports or Bucking Rainbow are incredibly knowledgeable about current conditions and hatches. Grab your waders, your tippet and your liter and hit the river!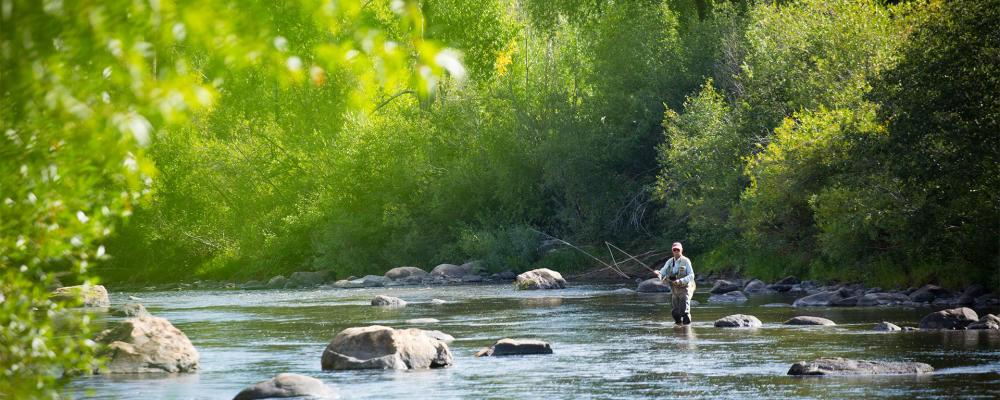 There are many great holes in downtown Steamboat to test your skills. In south downtown, head to Dr. Rich Weiss Park, will you find a long stretch of river to explore. With different levels of water, different terrains and plenty of stretch to spread out, this is a great spot to try your line. Steamboat is naturally home to different species of trout, such as Rainbows or Browns. In some stretches of river, you can see them rising to feed in the clear waters of the Yampa River.
If you want to head out of town and into South Routt, there are beautiful stretches of water for catch and release fly fishing. As a reminder, these areas will fill up in the mid-morning, so the best time to go is during the earlier part of the morning, or later in the evening. Head to Stagecoach Tail Waters at around 8 and make sure to stake out your spot for the mid-morning hatch. In this part of the river, just a $7 parking cost is all that is required for some of the most beautiful river fly fishing. After walking down a long dirt road, you come to the bottom of the valley in a stunning forested part of the Yampa River. Here you'll find unique holes that will give the more seasoned fly fisher a challenge, but also some pretty good-sized trout as well. Try out your midges or nymphs in this part of the river for some potentially good luck!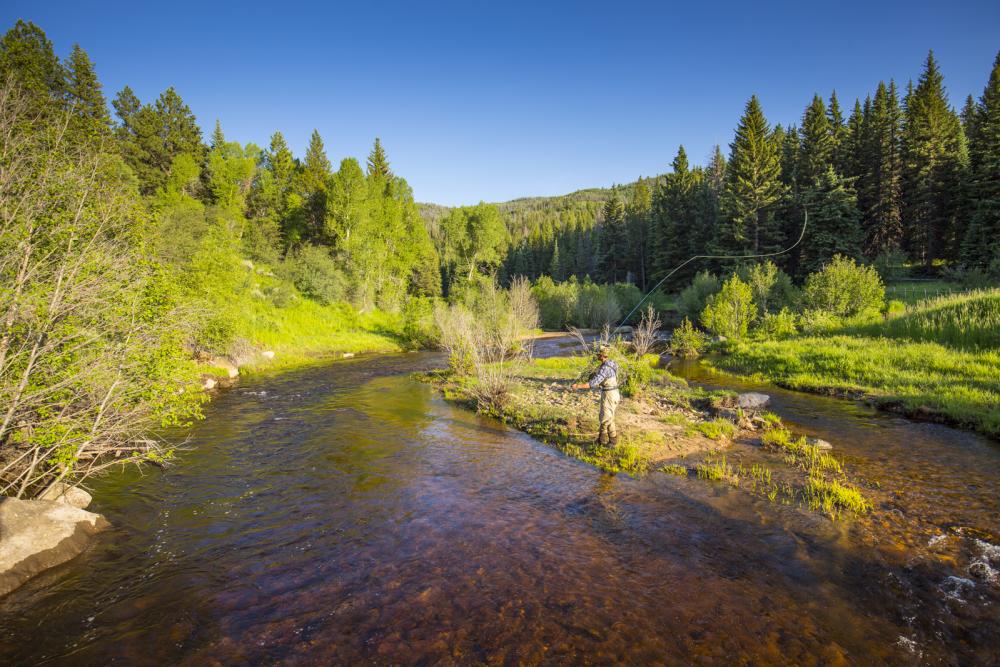 Just past the Stagecoach Tail Waters is the popular Sarvis Creek. Another local and visitor favorite, this stretch of river is located down a torn-up dirt path about a mile from the Tail
Waters. Here, you'll find a large parking lot where folks come to enjoy the area with children and pets to float, hike, and fish. Timing is everything in this area -- those who best understand the sport know to find the perfect hole, and do so before someone else does. This stretch of river is a little calmer, with higher banks. This works in favor of someone who is newer to the sport. Worry less about finding the right stretch of rapid and cast into the smoother running river. With higher banks, some larger trout will plant themselves against the side as a tactic to avoid currents and remain stagnant.
Steamboat is the perfect place for fly fishing, regardless of the experience level. There are so many diverse stretches of river in and around Steamboat for you to try your skills! For more information about fishing in Steamboat, stop by a local fishing shop. The staff will give you the latest information on river updates and fly hatches.