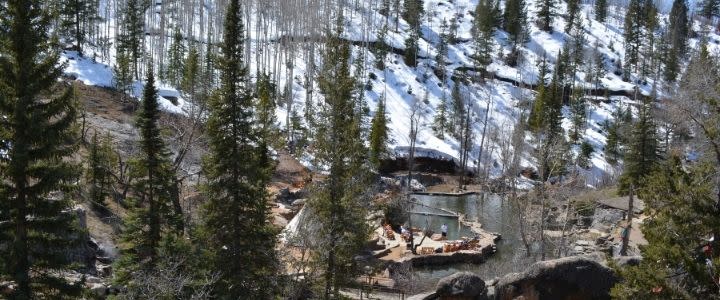 Colorado legends and traditions run strong in Steamboat Springs. Residents and visitors appreciate its beauty, but many don't know the full depth of our unique history, stories, and individuals that have shaped the town into what it is today. Thousands of visitors and residents make the trek up to Strawberry Hot Springs during their vacation for a mountainside soak. Still, few realize what a crucial role this area played in the development of Steamboat as a community. Below you'll find some of the incredible stories and impressive history of Strawberry Park, from a holy place of ancient sacred medicine to one of the nation's founding progressive dance companies.
Strawberry Park Hot Springs Roots
The Rocky Mountains surrounding Steamboat Springs have been treasured by Native American's for thousands of years, providing everything they needed to survive and thrive. The Mineral Hot Springs were esteemed for their restorative energy and healing powers. Ute Indians were known to visit to bathe themselves and their horses in the local hot springs' rejuvenating waters before battle or hunting excursions, believing it provided stamina and strength.
More than one hundred and fifty geothermal pools in the Yampa Valley, once enjoyed by the Arapaho and Yampatika Utes, are celebrated along the Colorado Historic Hot Springs Loop. Just minutes from downtown, you'll find breathtaking Strawberry Hot Springs, a world-renowned natural hot spring that offers therapeutic soaking in unparalleled Colorado scenery. Originally named Hot Springs Creek, the warm bend in the river was only accessible to brave Steamboat settlers who accessed it by foot, horse, snowshoe, or cross-country skis. Today Strawberry Hot Springs is accessible by road with a 4WD vehicle or shuttle. 
Strawberry Hot Springs peacefully bubbles forth at 147℉. The hot water trickles down the stones and mixes with cool river water, allowing for a pristine soaking temperature. Partake in a treasured Colorado cultural heritage experience and relax your worries and aches away amid various soaking pools in peaceful nature. During your visit, enjoy a hot stone or watsu massage, overnight adventure in their humble cabins, or campsites for the ultimate organic vacation experience.
Perry Mansfield Creative Traditions
Our town's love for music and art is deeply connected to some of its infamous founders who were inspired by Steamboat Springs and the Strawberry Park environment. Among the Colorado aspens, another treasure located in Strawberry Park is the famous Perry Mansfield Performing Arts School and Camp, which still operates today. In 1913 two courageous women named Charlotte Perry and Portia Mansfield  founded the first camp in the country to combine dance, theatre and the arts with a wilderness experience
The founder's bold vision still motives the camp's focus today; "creative practice through art and nature manifests in an insightful, compassionate and courageous life." Perry Mansfield kept the school going through World War II with pure determination by tailoring its curriculum and adapting its classes.
Perry Mansfield now operates as a non-profit organization on on seventy-six acres and has been placed on the National Register of Historic Places. Both founders of the camp were inducted into the Colorado Women's Hall of Fame. Their passion has solidified their success and still attracts composers, writers, dancers, professionals, and celebrities worldwide. Born from innovation and imagination, their equestrian, theatre, dance, and art genuinely stand the test of time. 
Steamboat's unique and cherished treasures like the Strawberry Park Hot Springs and Perry Mansfield Performing Arts School and Camp stand as a testament to those with determination who valued the land, traditions, and the beauty of Yampa Valley. We invite you to partake of these historical traditions during your next vacation, respect its admired western heritage and hope a glimpse at our history makes your Colorado visit memorable.