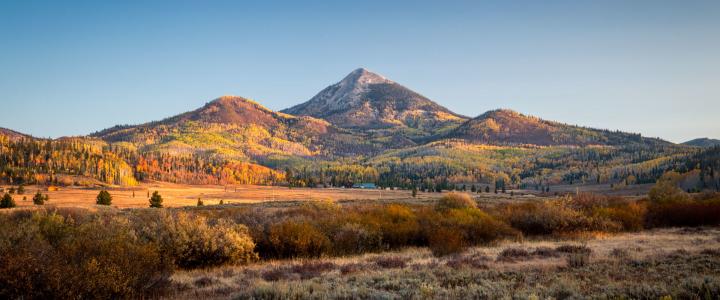 We love a good fall drive, but there is something magical about being out in the fresh air during this spectacular time of year. Driving can certainly take you to some out-of-the-way places. To really experience the magic of the season though, you'll need to step out of the car (or bus or Uber…) and use all your senses to enjoy fall.
1. Take a hike
Steamboat Springs is a great place to go for a hike, whether you're out for a multi-day backpacking experience or just want to step out in nature for an hour.  Walking takes longer than other forms of transportation, and really, that's the point. Hiking allows you to see spectacular aspen groves up close and personal, you can smell the changing seasons in the air, feel the crunch of leaves under your feet, and you can get to spots that are often only accessible on foot.
If you have an hour: park at the Spring Creek Trailhead and set out on this popular, multi-use trail. The trail heads up 5.2 miles all the way to Buffalo Pass, but you can walk as far as your time permits.
Expect other users, including bikes, and be on the lookout for wildlife. Dogs are welcome on the trail, but if you bring your furry friend, be sure to keep them on a leash except in the designated off-leash area.
If you have several hours: head up Routt County Road 38 (Buffalo Pass Road) and try out any number of the trails from this beautiful trail system.
Know Before You Go: With the signature trail named Flash of Gold, it's no wonder the Buffalo Pass area can be a popular place in the fall. Be prepared for many users from hikers, to trail runners, and cyclists. The area is especially popular on weekend mornings, so if you prefer solitude, head up early or late in the day on weekends or during the week if possible.
Curious about parking conditions? Check out the parking lot camera here. 
2. Explore on two wheels
Whether you're on a mountain bike, road bike, or gravel bike, fall is one of the best times to bike in Steamboat Springs. Dirt trails are often at their peak this time of year, and the cool mornings and evenings offer a welcome rest from warmer summer temps. Check out the many road and gravel options here and read below for some trail options.
If you have 2 hours: Emerald Mountain is a gem of a trail system in downtown Steamboat Springs. Park at Howelsen Hill and explore the many cross-country loops you can connect to customize your ride. If downhill is your thing, check out NPR (No Pedaling Required). You still must pedal to get there, but the banked corners and gaps are worth the effort.
If you have 3 or more hours: Head back up to Buffalo Pass for some of the best aspen-lined trails in Colorado.  Several partnerships over recent years have resulted in fantastic new trails that will thrill and challenge any level of rider.
3. Ride a horse
Residents and visitors of the Yampa Valley have embraced this four-legged means of travel for hundreds of years. Several outfitters in the area offer various tour options, so choose the best option for you and your crew and get ready to experience the golden aspen leaves on the back of an icon of the West. To do this one right, plan for at least a half-day excursion. Trust us, you don't want to rush this experience.
4. Walk, then stop to smell the roses
The Yampa River Core trail follows the Yampa River from one end of town to the other. Park at either end and enjoy the scenery as you make your way to the Yampa River Botanic Park, which can be accessed directly from the multi-use path. Plan ahead and bring a picnic lunch to enjoy in this six-acre gem with over 50 gardens, ponds, and sculptures.