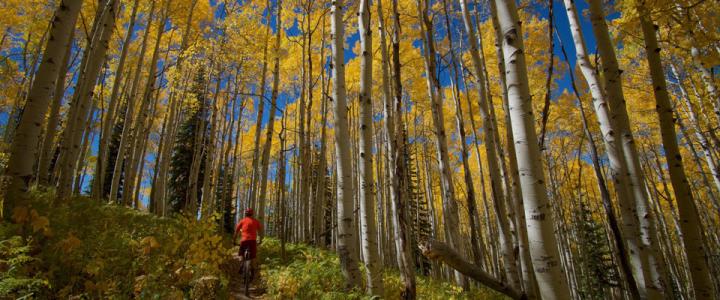 Fall Bike Tour
There's no better location to go on a fall bike tour than Steamboat Springs – and the Buffalo Pass Trail Network is the perfect place to start. In the past 5 years, "Buff Pass," as the locals call it, has seen the development of new trails thanks to Steamboat's 2A trail program. The area is home to a wide variety of riding for all levels – beginner to advanced. Kids will enjoy beginner trails such as Fiddlehead and Panorama while experienced riders will enjoy aggressive and technical downhill trails. The best part? If you're in the mood for multiple types of riding you can link together trails to fit your needs!
This fall, loop together endless miles of singletrack, wind through vibrant aspens, climb above tree-line, see spectacular views, and experience a bike ride you won't forget. 
Trails Closest to Town
Spring Creek Trail
The Spring Creek trailhead is located right in town and takes you to the Dry Lake Campground on Buff Pass. This trail has it all and follows a creek as it winds its way up towards Buffalo Pass. In the fall, the aspens that line the trail start to change colors, and the higher you climb, the more spectacular the views. It's about 5 miles to the top where you will connect to the next trail or turn around to experience one of Steamboat's newest downhill thrills.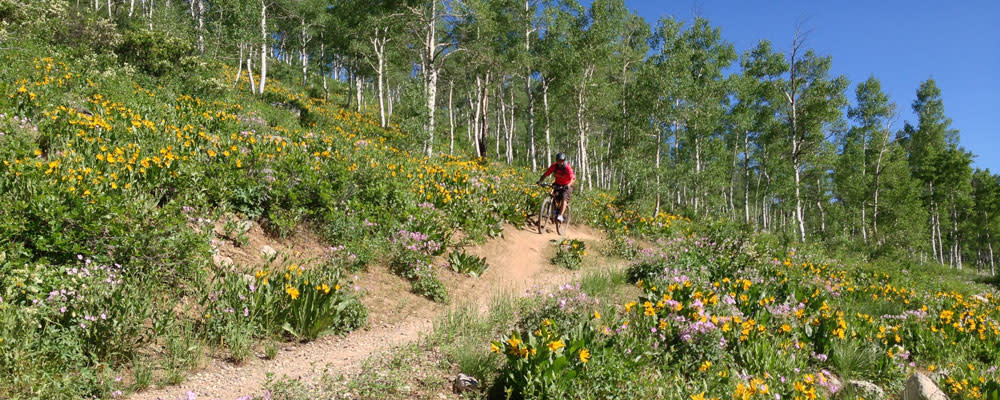 Spring Roll
This new, downhill only trail parallels Spring Creek making the trails safer for both hikers and bikers. This blue/black trail features include small berms, flowy rollers, rock gardens and optional jumps – perfect for those looking for some true downhill fun!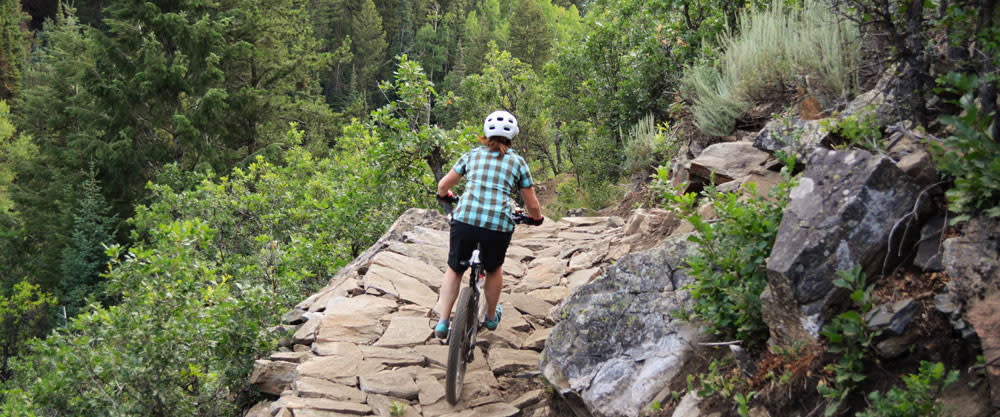 Buff Pass Network
The best way to access the Buff Pass trails is to make the short 15-minute drive to the Dry Lake Campground, located at the top of the Spring Creek trail, and park here. Unload your bikes and choose your adventure to start the fun!
Flash of Gold
The can't-miss trail on your fall list is Flash of Gold. This trail gets five stars for its scenery alone, as it cuts through lush ferns, dense aspen groves, and across wildflower-covered meadows. True to its name, there's no better time to bike the Flash of Gold trail than in the fall where the aspens that line the single-track illuminate the trail. It's an 11 mile, intermediate level multidirectional trail.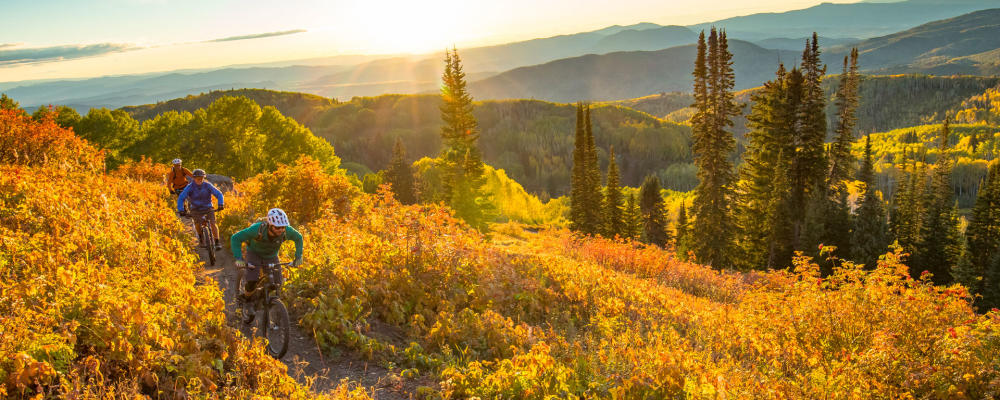 G.E.M.
The trail is remote and delivers great views of iconic Rabbit Ears peak, Fish Creek drainage, Lost Ranger Peak. The upper portion features rock gardens and berms, and the trail creates a lollipop option with Flash of Gold. You can continue up Flash of Gold or head down Flash of Gold to start the descent. In total, G.E.M is 3 miles long. 
BTR
From Flash of Gold around mile 4.5, you can hop on BTR. BTR is not for the beginner rider. This challenging, black downhill trail has plenty of drops, rock gardens, jumps, and other technical features. In 2017, BTR was revamped into a sustainably built trail that minimizes resource damage. It's a fun way for experienced downhill riders to descend!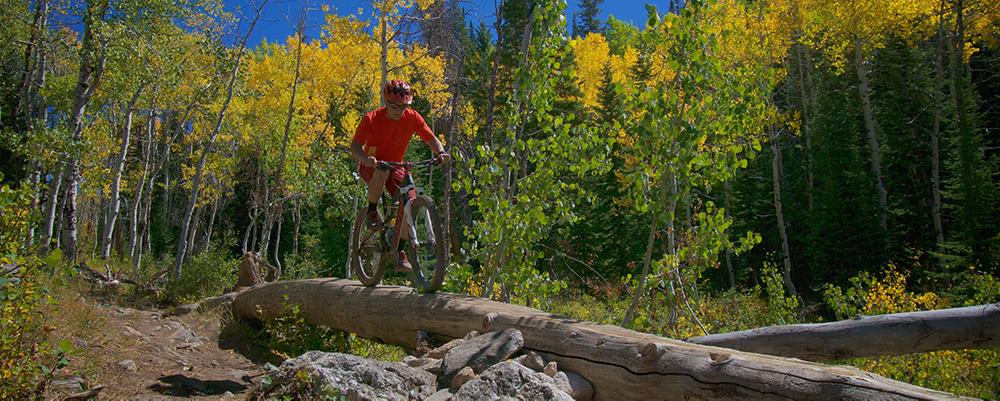 Flash of Gold to Grouse
If you're up for a 21-mile day full of climbing and then aggressive downhill – this option is for you! Make your way all the way up Flash of Gold to Grouse Ridge. This trail is an expert trail featuring many drops, ridges, rocky technical problems, steep maneuvers, and cliffside exposure. Be sure to use caution and understand your abilities when riding Grouse. This fun trail will bring you back to the Dry Lake parking lot where you can head back into town to fuel up at one of our many happy hours and restaurants serving local ingredients sure to leave you satisfied!
To learn more about these trails and plan your bike route, use the interactive maps here.