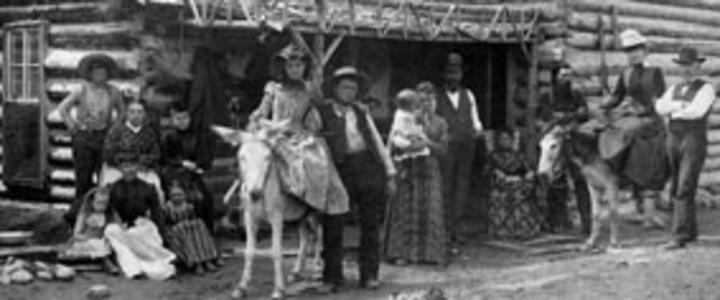 Wide open spaces, pristine skiing, and abundant outdoor experiences are why so many choose to vacation in Steamboat. Convenient access by plane or car is simple by today's standards, but that hasn't always been the case. This Colorado mountain town remained extremely challenging to visit before the first railroad tracks were laid in Routt County. With a bit of ingenuity, sweat, and vision, hard workers of Routt County past helped carve the way for trains carrying visitors to Steamboat, allowing business and tourism to expand. The presence of the railroad forever changed how the Yampa Valley would be enjoyed by tourists and residents. Let's take a trip down memory lane and discover how the old west was shaped into a renowned vacation destination.
Cows, Coal and Commerce
The Denver, Northwestern & Pacific Railroad was established in 1908 by David Moffat, president of First National Bank in Denver. Moffat's dream was to connect small mountain cities by railroad and expand Colorado business. A fearless group of surveyors, known as Argo's Squirrels, toiled and risked their lives, mining tunnels, laying railroad tracks, and constructing a train route to reach the Yampa Valley. Steamboat quickly began exporting coal, shipping and receiving livestock, mineral, and other agricultural supplies.
Once only accessible by stagecoach, Steamboat was no longer isolated from the rest of Colorado. Passenger travel began in 1909 over the Continental Divide. Tourist and passenger rides through the mountains became a recreational pastime for the blossoming Front Range community. Excursion trains became popular, even offering dining cars and orchestra entertainment. "One who has not lived in a town remote from railroads, particularly in this western country, where mountain roads are none too good and where stages break down, and freight outfits are stalled in the mud and snow for days at a time, cannot realize the sensations that thrill the residents of the gritty little towns in Northwest Colorado when they hear the locomotive whistle," wrote one Denver Post author of life in Steamboat in the early 20th century.
Trains Lay the Way for Steamboat as a Ski Destination
Thanks to the advent and use of the infamous rotary snowplow, mounted to the front of commerce and passenger trains coming through the area, Steamboat suddenly became more accessible during the winter months. Tourists began to arrive on passenger trains, including the famous Carl Howelsen who visited and relocated to Steamboat, founding the traditions of Winter Carnival and Howelsen Hill Ski Area, America's oldest ski resort still in operation today. The volume of tourists arriving to enjoy Steamboat as a world class ski destination steadily grew throughout the 20th century. 
Explore Steamboat's Western History
At the historic train Depot Art Center, we invite you to take in local art and creative events next to the Yampa River, where the famous sounding Steamboat spring once whistled. First constructed in 1909, with fundraising from residents in Steamboat Springs, as a railroad stop, it's proudly part of the National Register of Historic Places. This artistic center proudly houses Steamboat Creates, which host ongoing exhibits, classes, and performances that are sure to delight.
On your next visit to Steamboat, keep an eye out for the Union Pacific trains, which still travel along their original historic route. Your family will enjoy exploring the Tread of Pioneers Museum, which holds valuable railroad artifacts and stories. If you're looking for a fun historical adventure, head south to Oak Creek's Tracks & Trails Museum, which invites visitors to view railroad artifacts that shaped Colorado's economic evolution. We are proud to share our unique heritage and invite you to discover why Steamboat Springs is unlike anywhere else.