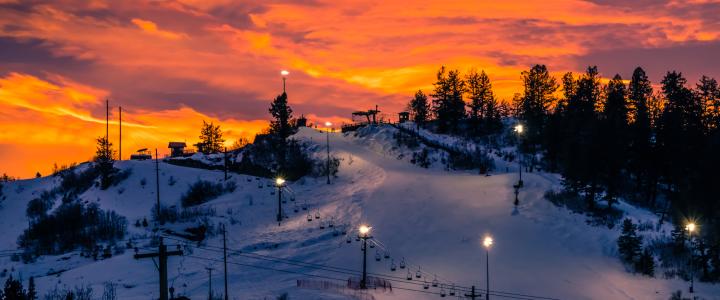 Colorado's Oldest Ski Resort Still Operates in Steamboat Springs
Did you know that Steamboat Springs is home to not one, but two ski resorts? The resort on Mount Werner is not the only ski resort in Steamboat. In fact, Steamboat Springs is home to the oldest continuously operating ski facility in North America - Howelsen Hill. Within walking distance of downtown Steamboat, Howelsen Hill is an Olympic training ground, having produced 96+ Olympic athletes. Howelsen also offers such amenities as Ski Free Sundays for locals and visitors. Here's some of the little known history of how Howelsen Hill came to be and helped make Steamboat Springs into the world-class ski destination it remains today.
Howelsen Hill: Since 1915
Although folks outside the Yampa Valley may find themselves unfamiliar, to generations of Steamboat locals Howelsen Hill is iconic. For 106 winters, families have flocked there for cold-weather recreation including alpine skiing, nordic skiing, ice skating, ski jumping and more. The Steamboat Springs Winter Sports Club, also founded in 1915, has practiced at Howelsen since its earliest days and sent an astonishing 98 of its most talented sons and daughters to compete in the Olympics so far, more than any other single ski area. With the largest and most complete natural ski jumping complex on the continent, the US Ski Team has long used the facility as a training ground for its jumpers. 
Carl Howelsen Becomes Famous Ski Jumper
It all began back in 1913 when Norwegian immigrant Carl Howelsen came to town and decided to make Steamboat Springs his home. Howelsen, born Karl Frithjov Hovelsen in Oslo, Norway in 1877, spent his youth in his home country as a competitive cross country skier, winning medals in Nordic combined and 50km cross country events at the Holmenkollen ski festival in both 1902 and 1903. Around 1905, he emigrated to the US where he adopted the name Carl Howelsen and took up work with Barnum and Bailey's as a circus performer. Billed as the "Flying Norseman," Howelsen awed the crowds with gravity-defying feats as a ski jumper, sometimes clearing obstacles such as elephants as he soared through the air. His act was such a tremendous draw that Howelsen commanded a wage of $200 per week, a truly extraordinary sum at the time.
Carl Howelsen Arrives in Steamboat
After traveling with the circus for a few years, Howelsen's fondness for snow brought him to Colorado. He moved to Denver in 1911 and remained there for two years until Steamboat resident Marjorie Perry turned him on to the wonders of the yet to be trademarked Champagne Powder® for which the town is now world-famous. Declaring the local winter precipitation to be "light and dry and splendid for traveling," Howelsen immediately went to work establishing himself as Steamboat's resident authority on all things snow sports. Within a year's time, Howelsen helped to orchestrate the first-ever Winter Carnival, a celebration that included events such as nordic racing, ski jumping, and skijoring, and is held annually in Steamboat Springs to this day.
Howelsen Hill is Created for Second Winter Carnival
Following the success of the first Winter Carnival on Woodchuck Hill (present-day site of Colorado Mountain College), Howelsen began scheming ways to make the second even bigger and better. He became convinced that the people of Steamboat could break ski jumping records if only they had a steeper hill. This thought hatched the idea for a project- to build a ski jump in town suitable for competition. He chose as his location a hill in lower Elk Park and the rest, as they say, is history.
The second Winter Carnival in 1915 was the first of many, many events that would be held at Howelsen Hill over the next century. Although Carl Howelsen eventually left Colorado to return to Norway in 1922, his legacy looms as large in Steamboat as the hill across from Yampa street that bears his name. Prior to his arrival, skis were merely a way for Steamboaters to commute in the snow. Yet by the end of his remarkable nine-year tenure, the people of Routt County had fully embraced skiing for sport thanks to Howelsen's coaching and infectious enthusiasm. Needless to say, Steamboat Springs would be a very different place today were it not for Carl Howelsen and Howelsen Hill.