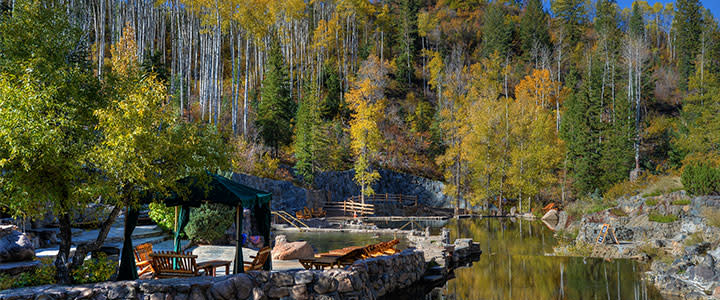 A picturesque old ranching town tucked into its own stunning corner of Colorado's Rocky Mountains, Steamboat Springs has etched its name on the world map as a powder paradise for skiers in the winter and a singletrack mecca for mountain bikers in the summer. But that means many visitors don't take the time to visit in spring and fall, when the crowds clear out and the town takes on a new dimension. Still very much a town of ranchers and miners, Steamboat's Old West mystique becomes more tangible in the off season, its bountiful landscape open and only lightly frequented by outdoor lovers and adventurers this time of year.
With a sea of blooming wildflowers across Mount Werner and its surrounding ranchlands, Steamboat in the spring is when the local vibe radiates. For couples and families wanting to get an early taste of Steamboat's summer gems, there is no better time to visit.
Outdoor Adventures
With the summer crowd typically rolling in over the Fourth of July weekend, May and June are arguably the most magical months to embrace Steamboat's trails, lakes, rivers, and parks. Because Steamboat's elevation (6,700 feet) is at least 1,000 feet lower than many of Colorado's other popular mountain towns, snow tends to disappear more quickly here and flowers bloom earlier. Outdoor enthusiasts have lots of options.
Hiking
There are not just dozens, but hundreds of miles of hiking routes surrounding Steamboat, ranging from one-mile nature loops on the ski mountain ideal for families to challenging, multiple-day routes for seasoned backpackers. Wherever you go, the scenery is punctuated by sparkling lakes and jaw-dropping rock formations.
Biking
Whether you're pedaling on pavement through town along the Yampa River or on dirt through green meadows and aspens on Emerald Mountain with the doll-sized view of town over your front wheel, you will get dizzy just deciding which journeys to spin on (the local bike guide can be of much assistance). Biking The Boat in spring or fall often means miles and miles all to yourself.
Fishing
While the Yampa rages with snowmelt in spring, it's ideal for casting in the fall, teaming with a variety of trout. In the off-season Casey's Pond is a peaceful picnic spot for families while the shores of three large lakes–Stagecoach, Pearl and Steamboat–offer seasoned anglers quiet spots to call their own. Learn more
Climbing
Given the aforementioned one-of-a-kind rock features in and around Steamboat, it's no surprise that human monkeys flock here to scale sheer cliffs such as The Dome and Box Canyon. For those just reaching into the foray of climbing, guides are easy to find and eager to help in the spring and fall.
Camping
Whether you want to venture off the grid into your own private aspen grove or hook up your rig lakeside in one of the area's three state parks, "roughing" runs the gamut around here. Reserve a spot at an official campground here or simply pack your tent and pay a nominal fee ($10-$12/nightly) before claiming your square of temporary home in remote areas such as Meadows on Rabbit Ears Pass or Granite on Buffalo Pass. More on Camping
Horseback Riding
Harken back 100 years and experience the landscape like the pioneers did. A handful of area ranches offer guided horseback rides through creeks and hills and ranches like Del's Triangle 3 even allow you to rent saddle horses for self-guided exploration.
Hot Springs
As you might guess by its name, Steamboat's most famed year-round attraction are its natural hot springs. Old Town Hot Springs in the middle of town has provided therapy for weary bones and muscles for more than a century and features eight sprawling pools in which to spread out as well as a system of water slides and a kids play area. Tucked into the aspen-strewn slopes just north of town, Strawberry Park Hot Springs deliver a more rustic experience, complete with cabins and picnic areas.
Zipline, Summer Sledding, and Mini Golf
Although nature provides the most impressive playground in and around Steamboat, spring is an ideal time for families to indulge in some of the area's human-designed adventures. Steamboat Zipline Adventures bring on a whole new brand of adrenaline as you glide high above the treetops while Howelsen Hill, an international hot bed for Nordic ski jumpers in the winter, transforms into a lift-served alpine slide in the spring: The Howler.
Golf
Home to two public and one private 18-hole golf courses, the high-elevation greens are as challenging as they are stunning. The public Rollingstone Ranch course sprawls along Fish Creek with upscale dining and resort facilities while Mount Werner and the Flat Tops loom in the backdrop of the rolling hills along the Haymaker Course. Although it's private Catamount Ranch is a peaceful spot to grab a fall lunch, its lakeside restaurant open to the public.
Autumn Allure
All of spring's offerings take on the added feature of fall colors once September rolls around. With the summer crowds disappearing after Labor Day, Steamboat once again dons its purest face, brightened by harvest colors and perfect weather. The temperature often remains warms and sunny this time of year with cool, crisp nights. In addition to the colorful panoramas reached by foot or bike, scenic drives are a favorite way for leaf peepers to take in the red, yellow and orange landscapes. Popular routes include Buffalo Pass and Rabbit Ears Pass, both just outside of town.
Breweries and Museums As inviting as Steamboat's off-season is, the weather can change quickly in spring and fall, but luckily there is no shortage of indoor options. Like the rest of Colorado, Steamboat embraces its craft suds and is home to not one, but four breweries as well as local favorite Yampa Valley Brewing Company, situated about 27 miles outside of town. Housed in a Victorian mansion, the Tread of Pioneers museum takes you on a journey through Steamboat's Native American, Wild West and ski heritage. Down the road, the Tracks and Trails Museum offers a glimpse into South Routt County's mining and railroad history, while you can visit a 100-year-old schoolhouse at the Hahns Peak Museum. Also, the Steamboat Art Museum displays ever-changing exhibits featuring work by the region's top artists as well as hands on workshops.
All told, Steamboat's shoulder season delivers all of the adventure and amenities that crowds come for in the summer, minus said crowds. Have it all to yourself, along with the bonus of blossoming wildflowers in the spring or the glow of changing leaves in the fall.
Written by Shauna Farnell for RootsRated Media in partnership with Steamboat Springs Chamber.
Featured image provided by John Prichard