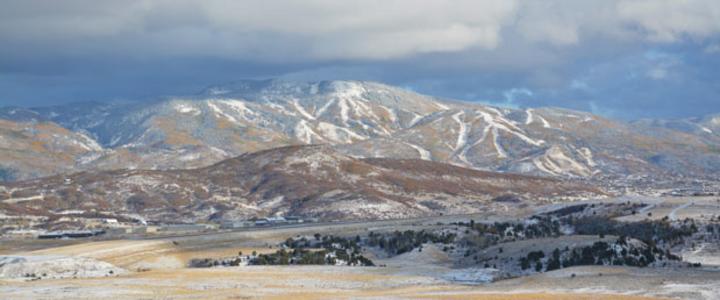 Endless outdoor adventure, wide open spaces and authentic western heritage combined with foodie- AND family-friendly restaurants and a thriving arts and culture scene make Steamboat Springs a perfect destination. Even better, leaders and business owners are always looking to improve. Here's a peek at what's new right now and some exciting developments on the horizon.
HAPPENING NOW
Ski Resort upgrades
Steamboat Ski & Resort Corporation is in the midst of a $135 million multi-year resort improvement campaign, the largest in the resort's 58-year history. This season, the new lower Gondola terminal will open, as well as the new resort entrance featuring a custom art wall and an escalator. The overall improvements plan, including on-mountain and base area enhancements, is anticipated to occur over the next three years. Along with a newly developed après ski plaza, new restaurants and bars, a ski beach, and an ice rink, future plans include a 650-acre terrain addition and construction of North America's longest 10-person gondola. The resort's terrain will expand by 20 percent, making Steamboat the second-largest resort in Colorado. The resort recently received environmental assessment approval from the U.S. Forest Service for the second phase of the Wild Blue Gondola, which will run from the new Greenhorn Ranch to Sunshine Peak. 
Charcuterie hotspot
Laura the Butcher, aka Laura Posiak, is known for creating sophisticated charcuterie platters. Her brainchild, LTB Meatbar, opened in downtown Steamboat this month on Lincoln Avenue. Expect small bites, including fresh-sliced imported jamon and rotating specialty cheeses, at this cozy new European-inspired charcuterie bar.
---
COMING SOON
Storm Peak Brewing Co. adding new rooftop bar & tasting room near Resort
Soon, even more people will have a chance to catch the sunset from the rooftop of Storm Peak Brewing Co. The popular brewery is expanding its rooftop bar and hopes to re-open the area later this fall. Additionally, the brewery will open a new tasting room adjacent to the ski resort. The owners hope to start serving a selection of house-crafted beers in time for Christmas.
Howelsen Hill debuts new chairlift and seven-day-per-week schedule
North America's oldest operating ski area and Steamboat's original ski hill is getting an upgrade this season. A new triple chairlift will transport skiers and riders at Howelsen Hill Ski Area this season. The lift, which is being installed now, will start operating the first weekend in December. While the name remains the same as it has for decades — the Barrows Lift — people will enjoy a slightly different vantage point from the route, which is slightly north of where it used to sit. Also, new this year, for the first time in decades, the lifts will operate seven days per week for the upcoming season, slated for Nov. 27 through April 3 (conditions permitting). The popular Ski Free Sundays promotion will return to the resort, which boasts 17 alpine and nine Nordic trails.
New barbecue spot coming to former Tap House location
After nearly 25 years in business, the Tap House Sports Grill recently closed, but a new restaurant featuring Texas-style barbecue is in the works. Mad Creek BBQ & Saloon is slated to open by the end of the year. Along with smoked brisket, whole or half chickens, and ribs all cooked in the barbecue pit on-site, the restaurant will serve classic sides like pinto beans, potato salad, coleslaw and macaroni and cheese.
Food trucks by the river
The owners of Snow Bowl Steamboat are creating The Boat Yard, a permanent space for food trucks located at 831 Yampa Street. The plan is to host five food trucks on a ¼-acre space between Aurum Food & Wine and Backdoor Sports along the Yampa River. Along with the trucks, the space will include open areas and picnic tables for people to sit and enjoy the views alongside the river as they eat. 
Gondola seating returns to Mountain Tap Brewery
What began as a COVID-19 survival tactic has become a winter mainstay at Mountain Tap Brewery in Steamboat Springs. Gondola car and outdoor fire pit table seating return to Mountain Tap's patio this autumn.
"The gondola cars were incredibly popular last winter," said Mountain Tap Brewery brewmaster and co-owner Rich Tucciarone. "It was a pleasure to seat guests in the gondolas and hear – countless times throughout the winter 'This is so amazing!' The gondolas offered guests a safe and private place to enjoy dinner, while also providing a fun ski town experience."
The three gondola cars previously shuttled skiers at Killington Ski Area in Vermont. Mountain Tap Brewery worked with a gondola restoration company in Fruita, Colorado, to obtain three gondola cars in the fall of 2020. Each gondola comfortably seats six adults and is equipped with an electric heater, twinkly lights, and a Bluetooth speaker so guests can choose their own music. The tables are made from the same beetle kill pine used to make Mountain Tap's signature indoor community tables. In addition to the gondola seating (available by reservation), diners can sit at fire-pit tables on the patio, or in the indoor dining room and bar.
At-home wine tasting events
New this winter, Steamboat Winery will offer at-home wine tasting events. Vino experts will bring wine and charcuterie to your home where they can take you through the tasting process and answer any questions along the way. To-go tastings, which include the wines, charcuterie and a book with tasting instructions, are also available.
Transformative dining at Periodic Table
The Periodic Table took a dip in the subtropics for the summer/fall season. The restaurant's latest iteration, the luxurious European Riviera, features Mediterranean seafood and cured meats accompanied by regional herbs and vibrant aromatics inspired by Barcelona, Monaco, Naples and beyond. The Periodic Table reinvents itself each summer and winter, pairing exciting thematic destinations with fresh, local and seasonal ingredients. A new winter concept will debut on December 15, 2021. Located at Catamount Ranch, the restaurant opened with a 1920s New York supper club theme, followed by a visit to Havana, Cuba circa 1940, and, most recently, a sampling of the Classics of New Orleans.
---
VISIT RESPONSIBLY
We've created a resource page where you can learn about ways to care for and protect our mountain town on your next visit. From low-impact travel ideas to information on wildlife and fire safety, help us preserve our beautiful spaces for future generations.