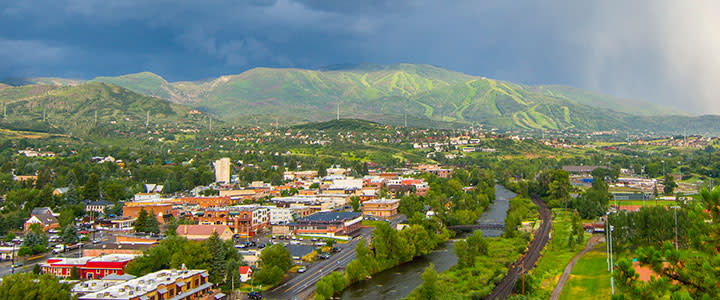 Spring in Colorado has sprung, and we're looking forward to warmer, greener days in the Yampa Valley. With the turn of the season comes budding flowers, spring runoff, plus new and exciting things coming down the pipeline for the summer and fall. Here are a few notable things for you to keep an eye out for in the second half of 2018.
Continental Divide Trail
Every year, dedicated through-hikers make their way across the Continental Divide Trail through Routt County and the Steamboat Springs area. With this in mind, the community of Steamboat Springs is currently pursuing designation as a gateway community by the Continental Divide Trail (CDT) Coalition. Routt County has multiple access points to the CDT including shuttle access directly to the mountain village accessed through Steamboat Resort via the gondola in operating months. Receiving designation will help the community to provide better resources, services, and wayfinding to these hikers who come through each year. The diverse network of trails in our area of northwest Colorado is special because you don't necessarily have to be a through-hiker to plan your adventure: there are many day hikes, loops, and overnight options that include sections of the CDT. Steamboat is also the birthplace of several outdoor brands who already act as stewards of local trails and provide support to through-hikers. Steamboat Springs would be the third CDT Gateway Community in Colorado and the seventh official gateway on the trail. The designation will be celebrated in fall 2018 in conjunction with the 50th Anniversary of the National Trails Act.
Trail Maintenance
Resident riders and trail-focused guests to Steamboat Springs have reaped the benefits of new trails created using public funding over the last several years. But we don't just stop at creating new trails; our community places a priority on maintaining them as well. The Trail Maintenance Endowment Fund supports specific non-motorized trail and trailhead maintenance projects on public lands within Routt and Moffat Counties which will help to maintain these projects going forward. A diverse board of individuals determines trail maintenance priorities annually, and land managers use funds to fuel projects.

Downtown Steamboat Springs
The trails aren't the only places looking nicer this year: a three-year, $11 million Downtown Improvement project debuts this spring. The completed work includes improvements on Yampa and Oak streets, a new park with put-in/take-out river access, riverbank improvements, a large promenade, bike lanes, as well as Core Trail improvements. Make sure to take a stroll downtown on your next visit to check out all the additions and updates.
While downtown, make sure to satisfy your appetite at one of a few new dining establishments that have opened up shop. After years running the kitchen at Steamboat staple Mambo Italiano, chef and owner Hannah Hopkins has teamed up with Executive Chef Joe Campbell to open a new hot spot downtown featuring Latin cuisine in the space formerly occupied by Cantina. The restaurant offers a lively ambiance, exotic cocktails and mocktails, plates from countries such as Spain, Argentina and Brazil using locally sourced meat. Head on over to the corner of 9th & Oak Streets for a meal that will rival any fine dining you will find in the big city. Chef Patrick Ayres grew up in Steamboat Springs and made the move back home with his family in 2016 after attending culinary school and taking on the role of executive sous chef at a high-end restaurant in Seattle. Not only did Ayres purchase a (then condemned) historical home in downtown Steamboat upon his return but he also acquired a 10.5-acre farm south of town. Fast forward to summer 2017 when Cloverdale Restaurant opened its doors featuring a five-course and twelve-course tasting menu made almost entirely from ingredients sourced from the Cloverdale Farm. Just when you thought your mind couldn't be more blown by the inventive courses served, they add in touches such as your choice of hand-carved cutlery, a tray of vibrant teas and coffee beans from around the state and present the bill in a vintage cigar case. Talk about attention to detail!
Live-action escape rooms are all the rage and if you haven't had the chance to try this new form of interactive entertainment, make sure to visit The Crooked Key on your next trip to Steamboat. Teams made up of a wide range of ages use their communication skills and follow the clues to crack the puzzle and escape from the room in 60 minutes or less. The Crooked Key opened in late 2016 with two immersive, themed escape rooms. The Crooked Key has expanded with a new Edgar Allan Poe themed room and will open an outdoor adventure escape room in June of 2018.
Events in Steamboat
The event calendar heats up in June with the return of the Ride the Rockies Bicycle Tour. Over 2,000 riders will make their way from Edwards on June 11 to set up camp in Steamboat Springs for two nights before an impressive ride to Grand Lake. Run, Rabbit, Run taking place September 14 and 15 announced earlier this year that the race now has the largest trail ultra purse in the world with the addition of the "Rabbit Cup", a team event which is the first of its kind.
Get up to Steamboat to check out what's new in the Yampa Valley this summer.