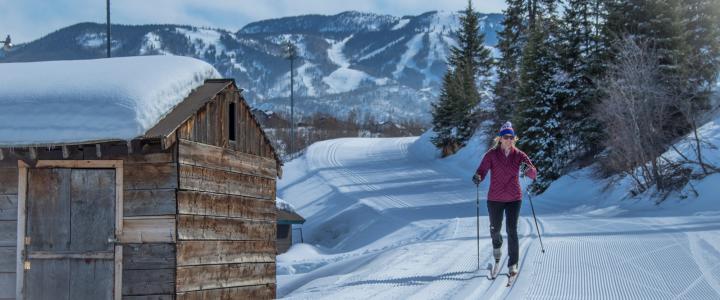 You may be familiar with Steamboat Springs and our famous Champagne Powder Snow. But did you know that Steamboat Springs is home to Colorado's oldest, continuously operated ski area? That's right. Howelsen Hill first opened in 1915 and holds a special place in Steamboat's history. Howelsen has been the training grounds for 90+ Olympians and is currently operated by the City of Steamboat Springs. While the ski jumps you can see from downtown are nothing short of incredible – there's so much more to do these days at Howelsen Hill than alpine ski. Read about our top 7 favorite activities to experience at our local hill this winter.
1. Family Sledding
In 2020, the Parks and Rec crew built a new community sledding hill for families to enjoy right in the heart of downtown Steamboat! The hill started off 20+ feet high and is continuing to grow all season. Located near our famous rodeo grounds, the sledding hill is even groomed occasionally for optimal fun. Perfect for seasoned sledding vets or rookie sledders, the hill is open daily from 8 a.m. to 10 p.m. and is free. Bring your own sled and take in our winter wonderland views and enjoy some good ol' sledding fun.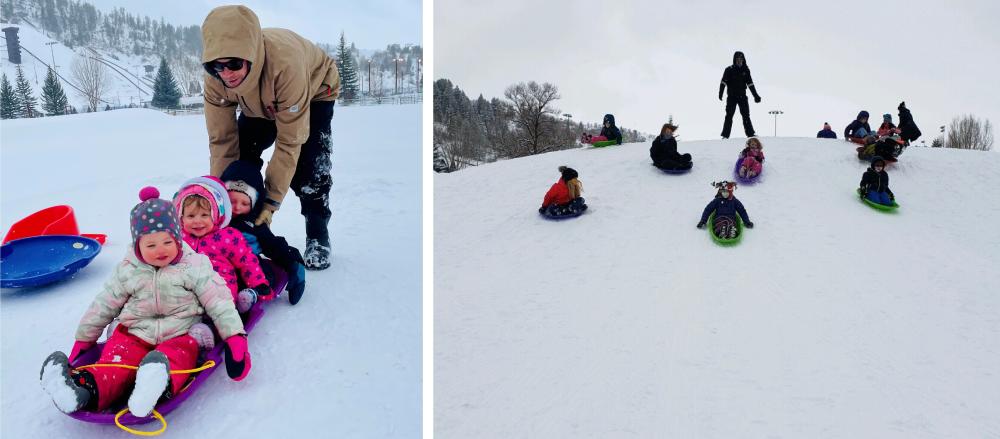 Photo Credit: City of Steamboat Springs
2. The Biking Never Stops
Who says you can't bike in the winter? Not in Steamboat Springs! Here the biking never ends as we switch out our gravel, road, and mountain bikes for fat bikes! With bigger tires and wheels, fat bikes are made to handle the snow and the designated trails at Howelsen Hill are groomed for bikers. If you don't have your own fat bike, don't worry – many of our local bike shops have rentals for you to enjoy. Purchase your day ticket at the base of Howelsen and read the biking guidelines here.
3. Get Cozy in A-Frame Huts
For the first time ever, Howelsen has five A-frame warming huts available for families to rent this winter season. Designed with the historic lodge in mind and filled with Western-themed décor, the A-Frames are the perfect way to warm up this winter! You can rent the huts in advance for the day, or check the availability once you arrive. Order food and drinks from the concession stand and enjoy them in the heated huts before your next adventure! More information here.

Photo Credit: City of Steamboat Springs
4. Nordic Trails Galore
You may be familiar with the alpine skiing you can do at Howelsen, but did you know they offer 13+ miles of Nordic trails also? Purchase a pass or day ticket to check out the Nordic trail system and tour with the best views of town. If you don't have your own equipment, we recommend checking out one of our local gear shops to rent gear for your trip. You can also access this interactive map to see which trails are groomed each day.
5. Outdoor Ice Skating
We've written about this before, but we just can't get enough of the new outdoor community ice skating rinks at the base of Howelsen! Bring your own skates as you experience the magic of our winter wonderland right downtown. The rinks are free and available for open skate sessions during certain times. There's even skating at night as the rinks are illuminated with an outdoor lighting system. Check out this calendar to see when you can visit.

Photo Credit: City of Steamboat Springs
6. Go For a Hike or Snowshoe
Howelsen Hill has some of the best views of Steamboat Springs, and you can opt for the classic way of getting up the mountain by hiking or snowshoeing! The trails are maintained during the winter and even groomed on certain days. Head up Blackmere trail as it winds its way up Emerald Mountain and take in the vast valley views of town down below. 
7. Alpine Skiing
Take your skis out on historic Howelsen for some alpine skiing. The trails are groomed daily and there's even a magic carpet for the little ones or beginners! Ski Free Sundays are back with a reservation system that uses two-hour time blocks to limit crowds and ensure safety. Enjoy 6,696 feet of elevation and 17 trails. You may even get to see some of our local winter sports club kids practicing on our famous ski jumps!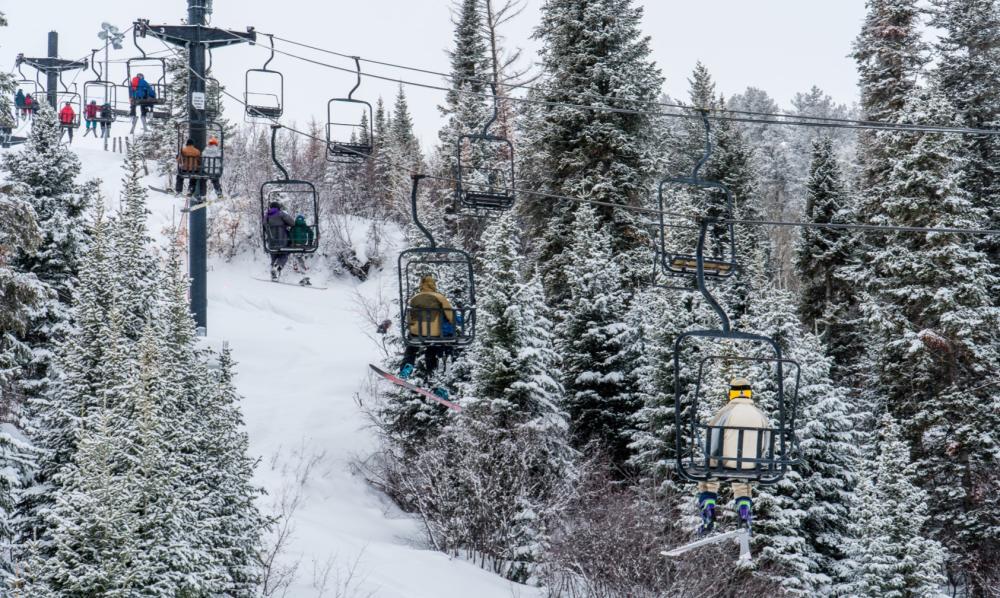 Photo Credit: City of Steamboat Springs