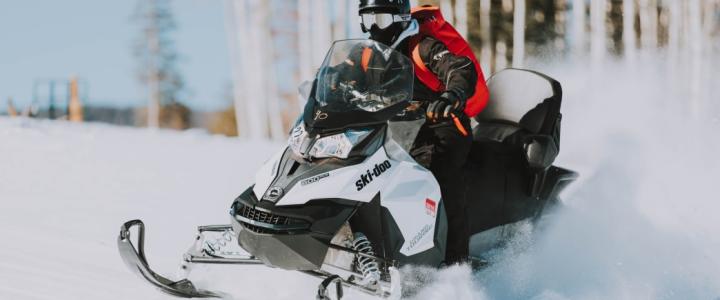 Mountains, snows, magic – there's a reason that so many Hallmark movies take place in Colorado. The running rivers, frozen lakes, snowy forests and of course, lack of skyscrapers provide the most excellent getaway when you need a departure from the daily grind. We're here to help you prioritize your adventures with our top seven things to do in Colorado (sorry, finding love not guaranteed!).
1. Skiing and Snowboarding
Home to 26 ski resorts, from family run to the giants Alterra and Vail Resorts, downhill shredding on skis or boards is Colorado's number 1 winter pastime. All resorts have their unique mix of trees, bowls, and wide-open groomers, and yes – those marketing photos of perfect corduroy and face shots are actually true! For the comfortable rider, explore riding off-resort as well. Consider hiring a local outfitter to take you into the backcountry for fresh lines all day or explore one of the new backcountry ski "resorts" that are popping up in the state (translation: no chairlifts, yes ski patrol and amenities).
Hand in hand with the ski resorts are the state's top tier cross country ski areas as well; alpine isn't the only game here. Depending upon where you land, you might end up at a historic training facility that is home to future Olympians as well, like Howelsen Hill in Steamboat Springs.
2. Snowmobiling
The rush of the outdoors is sometimes best felt when you are literally rushing through the backcountry. Enter snowmobiling! Riding through glens, valleys, powder fields and the occasional elk is exhilarating. Your snowmobile tour will always include experienced guides to coach you on the handling of your vehicle and share about local wildlife. The variety of trails ensure that even never-evers can get on the back of sleds and enjoy an afternoon cruising through the backcountry. Make sure to research various outfitters: you could find yourself snowmobiling through a buffalo herd or at 12,000 feet depending upon the trek you choose. This activity is best suited to older teenagers and adults – in other words, people who have their drivers' license. Colorado is home to some of the snowmobiling meccas in the country – including Rabbit Ears Pass outside of Steamboat Springs.
3. Dog Sledding
Mush! With the option to ride or drive, dog sledding is the perfect multi-generational activity for families with adventuresome spirits. Dog sledding is an activity that is revered in Hollywood film but harder to find in everyday life. Once you step onto the sled rails, you are guaranteed an unforgettable experience. Explore pristine rolling hills in our backcountry with responsible and knowledgeable guides with teams such as Grizzle-T Dog & Sled Works in Steamboat. Plus, did we mention? Adorable dogs!
4. Snowshoeing
One of the best ways to explore the Rocky Mountains is on foot, where you're able to revel in the quietness of the fir trees. Many local gear shops offer half and full day snowshoe rentals, along with complete directions and recommendations for local trails. You can find excellent snowshoe trails on leisurely or aerobic routes around lakes and rivers through Colorado State Parks; you can also get a local guide to take you more out of the way into natural wilderness areas. Make sure to check out the area's environmental nonprofits such as Yampatika; many of them offer unique tours like Moonlight Snowshoes or have permits to take you in the backcountry where few others tourists will venture on their own.
5. Hot Springs
While it may seem odd to pack a bathing suit for your trip to the Rocky Mountains, think again. Colorado is home to some of the most beautiful natural hot springs in the United States, and there is nothing like a long relaxing soak after a day of pushing your limits on the hill. In particular, make sure to look for hot springs that offer views or are considered "natural," such as Strawberry Park Hot Springs so you can simultaneously soak and sigh over the beauty around you. After all, you can be in a hotel hot tub anywhere – nature's hot tub is absolutely superior. Pack a warm hat in case of some flurries and remember to still bring water to hydrate in those 100F+ rock pools!
6. Hot Air Ballooning
Off you go, into the wild blue yonder. View Colorado from the top of the world as you drift above the mountains and enjoy light breakfast and champagne while your skillful balloon pilots your flight, such as the ones on Wild West Balloons. Although you can expect chilly temps for your early balloon ride, there is nothing like starting your day with a peaceful sojourn over the land. Companies typically offer child and senior discounts, and the baskets are roomy and comfortable. Visitors typically rank a hot air balloon ride as one of their most memorable experiences of their trip. Even better? Balloon flights take off early in the morning to ensure the best flying weather, so your ride will barely (if it all) take the place of other activities.
7. Mountain Top Dinner
There is an air of mystery and excitement present when you make dinner reservations at the top of the ski resort, such as Hazie's at Steamboat Resort. With the starlight as your guide, you'll ride the gondola up after hours and take a snowcat or sleigh ride to another mountain lodge: destination luxury dinner. Seeing the snowcats grooming from a distance and keeping a sharp eye for any errant foxes on the trail only add to the fun of traversing freshly groomed cat tracks in the dark. After a coursed meal and a little holiday spirit(s), the ride back will feel like coming out of a fairy tale.