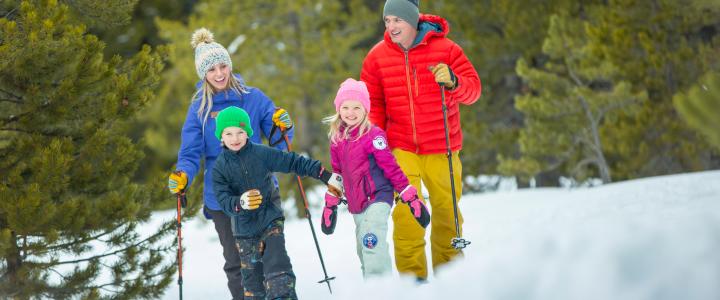 Winter hiking, snowshoeing and fat biking are great modes for adventuring among a snowy landscape and require a bit of planning for safety and sustainability
Steamboat locals are deeply committed to protecting area trails, respecting landowners and showing kindness to fellow enthusiasts (and critters). Kindness Floats the Boat shares ways to better appreciate the trails and all who enjoy them. Through this initiative, you'll discover tips for taking care of yourself and the environment while enjoying outdoor activities during the snowiest months. We're also happy to share some of our favorite winter trails and insider intel so you can thoroughly enjoy the experience.
Tip 1: Be Prepared
That means dressing for conditions; layer breathable clothing and top everything with a warm, water- and wind-resistant outer layer. Wear sunglasses and sunscreen (you are closer to the sun) and bring plenty of water and snacks.
It also means researching your destination – bring a map; don't rely on a cell phone. And, let someone know where you're headed and when you expect to return. Check the weather and trail conditions before you go.
Tip 2: Know When to Go
Winter weekends and holidays are generally busy. Arrive early (before 9 a.m.) or consider an afternoon outing. Check available trailhead webcams to gauge parking availability or weather. Trailhead webcams are a great resource and Steamboat plans to install more at other popular trails.
Tip 3: Pack Smart
Don't leave home without:
Tip 4: Mind Your Manners
Yep, trail etiquette is a thing – an important one. Proper trail etiquette signals respect for other users and promotes stewardship of the land. You'll find a comprehensive list of written and "unwritten" rules here, and we've included our favorite reminders below:
Who has right-of-way? Hikers coming uphill go first; bicycles yield to hikers and horses; hikers yield to horses.
No cuts. Stay on the trail and practice Leave No Trace principles. Help protect flora and fauna and entire ecosystems.
Look up and listen. Be aware of your surroundings, don't approach wildlife and take time to listen to the sounds of the outdoors. The negative ions are truly therapeutic!
Bookmark These Winter Trails
Our favorite trails for winter hiking, snowshoeing and fat biking include a little bit of adventure and a lot of beauty. The Steamboat Chamber offers a great guide to additional snowshoe trails, and local outfitter Yampatika guides memorable tours.
Uranium Mine Trail: Catch this trail at the Fish Creek Falls trailhead and follow switchbacks up the mountain toward Buffalo Pass. Remember to stop and enjoy the views of the valley behind you. The trail ends at an abandoned Uranium Mine – now home to a colony of bats – dug by prospectors in the 1950s. Note: there is a $5 parking fee.
Emerald Mountain: A favorite of locals and visitors for its vast network of snowshoeing and fat biking trails that traverse meadows and forests. Two Steamboat Springs outfitters are authorized to provide winter tours on Emerald Mountain: Ride Workshop for fat biking tours and Steamboat Powdercats for fat biking and backcountry ski tours.
Stagecoach State Park: Home of Stagecoach Reservoir, it's a different world during the winter. Keep an eye out for animal tracks in the snow as you explore a network of trails ideal for snowshoeing and cross-country skiing.
Tread Lightly at These Popular Winter Recreation Areas
Rabbit Ears Pass: Try an afternoon outing, as the parking area often fills early in the morning, especially on weekends and powder days. Note: no overnight parking.
Buffalo Pass: Another popular area for powder turns and weekend outings. If parking is full head elsewhere. Tickets are issued regularly for inventive parking.
North Routt County: Again, this is an area frequented by powder chasers and weekend warriors. Tip: If the Columbine parking lot is full, try the Marina Parking Lot at Steamboat Lake State Park (a $9 day pass is required).