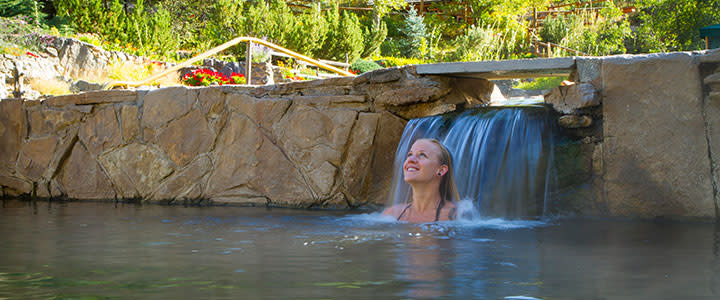 There is an assortment of colorful treasures that give Steamboat Springs its distinctive personality, from iconic restaurants to one-of-a-kind activities and festivals, historic haunts, and—of course—the hot springs behind its name. If you want to truly experience the soul of Steamboat this summer, here's how to make it happen.
Hot Springs
Steamboat is home to not one, but two sets of natural hot springs. Situated right in town, Old Town Hot Springs has provided therapy for weary bones and muscles for more than a century and features eight sprawling pools. While this is a popular year-round relaxation oasis, it's easy to find a corner to call your own here. The facility includes a lap pool, indoor fitness area, enclosed water slides, and a huge play area for kids.
Tucked into the aspen-strewn slopes just north of town, Strawberry Park Hot Springs provides a more rustic experience, complete with picnic areas and cabins available for nightly or weekly rental.
Waterfalls
There's nothing quite as magical as the sight of water tumbling down a wall of foliage and rocks. While many falls can be found in the canyons and valleys surrounding Steamboat, Fish Creek Falls are the most accessible. A quarter-mile stroll on a smooth gravel path will take you to the lower falls, which cascade from nearly 300 feet above. Seasoned hikers can get a bird's-eye view by climbing to the upper falls along a steep trail that zigzags up the canyon for about 2.5 miles and 1,400 vertical feet. Fish Creek Falls are best visited in the morning, as the parking lot fills up quickly.
Tubing
Water lovers take to the Yampa River all summer long, riding the free town bus upriver for a float through gentle rapids and slow-moving natural pools back into downtown Steamboat. A handful of shops in town provide tubes and shuttles: Backdoor Sports, Bucking Rainbow, and One Stop Ski Shop.
Festivals
Steamboat is filled with events that make a weekend getaway extra special. Here are just some of the favorites to look for each year.
Cowboys' Roundup Days
It's no secret that Steamboat dates back to the Old West, and there's no question that the place still boasts a bit of cow folk flare. For 115 years, the town has celebrated its western sensibilities. The Pro Rodeo Series begins in mid-June and brings in authentic bull riding, roping, and wrestling—plus a slew of Old Western activities geared toward young cowboys and cowgirls. Cowboy Roundup Days include live music—classic patriotic orchestras as well as country western, culminating in a blow-out July 1 performance this year by David Crosby. The town's Western history blends with its ski town heritage amid spectacles of summertime ski jumping at Howelsen Hill, as well as a farmers market and festive Fourth of July Parade.
Hot Air Balloon Rodeo and Art in the Park
Cowboys aren't the only ones involved in rodeos around here. For 37 years, a rainbow of colors has filled Steamboat's skies for the Hot Air Balloon Rodeo each June as dozens of human-powered hot air balloons launch over town and Mt. Werner. On the ground, the rainbow takes on a variety of mediums in West Lincoln Park for Art in the Park, featuring the masterpieces of more than 150 local and regional painters, sculptors, jewelers, and photographers along with live music, food and interactive creative zone for children.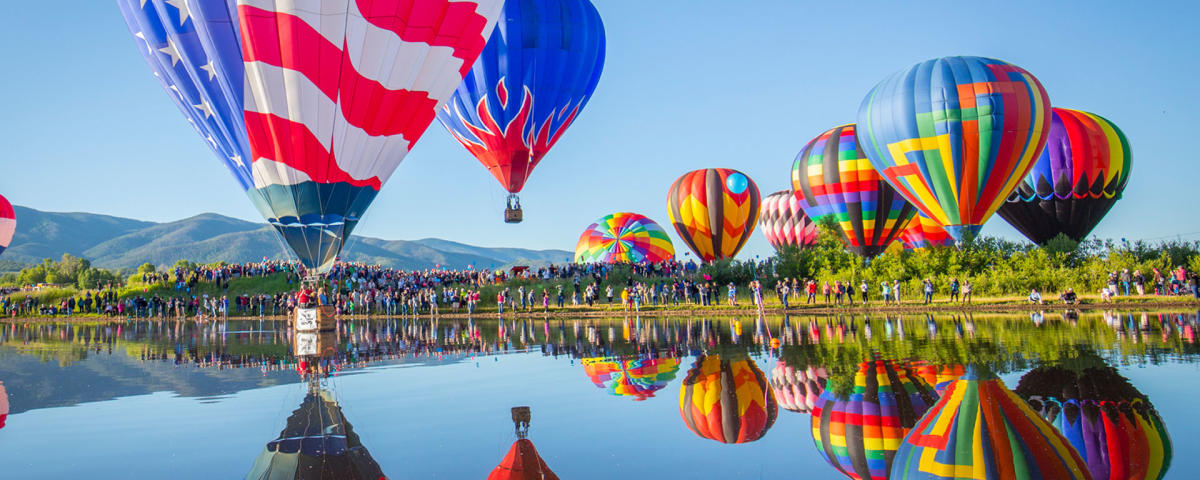 Wild West Air Fest
Keep your eyes to the skies once more as this Labor Day weekend festival of airborne feats closes out the summer. Some of the nation's top pilots flock to Steamboat to spin tricks, dipping their bombers and propeller planes into mind-boggling formations and aerobatics. Celebrating some of nature's most impressive pilots and airborne beauties, the Yampa Valley Crane Festival also takes place Labor Day Weekend, with viewings of the live elegant birds, educational workshops as well a farmers market, sidewalk sale, and free live music.
Iconic Restaurants
Surrounded by ranches and farms, fresh, delectable eats are not hard to come by in these parts. Here are a few of Steamboat's not-to-miss food and drink haunts.
Harwigs
Situated in one of Steamboat's oldest buildings (built in 1886, it was first a drug store, then a saddlery), owner Jamie Jenny first opened this French restaurant in 1979, and it has since established itself as a local, national, and international favorite. Home to its own elaborate wine cellar as well as live lobster tank, the restaurant is known for finding the freshest ingredients in the region. Foraging for mushrooms is an annual, much-anticipated event.
Winona's
Easily the best-smelling place in town, Winona's is known for its thickly frosted cinnamon rolls. This homey haunt also makes amazing cakes and cookies, not to mention box-sized deli sandwiches and hill-sized salads.
Creekside Café
Harvesting local produce and meat for its colorful eggs benedicts and fresh salads, Creekside Café has been a local favorite for breakfast and lunch for nearly 20 years. It also has one of the best patios in town, with Soda Creek gurgling next to your table.
Mahogany Ridge Brewery & Grill
Although its tasty assortment of homemade brews draws suds-lovers from near and far, Mahogany is one of Steamboat's most beloved culinary hangouts, too. The creative wine list, full bar, and succulent made-from-scratch dishes range from tuna ceviche to buffalo sausage.
Café Diva
Located at the base of Steamboat Resort, Café Diva is a year-round hot spot for foodies and wine enthusiasts. Its ever-changing wine lists, daily fresh soups, and upscale, creative spins on veggies, beef, and seafood mean you'll never have to eat the same meal twice.
Museums, Galleries, and Historic Spots
Both indoors and out, there are a few locations that comprise the puzzle pieces of Steamboat's rich heritage, including the vibrant Yampa River Botanic Park, home to countless specimens of greenery throughout more than 50 separate gardens. Get the full scope of the town's history, beginning with local Native American tribes, the Wild West, and the origins of one of the world's greatest ski towns at the Tread of Pioneers Museum.
Located about five miles outside of town, the quaint Mesa School House is one of the most beautifully preserved 100-year-old buildings around, having been used as a one-room schoolhouse from 1916 to 1959, as well as a library, dance hall, and meeting place.
For a glimpse of regional talent and stunning masterpieces capturing the beauty of the area's landscapes and wildlife, the Steamboat Art Museum offers painting and craft workshops regularly. Lastly, no visit to Steamboat is complete without a visit to what is arguably its most unique landmark—Howelsen Hill. See North America's largest ski jumping facility originally built by Norwegian ski jumper Carl Howelsen, who moved to Steamboat in 1913. Even in summer, the massive jumps are an impressive sight to behold and can be viewed from numerous vantage points, including from the wildflower-filled hiking and mountain biking trails of nearby Emerald Mountain.
Written by RootsRated Media for Steamboat Springs Chamber.
Featured image provided by Robin Carroccia