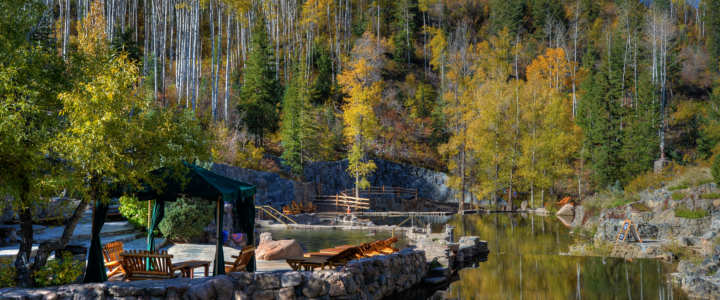 This is your bucket list, Steamboat style. The Boat List features every can't-miss fall activity. Are you ready to check them off?
11. Hike to the Rabbit Ears
Year-round, this iconic Steamboat landmark offers some of the most amazing views around. But in the fall, you'll get the extra treat of colorful leaves added to the peaks and valleys beyond. Hike up from Dumont Lake campground turn off to get started. If you make the hike to the top, be careful: the 'ears' are unstable, so be sure to admire them from below.
12. Shop along Lincoln Ave
The historic heart of Steamboat, downtown is the place to go to find everything from western wear to clothing boutiques and everything in between. The western-themed store fronts recall the days of cattle driving down the middle of the road. Today, you won't find any cattle drives, but you're sure to find a special souvenir. If you need a break after finding that perfect item for your kitchen, stop for a treat at one of the several ice cream or candy shops.
13. Visit Fish Creek Falls
If you followed our summer Boat List, this one may look familiar. That's because Fish Creek Falls is an amazing spot any time of the year. The high alpine water that flows down this 280- foot drop is breathtaking on its own, but when you add a sprinkling of golden aspens against dark evergreens, this favorite Colorado waterfall turns magical.
14. Discover a New Artist at Downton Art Galleries
The arts scene is alive and well in Steamboat Springs. In fact, there are 10 galleries downtown alone. From traditional to modern, you're sure to find something new and inspiring up here.
15. Backpack in the Zirkel Wilderness Area
A trip up north to this pristine wilderness area is well worth the drive. Sure, you could hike for the day up here. But spending the night offers so many more opportunities to enjoy the incredible beauty of this 150,000 acre wilderness.  Remember to practice Leave No Trace ethics and leave this wilderness area as amazing as you found it. And you'll want to pack some warm clothes; it gets pretty cold at night!
16. Visit Pearl Lake
Pearl Lake State Park is a destination as precious as its namesake. A 167-sq.-acre mountain reservoir, Pearl Lake sits at the base of Farwell Mountain nestled among a pine forest about 25 miles north of Steamboat Springs. The quiet lake offers stunning scenery and natural surroundings ideal for a picnic or a camping getaway with easy access to the wealth of Routt National Forest hiking and biking trails - perfect for a fall pit stop! 
17. Find Clues and Solve Puzzles in an Escape Room
All of that leaf peeping is a great way to fill a day, but what do you do when it rains? Or when you want a change of pace? Head to an escape room, of course! Here you become the players in the story in an interactive game that involves quick thinking, teamwork and lots of indoor fun.
18. Cowboy Up at F.M Light and Sons
No trip to Steamboat Springs would be complete without a visit to this Colorado Landmark. All of those yellow billboards you saw coming into town give just a preview of the many wares this Steamboat icon has been providing for over 100 years. Browse around and find that perfect cowboy hat, Western shirt or kid's item for your little rustler.
19. Take a Coffee Break
When the mercury dips, nothing sounds better than a warm drink and tasty snack. Downtown Steamboat has a wide selection of local coffee shops and bakeries that are as full of character as they are caffeine. Grab a drink, pull up a chair and relax.
20. Discover Local Lore at the Tread of Pioneers Museum
Steamboat may be a ski town chock full of Olympic heritage, but it also has deep ranching roots. Learn about both at this downtown museum where local lore comes to life with rotating exhibits.
Still looking for more? Click here to view the other 10 can't miss activities on our Fall Boat List of the top 20 things to do in Steamboat Springs this Fall.