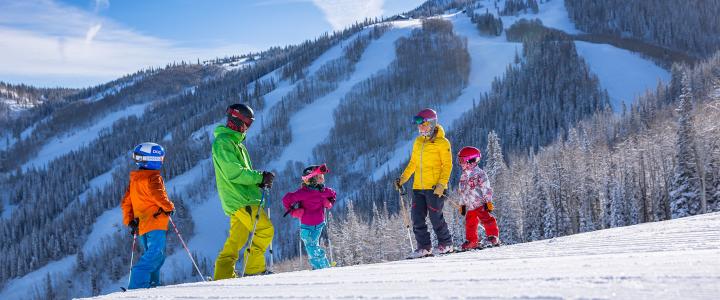 Here in Steamboat Springs, we pride ourselves on doing the holidays right. As you can expect, holidays like Halloween, the 4th of July, or Christmas are well-celebrated around here. However, Thanksgiving is a holiday that Steamboat loves - not just because we are a town of foodies. We highly recommend spending a Thanksgiving in Steamboat Springs - for the change in scenery, the opening of the ski resort, and the array of holiday activities awaiting.
Thanksgiving Grub
The most important thing about Thanksgiving (except, of course, the thankfulness), is the food! Whether your favorite is pumpkin pie, mashed 'taters, or the turkey itself, you'll want to be well prepared for the feast. We offer many grocery stores to help you accomplish your holiday shopping. Many local lodging companies in Steamboat Springs offer homes with full-sized kitchens big enough to fit even the largest of families!
Not in the mood for cooking? Steamboat Springs is home to over 100+ restaurants, not to mention the array of private chefs and catering companies local to our area. Whatever your Thanksgiving meal looks like, look to Steamboat Springs to help you accomplish it.
Skiing on Thanksgiving
It's been a long-standing tradition here in Steamboat Springs that our world-renowned ski resort opens the week of Thanksgiving. Bring your family out onto the slopes before your big meal to help make extra room in your bellies - or simply to get your turns in! Spending your Thanksgiving weekend at Steamboat Resort allows for those quality lift conversations with family and an assured way to stay active in between the tastings. 
Other Activities
If hitting the slopes isn't your speed and you are looking to relax a bit more during your holiday weekend, there are plenty of other options to consider outside of skiing. We have tons of different indoor activities including our bowling alley, the local movie theatre, rock climbing gyms, and more. Your holiday weekend is your own, and there's no pressure to hit it hard on our many amenities. Sometimes the perfect Thanksgiving weekends are the ones simply snuggled up with your loved ones.
Strawberry Park Hot Springs
Strawberry Park Hot Springs is nestled in a high mountain valley about seven miles north of downtown Steamboat. Check out the soaking pools, massage, and Watsu therapy. Trade in the hustle and bustle of town for a peaceful soak in one of Colorado's most stunning hot springs. Hanging out in the therapeutic 104-degree water is the perfect way to unwind from a day of cooking, chatting, and watching the football game. Don't forget to reserve your spot in advance!
Shop Local
Steamboat has tons of unique, locally-owned boutiques and shops. This is a great time to get ahead of the holiday rush, take advantage of Black Friday and do your Christmas shopping. Create a custom cowboy hat with Steamboat Hatter, stop by beautiful boutiques like Chrysalis, and even consider popping into some of our local eclectic spots such as Breckenwitch. Shopping local not only ensures that your loved ones will receive a heart-felt, special gift this holiday season but also gives back to our beloved town.