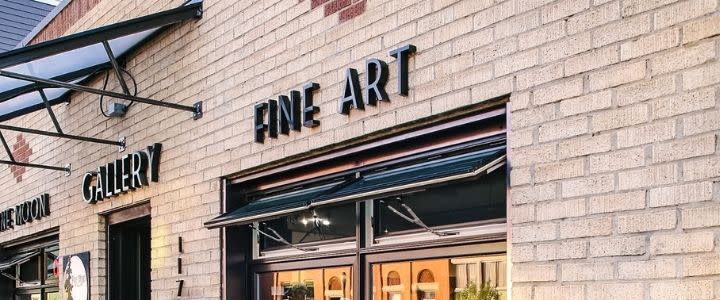 Steamboat's local art scene abounds with beautiful artwork that will be cherished for years to come. Our valley prides itself in traditions of arts and culture, translating our surroundings into works of art. When you invest in local artwork during your vacation, you not only impact an artist's life but also support Steamboat's community of thriving creators. The Yampa Valley's gorgeous landscape translates into one-of-a-kind creations that fit any budget. Here are some suggestions of places to visit to find the best locally made artistic Steamboat souvenirs.
A Yampa Valley Inspired Gallery
Converse with local Colorado artists and find the perfect Steamboat treasure at Pine Moon Fine Art Gallery. See Steamboat captured perfectly in fourteen local artists' creations expressed in various mediums. You'll be captivated by their dynamic spirit and find the perfect statement piece artwork to take home. Select from contemporary and traditional artwork including acrylics, bronze, fibers, graphite, oil, paper, photography, printmaking, watercolor, hand-made jewelry, and much more. There's always a new gem to discover with new arts and culture exhibits monthly. These talented Steamboat artists can even create custom commissioned artwork perfect for your space!
Steamboat's Primary Arts and Culture Hub
One of our most unique art hubs is Steamboat's historic train depot along the peaceful Yampa River. First constructed in 1908, the depot hosts The Riverwalk Gallery's magnificent local artwork, exhibits, and creations. Purchasing local artwork from this gallery supports Colorado artists and Steamboat Creates, a non-profit collective committed to keeping the arts and culture alive today.
Treasured Colorado Finds
If you are looking for a valued piece of Steamboat to take home with you, don't miss a Colorado favorite, lifestyle brand Ohana. This adventure apparel store not only creates its own custom hand screen prints on quality clothing and goods, but also hosts creations from other Colorado writers, artists, and makers. Whether you're looking for artwork, leather goods, home decor, cookbooks, soap, jewelry, scarfs, hats, candles, ceramics, and so much more, you're sure to find something unique. Plus, every purchase helps support a local nonprofit of your choice at checkout.
Local Art Comes to Life
Another not-to-be-missed destination during your visit is the Steamboat Art Museum. Housed in the historic First National Bank building, tour to learn about Colorado's western culture and shop with a creative purpose from a distinctive collection of Steamboat artists at the Steamboat Art Museum store. Proudly focused on relevant Northwest Colorado's culture and heritage, it features a variety of handcrafted and fair-trade artwork from over 25 local artisans. While browsing, check out their fascinating exhibits, free events, or sign up for a workshop to create your own artistic creation during your vacation.
Steamboat Art Abounds
A Steamboat fixture for over four decades, the Steamboat Art Company caters to your creative side, featuring Colorado-made artwork, decor, jewelry, apparel, and abundant gifts. Another excellent historic stop on your vacation is Lyon's Corner Drug which features numerous items created by local photographers and artists. Many stores in Steamboat offer free or very affordable shipping, so you don't have to worry about hauling your new piece home. No matter what store you choose to explore, seek out local Steamboat products crafted by the community, which caringly enriches our mountain culture.
When you kindly decide to purchase local artwork during your Colorado vacation, you assist in growing our cherished arts community, support local businesses and find unique pieces to fill your home with. Steamboat's thriving arts and culture, along with its distinctive community, will always be a staple in our heritage and continue to draw art lovers globally. We can't wait for you to find the perfect piece to remind you of your time in the mountains that will remind you of priceless Colorado memories.