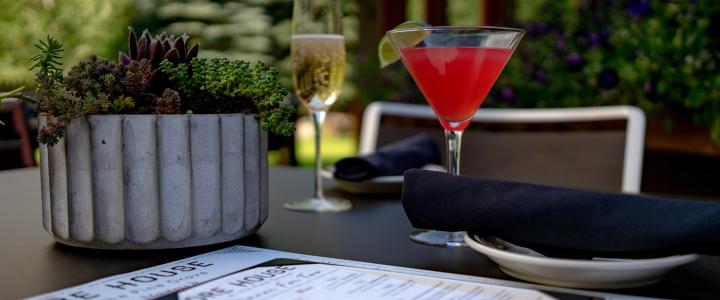 Our search for the best steakhouse restaurant in Steamboat.  Steeped in its ranching history, Steamboat prioritizes its cowboy heritage - and that holds great allure for our visitors. But if you drive north, south, east, or west out of Steamboat Springs, one thing is clear: our cowboy heritage is alive and well. There is cow operation after cow operation surrounding town for miles and that leads any local or visitor to confirm one more thing about Steamboat:
Steamboat knows steak 
If you're searching for the white tablecloth Ruth Chris experience, you'll not find it in a town that prizes its lack of chain restaurants. Instead, you'll be happier and more impressed - yes, I guarantee it! - at the elevated and delicious E3 Chophouse. Garnering national press for its connection to country singer Luke Bryan, Willie Robertson of Duck Dynasty, and of course the LaRoche family, the restaurant has a high profile but doesn't rest on its celebrity laurels. White tablecloths and crystal stemware keep its fine dining status intact, but its prime location on the Yampa River, outdoor patio and firepit, and line of Adirondack chairs all make the atmosphere welcoming and friendly. Because of the excellent and affable staff, it is a great place for special occasions. My family celebrated my dad's 70th birthday there. As he left the restaurant - and after a couple well-stirred martinis - he made sure to tell every staff member how "stupendous!" each facet of our meal was. Stupendous is a strong recommendation, indeed. 
The Ore House at the Pine Grove is in between town and the mountain and ideal for families and big groups. The building is huge and makes you feel like you're in a log cabin or Swiss ski lodge, with three separate dining areas plus an outdoor patio. The lantern and chandelier lighting is right in theme; they glow bright enough to see your plate, low enough to feel intimate. Their special sunset menu at 5-6 p.m. caters to early diners, and they also offer a kids menu at any time of day, complete with grilled cheese for the picky eaters and a kid-size prime rib dinner for the kids who are ready to chow down. For the carnivores, they serve up any cut of beef you can think of, plus elk, seafood, surf and turf, pork, ribs, chicken, and steak burgers. It is also a super friendly option for the herbivores in your crew, as they offer an unlimited salad bar along with bread and soup. The best advice I have here is to share dessert; as delicious as they are monstrous, one Mountain Mud Pie is usually enough for three.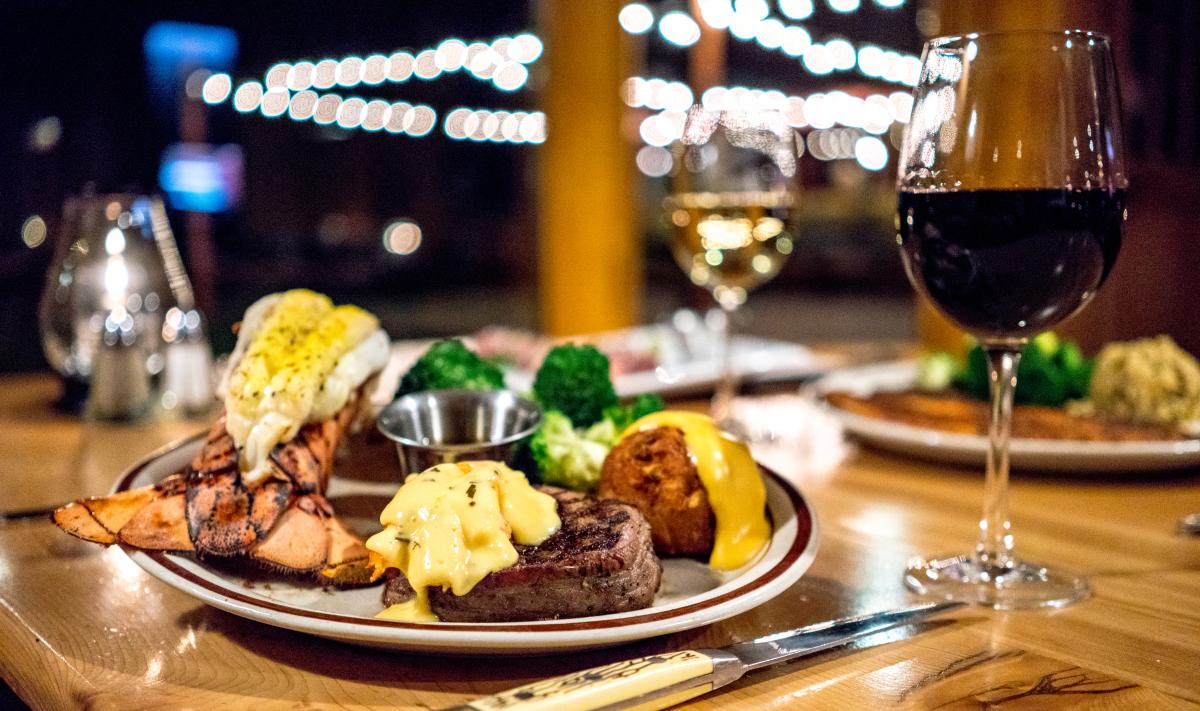 If you're mountainside, a short walk down Mt. Werner Road takes you to Three Peaks Grill. Three Peaks is the most traditional of steakhouses in Steamboat and specializes in both steaks and seafood, for those of you who want surf and turf at its finest, plus a full raw bar. Their happy hour is a favorite for locals, between 5-6 p.m., and on Friday and Saturday nights they host a live jazz duo or pianist in the bar. The main centerpiece of the room is a huge fireplace, which will get turned on as we hit September and chillier weather moves in. If you head over now, you can also enjoy dining on their garden patio with views of the Strings Music Pavilion across the street and the ski area up the hill. Additionally, it gets a special star for their large parking lot. Downtown parking can be challenging during busy weekends, but there are always spots available at Three Peaks.
If you're looking for a casual experience, look no farther than the 8th Street Steakhouse. The steakhouse is the only restaurant in town that invites their diners to participate in the meal every step of the way, from picking out your cut of meat to becoming Grillmaster. Every piece of meat is hand-cut in the kitchen minutes before you choose what you want. Remember when people actually used to go the butcher? It's pretty much the same - pick any one of the dozen-plus cuts. Last time I was there, the owner went into the back to personally cut additional bison steaks for the rest of our party. Every cut comes with unlimited salad bar and Texas Toast, and there's a complete a la carte sides and appetizer menu that are all large enough to share. Between the camaraderie at the communal grill and the huge sides dished up family-style at your table, it's easy to imagine you've just come off the range and are all back at the homestead for a meal. 

More gems to add to our "Best Steakhouse Restaurants in Steamboat" blog post. On top of the traditional steakhouses in town, there are plenty of other restaurants that treat filets with reverence. There's a Wagyu Flank Steak regularly on the menu at Harwigs, the lion of downtown's fine dining. Carl's Tavern, a gastropub on Yampa Street, offers up a cast iron ribeye, and it's a great casual option with plenty of menu items if you're eating with a mixed group. And if you want steak three times a day, remember the locally sourced Colorado Fried Steak and Eggs at the Creekside Café for breakfast! After all, you're in Steamboat Springs. Support the ranching history with a steak!