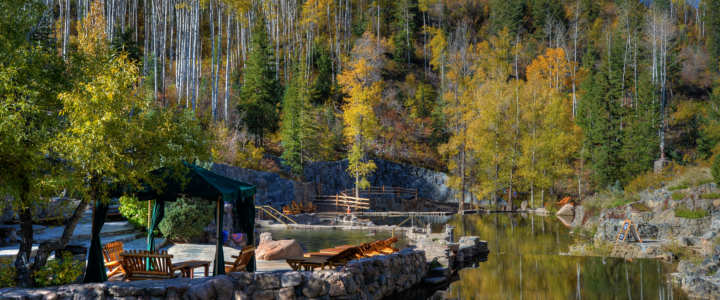 The Colorado Historic Hot Springs Loop (CHHSL) is a newly established 720-mile (1160-km) loop drive that takes visitors through some of the most scenic parts of the Colorado. It connects five premier Western Colorado hot springs destinations with 11 Colorado Ski Country member resorts. Along the route, in addition to soaking in 19 different hot springs, you'll be able to ski and ride everywhere from famous-name ski towns to low-key local mountains.
To get started on your Colorado hot springs adventure, hop on the route at any point along the Loop. All the destinations are a comfortable drive from the Denver area or from other locales throughout the state. Each of the five regions is also served by an airport, making it easy for out-of-state winter travelers to access all or portions of the Colorado Historic Hot Springs Loop.
Known for churning out Olympians at a record pace in addition to its skiing, the resort town also gets high scores for its other activities; these include hiking, fishing, mountain biking, horseback riding, and scenic gondola rides. Steamboat Springs hot springs are also widely known and appreciated by locals and visitors alike.
Old Town Hot Springs has been welcoming visitors to relax since it opened in 1935. The multi-use complex recently underwent a major remodel; it features a variety of pools for exploration, a kids' climbing wall, an eight-lane lap pool, a kiddie pool, and two waterslides. One of Colorado's premier hot springs, Old Town Hot Springs is a historic hot spring, family-friendly recreation facility, and world-class gym in the heart of downtown Steamboat Springs. Old Town Hot Springs has been a site for recreation and rejuvenation in this community for over 100 years because of the gift of the Heart Spring, the source of all the healing mineral water in the eight pools.
Strawberry Park Hot Springs is a hot spring with a modern-yet-rustic vibe that becomes clothing-optional after dark. Surrounded by aspens and sitting near the river, a soak here is an intimate-with-nature experience. The 104-degree pools are the ideal place to rest your muscles after a ski day as you appreciate the naturistic scenery and unique stone masonry. Reservations are required for the pool and lodging, pool reservations can be made here. Please note that due to the rural nature of Strawberry Park Hot Springs, 4-wheel drive is highly recommended or taking one of their provided buses.
Count on postcard-perfect scenery and a boho mountain feel in Chaffee County. Nestled at the base of the Collegiate Peaks, the towns of Salida, Nathrop, and Buena Vista are artsy, quirky and home the highest density of 14ers in Colorado.
Mount Princeton Hot Springs offers a surreal soaking experience with 100 percent natural and odorless hot springs in five different pools. Other amenities include a 400-foot (122-meter) waterslide and lazy river, a historic bathhouse and creek-side hot springs.
Historic Cottonwood Hot Springs is situated in the San Isabel National Forest. Cottonwood's hot springs experience is focused on peace, tranquility, and healing. The mineral water is odorless and pristine. Quiet-zones and alcohol-free soaking pools support a sense of serenity.
Salida Hot Springs Aquatic Center is the largest indoor hot springs facility in North America. The community pool features lap lanes and a smaller, warmer soaking pool. For those looking for a more therapeutic soaking experience, European-style private pools are also available.
Skiing and soaking are just part of the appeal of this mountain town situated at the base of Wolf Creek Pass. A thriving cultural scene that includes the performing arts, craft brewing, and unique festivals draws visitors year-round and compliments the multitude of outdoor activities.
The Springs Resort & Spa holds the record for the world's deepest geothermal aquifer. Twenty-three therapeutic mineral hot springs pools vary in size and shape; visitors are encouraged to try them all. Overnight resort guests have 24-hour unlimited access to the soaking pools. Non-resort guests can pay a daily fee to enjoy the benefits of the hot springs.  
Overlook Hot Springs has rooftop soaking tubs that overlook the San Juan Mountains, the river and bustling downtown Pagosa Springs! Indoors, guests can take a private geothermal soak amid Victorian-style ambiance.  
Healing Waters Resort & Spa is ideal for families and reminiscent of a simpler time. The main pool, outdoor hot tub, and European-style indoor hot bath facilities—with steam rooms and benches—are all heated by natural mineral waters.  
Often referred to as "the Switzerland of America," the scenery in Ouray County is jaw-droppingly stunning. Both towns welcome visitors with vibrant, friendly downtowns.
Ouray Hot Springs is nestled in a narrow valley surrounded by dramatic snowcapped peaks. The town's geothermal pool, in operation since 1927, recently received a comprehensive makeover. One of the perks of soaking here is sulfur-free and odorless water.
Historic Wiesbaden Hot Springs Spa is home to hot springs and rare vapor cave amenity tucked deep inside the mountain. In addition to the vapor cave, there is an outdoor swimming pool and private outdoor spa, all heated with geothermal water.
Orvis Hot Springs retains an ultra-relaxed vibe with its au naturel clothing-optional policy. Open 24-hours a day, Orvis is ideal for après ski with four beautifully landscaped outdoor soaking pools and three indoor pools—two of them private. Private hot springs soaking options include Box Canyon Lodge & Hot Springs and Twin Peaks Lodge & Hot Springs.
This Colorado hot springs and spa town is world famous for its geothermal amenities, but also for its other attractions that include scenic Glenwood Canyon, historic hotels, Doc Holliday's grave, and award-winning breweries.
Glenwood Hot Springs Resort is the largest mineral hot springs pool in the world and has been a destination for relaxation for over 130 years. The prolific source spring supplies water to two enormous pools, the 104°F (40°C) Therapy Pool and the 93°F (34°C) main pool. Both are ideal for après ski soaking.
Iron Mountain Hot Springs boasts 16 soaking pools that range in temperature from 99° to 108°F (37° to 42°C). There's also a large family freshwater pool that's maintained at a comfortable temperature. Soothing spa music and panoramas of the Colorado River and the Rocky Mountains further promotes relaxation.
Yampah Spa & Vapor Caves is one of the few places where you can go for a natural, geothermal steam bath. The mineral-dense vapors have a detoxifying effect. The Ute Indian Tribe used the vapor caves for purification rituals when they inhabited the area.