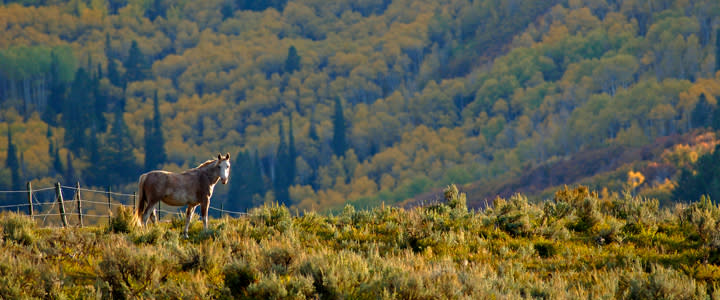 Many admire our majestic mountains, serene rivers, clear lakes, untouched forests, and abundant wildlife when visiting Steamboat Springs. Still, if you dig deeper, you'll learn what makes Routt County so unique is its Native American history. Compared to many other resorts in Colorado, our history includes impressive stories that not only help us all appreciate our roots but value the way it's been preserved. Historic buildings still stand today in the Yampa Valley and serve as a reminder of how Steamboat was founded. The Yampa Valley is cherished by so many, and many residents and local non-profits are working hard to preserve it.
In 2021, Steamboat Springs City Council adopted a land acknowledgment agreement with the goal of bringing awareness to the history of the Indigenous People who first called the Yampa Valley home. The agreement states, "Steamboat Springs, as a community, acknowledges that this land is part of the homelands of the Indigenous Ute Tribes. Steamboat further acknowledges the continual fortitude of indigenous culture of Native Americans today. We will work to uplift Native Americans and strive for equality in our communities and beyond." The City of Steamboat Springs' Diversity, Equity, and Inclusion Committee is working with the Ute Indian Tribe to develop a more collaborative relationship moving forward, acknowledging their contributions to the land, water, plants, animals, and more.  
Native American History Exploration
Steamboat's early history dates back to the Paleo-Indian period, when indigenous hunter-gatherers quarried stone for tools in southeast Routt County. They lived off the land, including elk, mule deer, and bison. Later, tribes of the Cheyenne, Arapahoe, and Ute were the first to visit what they called "Mineral Springs," which initially boasted over 150 hot springs, among many resources. The Native Americans considered the area sacred, as they believed the springs had healing powers and would visit yearly on hunting and fishing trips. Native Americans helped serve as early guides to the settlers that followed, sold wild game, and supplied goods to travelers. Early settlers in the Yampa Valley discovered Ute pictographs and dwellings and still exist today.
Yampa Valley's Rich History
Interestingly, the Yampa Valley got its name from the Native Americans; their word "yampa" was a native carrot-like root plant that grew along the riverbanks. These tribal bands moved with the seasons and made use of its resources in a respectful way. Legend tells in the early 1900s Steamboat Springs obtained its name from trappers that noticed a spring along the Yampa River, near the historic train depot, which still stands today. The notorious spring sprouted water and made a chugging noise that sounded like a steamboat.
Natural resources were what first drew Native Americans to the Yampa Valley. The Yampa Valley's rivers played a crucial role in providing drinking water, irrigation, industrial uses, and of course, recreation. Early establishments in the Yampa Valley, including Hahns Peak, Glen Eden, Milner, Hayden, Oak Creek, Yampa, and Stagecoach, still exist today.
Treasure Steamboat's Past
What's so magical about Steamboat is how many historical structures and landmarks still stand. Listen to live music at the classic Old Town Pub, built in 1904. Visit the historic F.M. Light & Sons western wear store, established by settlers in 1905. The whole family will enjoy the Steamboat Pro Rodeo Series at the Brent Romick Arena, that's been going strong since 1909. Experience a of a one-of-a-kind performance at Perry Mansfield Performing Arts School that's been showcasing creativity since 1914. So many activities in Steamboat embrace the past and help keep traditions alive.
The Tread of Pioneers Museum downtown allows visitors to explore Steamboat Springs's Native American history in person with one-of-a-kind photos, artifacts, and ongoing exhibits. In addition, the Tread of Pioneers Museum and Yampatika offer visitors walking tours where you can experience the history firsthand. On your next visit to our area, take a minute to soak in the remarkable history and humble beginnings of Routt County. May we all respect and value how those who came before us treasured the Yampa Valley and always be grateful in honoring the roots of Steamboat Springs.
---