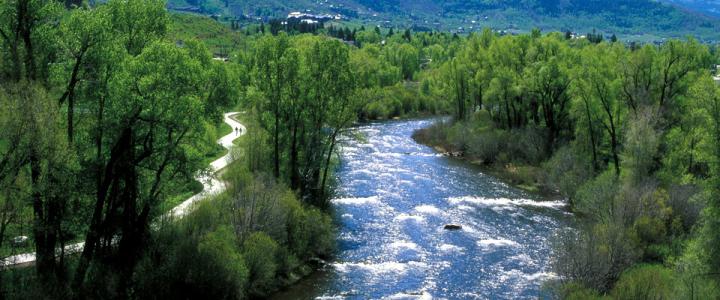 Where to Picnic
Lots of Steamboat Springs restaurants turn out decadent food and top-notch ambiance along the Yampa River. But sometimes what you crave in riverside dining is a picnic – ideally a scrumptious locavore feast sourced from hometown purveyors. Dine in the shade under the Peace Pavilion, among the flowers at the Yampa River Botanic Park, on giant boulders at the C hole near the Bud Werner Memorial Library, on the lush grass next to the giant elk in West Lincoln Park, or at one of a multitude of mysterious nooks and crannies sprinkled all along the river.
Where to Find Food
Here's the beginning of some good ideas for where to go and what to get for a picnic feast worthy of the mighty Yampa River:
Baguettes from Smell That Bread Bakery – the foundation for all your feasting to follow. The genuine French baguette has landed in Steamboat.
Murray's, the iconic New York City cheese shop, has taken over the cheese department at City Market. The array of cheese choices, both foreign and domestic, is astounding. Try a Colorado favorite, the applewood smoked chèvre from Haystack Mountain, an award-winning soft goat cheese smoked with applewood to give it a subtle mouth-watering brilliance. While you're there, pack yourself a tub of olives, marinated garlic, cippolini onions and piquillo peppers.
Cowboy Bourbon Pecans and chocolate bars from Daniela's Chocolate Atelier are must-have treats. Made at Steamboat's gourmet shop, The Homesteader, the pecans are blended with sugar, chilis and Breckenridge Bourbon to create spicy decadent nuts, while the single-origin chocolates are as much a beautiful feast for the eyes as the palette – definitely not your average chocolate bars.
Stop at the Steamboat Springs Farmers Market or head out to the Elkstone Farm produce stand in Strawberry Park for fresh tomatoes, spicy greens, crisp cucumbers, juicy peaches and whatever else is in season. Grab some of Elkstone Farm's delicate Pressed Flower Crackers while you're at it – beautiful rustic crackers filled with edible flowers from their harvest that are extra delicious with that applewood smoked chèvre. If you find yourself at the Saturday Farmers Market, the cedar plank smoked salmon is a prime picnic score.
A roasted chicken from Drunken Onion Get and Go Kitchen rounds out the meal just right. While you're there, peruse the tasty dips, salads and other delectable offerings, as the take-away selections vary daily but they're always delicious.
To wash it all down in style, swing by Storm Peak Brewing Company or Butcherknife Brewing Company for a growler filled with thirst-quenching local beer.
For dessert, treat yourself to ultra-rich Noosa coconut yogurt, made from happy cows right here in Colorado. It tastes great with a sprinkling of Steamboat's Granola Gold granola or some ripe Palisade peaches.
Bon appetite. And remember what your mom always warned you about digesting before you swim. Go ahead and take a nice riverside nap before you dive into the water.