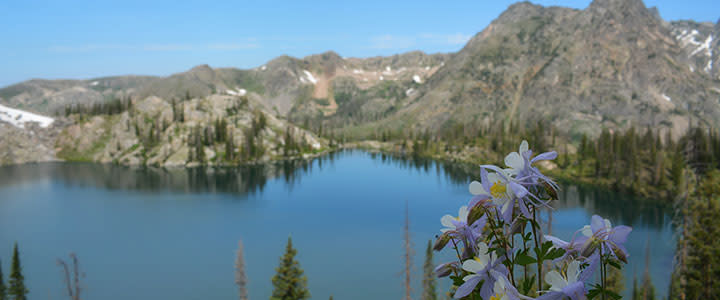 Summertime in Colorado yields world-class hiking for all ages, and come mid-summer, those hikes have a special treat in store for those looking for beauty. From the scenic mountains to lively valleys, Colorado's beauty is only enhanced by the abundance of wildflowers blooming throughout the summer.
As the summer progresses, wildflowers paint the mountains and trails of northwest Colorado, creating a vibrant landscape for recreation and adventure. While there are many types of wildflowers in Colorado, here are the six most common you'll see around Steamboat Springs and its surrounding trails.
6 Common Wildflowers you'll find in Steamboat:
1. Colorado Columbine
The state flower and an iconic wildflower in Colorado and is marked by its white interior petals framed by longer blue petals. They bloom throughout Steamboat and Routt County and are a quintessential part of being outdoors in the Centennial State.
2. Lupines
These cool colored flowers decorate hillsides throughout Steamboat. Lupines can be seen throughout town as well as along different trails in the area.
3. Indian Paintbrush
These red flowers paint the alpine trail landscape and add a bright color to complement its surrounding flowers and trails.
4. Fireweed
These vibrant purple flowers light up the mountains and are in full bloom during July.
5. Wild Mule's Ears
Wild Mule Ears are a commonly photographed wildflower throughout Colorado and the Rocky Mountains that brighten Routt County with their vivacious yellow color.
Hanh's Peak framed by Wild Mule's Ear wildflowers.
6. Wild Daisies
In colors from white to purple, Wild Daisies are scattered throughout Routt National Forest and Steamboat.
Where to find them:
There's a great potential to find a plethora of colorful wildflowers in the Routt National Forest and Flat Tops Wilderness. From the city of Yampa, Forest Road 900 takes travelers by Flat Top Mountain and offers access to great hiking and camping in areas bursting with wildflowers. There are colorful Fireweed and other wildflowers blooming right now, framing the Flat Top landscape in colorful beauty.
Taking Elk River Road north of Steamboat Springs leads to beautiful scenery and plentiful fields of wildflowers. From Elk River Road, taking the scenic drive up Seedhouse Road gives access to Routt National Forest and Mount Zirkel Wilderness, which has hikes to Gold Creek, Gilpin, and Mica Lakes that are decorated with an abundance of wildflowers this time of year. Be sure to keep an eye out for Colorado Columbines and Indian paintbrushes along the way.
Staying on Elk River Road all the way to Hahn's Peak and Steamboat Lake yields views to fields of flowers and great trails. Steamboat Lake has plenty of trails to explore and view the most vibrant wildflowers. Within Steamboat Lake State Park is Tombstone Nature Trail, which is a short 1.1 mile hike and nature in the Placer Cove Day Use Area that boasts views of the lake, Hahn's Peak, and beautiful wildflowers along the scenic trail.
With all these beautiful flowers, remember Leave No Trace principles and leave the flowers as found so other visitors can experience the same beauty from these beautiful mountain treasures. While these wildflowers are beautiful, they make a much better photograph than bouquet.