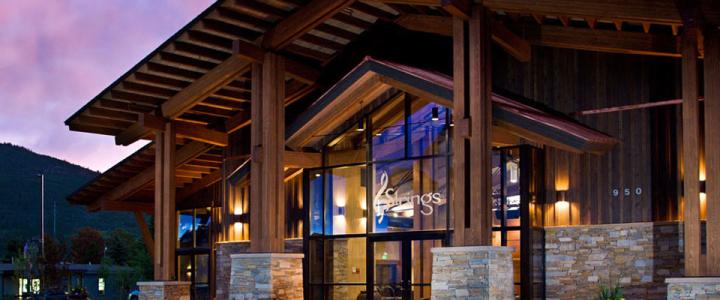 Come for the skiing, stay for the … museums, galleries, concert venues? Why yes, I think you will. Steamboat Springs has all that you want for your outdoor winter activities, but that is not all you can find in our western town. Designated a creative district by the state and home to multiple venues for visual and performing arts, Steamboat is more than just a ski mecca. Whether it's après or ante, spice up your ski vacation and play in our arts once the chairs stop spinning.
Live Music of All Kinds
For those of you who spend your free time trying to outsmart Ticketmaster, you're in luck. Strings Pavilion presents several concerts a month in the fall and winter, with this year's lineup including The Wallflowers, Big Bad Voodoo Daddy, Second City, and Joan Osborne. At only 520 seats, you're guaranteed a great seat no matter where you end up in the house. If you're more of a night owl, you might want to check out the eclectic bands that roll through the Old Town Pub and Schmiggity's; both dance bars in the heart of downtown are conveniently located next to city bus stops for your free and sober ride back to your condo. Depending upon your night, you might see soul, burlesque, bluegrass, or the next up-and-comer at karaoke.
First Friday Artwalk
Make sure to check your calendar if it is the first Friday of the month because that is the Steamboat Art Walk: every local in town attends, so you know it's a fun night. All of our local galleries host "art walkers" with wine, snacks, and of course, art. Swing into the locally owned Jace Romick and Pine Moon galleries, featuring local photographers, visual artists, and jewelry makers; Images of Nature which features Thomas Mangelsen's larger-than-life wildlife photographs; and the Wildhorse Gallery, best known for its bronze benches outside featuring the famous: Benjamin Franklin, the Wright Brothers, and Amelia Earhart have been there lately. Steamboat also has a very respectable amount of public art downtown, including sculptures and massive wall murals; in particular, visit the angel wings outside of Kali's Boutique, Steamboat's favorite selfie spot.
For the History Buffs
Steamboat as a community has an invested interest in preserving our western heritage and sharing the history of our valley. If it's too cold to be outside, there are plenty of indoor cultural options. Steamboat's local library, named for ski legend Bud Werner, boasts an extensive collection but even more exciting is the floor. That's right, you read correctly: the entire first floor is a topographic map of Steamboat Springs's history by artist Brad Kaspari. Whether you're an adult or child, you could easily while away an hour tracing the history of Steamboat on the floor of the library. Carry on next to The Tread of Pioneers Museum. The museum offers an inclusive history of the area and the exhibit is fun for kids and adults. Pro tip: ask if you can get a special behind-the-scenes curator tour and see what's hidden in storage in addition to their impressive collection upfront. If you have more time, head west to the Museum of Northwest Colorado, which has one of the most impressive collections of Old West firearms in the entire country, in addition to western memorabilia which includes one of Buffalo Bill's saddles.
Winter Carnival 
And of course, as the culture of Steamboat Springs does revolve around skiing and ranching, one of the best festivals of the year is the annual February Winter Carnival. Combining our western heritage with skiing tradition, and started by the founding father of Nordic skiing, Carl Howelsen, the carnival runs for five days in February. Imagine historical ski jumping + fireworks + kids jumping through fiery hoops. Or more: imagine horses cantering down a snowy street pulling kids on skis, also known as skijoring. If you're looking for a glimpse into what makes our small town into a treasure, the historical 110th Winter Carnival is a sure must-do on your list.