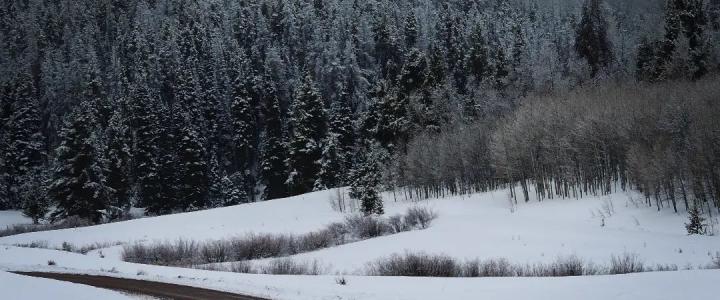 Colorado's emerging blossoms, spring's subtle beauty coming alive, and wildlife awakening means mud season in Steamboat is upon us. With Colorado snow melting and soft rain showers carrying away winter, visiting Steamboat in the off season showcases the abundant benefits and activities this charming valley has to offer. Visitors can enjoy local restaurant specials, smaller crowds, and get a true taste of what life is like for residents in Routt County. Plan your Colorado vacation during spring or fall mud season to feel like a local and truly enjoy the town at cowboy speed.
When is Mud Season?
"Mud Season" is a local turn of phrase adopted in most mountain towns to refer to periods in spring and fall before and after the snow respectively. Spring mud season typically occurs April-May just as ski season ends, the winter snow begins to melt, and the spring wildflowers start to emerge. Fall mud season takes place in October-November after leaf peeping season has come to an end and before ski season begins.
Is Mud Season Muddy?
During the spring mud season, yes, the trails can be quite muddy as snow melt soaks into the dirt trails, but that won't stop you from having a great vacation. Pack your rubber boots and a Gore-tex jacket to stay warm and dry while you are out enjoying the Steamboat's scenic outdoor spaces. If the trails are too muddy to hike comfortably it is recommended that you avoid hiking on them to prevent excess erosion. Be mindful to stay on the designated trail path and not to step off the trail to avoid mud, as this also contributes to erosion and trail expansion. The extra adventurous can try trail running with micro-spikes to conquer slushy conditions. During the fall mud season, Steamboat's trails will be dry and dusty making for pristine leaf peeping and great camping. Bring extra layers to help buffer yourself against rapidly shifting weather patterns.
Shoulder Season Activities in Steamboat
With fewer visitors and more space on the trails, mud season is the best time to explore Steamboat's extensive trail network and many outdoor activities. Partake in gratifying gravel, mountain, and road biking routes around Steamboat when dirt roads are hard-packed. Visit Routt County Riders to learn more about road biking in the off-season. Perfect in any season, the Yampa Core Trail is always an excellent way for the mud-adverse to spend an afternoon taking in the sights from this centrally located paved trail. With trout becoming more active and high-water flows, fly-fishing on Steamboat's choice rivers is an ideal vacation pastime. Head to Rabbit Ears Pass or Buffalo Pass's high country, where snowshoeing, cross-country skiing and trail hiking provide the perfect vacation escape.
Enjoy Steamboat's Finest Dining
Foodies will marvel at the savory selections at Steamboat's finest eateries during their shoulder season visit. Enjoy views of the Yampa River and an incredible culinary experience at Aurum Food & Wine, which runs excellent specials during mud season. If you're looking for Colorado's locally sourced perfection, head over to Laundry Kitchen & Cocktails, which provide discounted creative offerings during shoulder seasons. Another higher-end choice is Cafe Diva, typically booked to capacity during peak season. Enjoy more availability and discounted rates during the off season.
Everyone can embrace Steamboat's off seasons as a hopeful reminder that nature's changes deliver breathtaking transformation. Grab your gear and get ready to head to the mountains this shoulder season to discover why there is no wrong time of year to visit Steamboat. Take advantage of some laid-back Colorado hospitality while experiencing a budget-friendly vacation leaving you genuinely refreshed. You'll be pleasantly surprised during your visit how a quieter environment will make your favorite activities and Colorado vacation that much more enjoyable. Discover a new side of Steamboat this mud season.