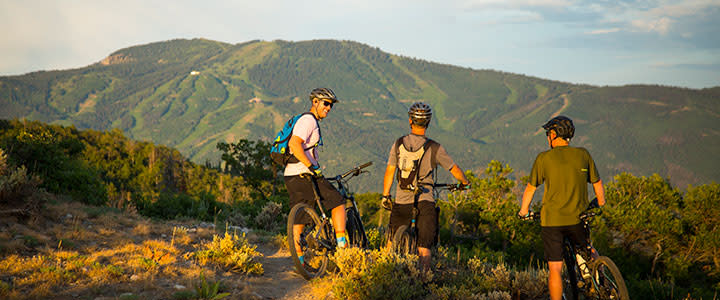 Many people know Steamboat Springs as a charming Colorado mountain town dating back to the Old West, but it's recently become a hotspot for another variety of saddle riders. While Steamboat's first settlers traveled by horseback, town leaders and citizens have emphasized the joys of two-wheel transportation in recent years, helping to create one of the most bike-friendly towns in the state.
As a testament to its two-wheel friendliness, Steamboat is one of only 29 towns in the United States awarded gold status by The League of American Bicyclists for its bounty of bike lanes, trails, pedaling routes to school, education efforts, support, and general display of two-wheel appreciation. It was also one of the first mountain communities to launch a race series back in 1989, and their Mountain Bike Race Series draw (fast) fellow fat-tire lovers every week of the summer.
Steamboat has hosted the world's top cyclists as a regular stage in the USA Pro Cycling Challenge, and today it boasts hundreds of miles of singletrack as well as paved roads through ranch land, canyons, and over mountain passes. They don't call it Bike Town USA for nothing.
Preceded by such a glowing reputation, where does a cyclist even begin when rolling into town for the first time? Here's a rundown of some of Steamboat's best riding spots, complete with local favorite food and drink haunts before and after you pedal.
Best Rides
Yampa Core Trail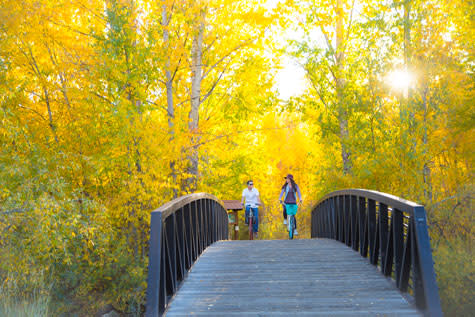 Ideal for families and beginner cyclists, this completely paved route allows you to glimpse the heart of Steamboat with the pleasant gurgle of moving water as your soundtrack. The trail meanders alongside the iconic Yampa River for 7.5 miles between the north and south ends of downtown Steamboat Springs. Crossing the river and creeks over numerous bridges, the trail wanders by Howelsen Hill, through vibrant green cottonwoods and numerous picnic areas and parks, including the Yampa River Botanic Park.
Located just off the bike path, Freshies features excellent breakfast and lunch fare, as well as spacious outdoor seating on its deck with views of the surrounding mountains. You'll find friendly service, and the restaurant uses mostly organic and local ingredients in creating fresh omelettes and other breakfast staples, homemade soups, specialty sandwiches, tempting salads, burgers, and vegetarian options. It also gets rave reviews for its organic coffee.
For creative Mexican food for lunch and dinner, Salt & Lime can't be beat. You'll find a "twist on classic Mexican" with an emphasis on tacos, daily specials, and a menu that changes often. The bar is known for its wide selection of cocktails made from craft tequilas as well as a large selection of draft beers on tap.
Keep the river in sight at the end of your ride and celebrate with a toast on the patio at Aurum Food & Wine, a scrumptious and bustling spot for happy hour or fine dining, with everything from gourmet street tacos to fresh salads.
Those with a protein craving after their ride can't go wrong with the house-smoked and cured meats at The Laundry. There are also creative veggie and fish options at this upscale dinner haunt as well as one of the best happy hours in town—we're talking pork belly or tempura avocado tacos, half-priced pours of scotch or tequila, and wine glasses prices by the time (i.e.: between $4.30 and $6).
Spring Creek Trail
Ideal for beginner to intermediate mountain bikers who enjoy getting their heart rates up, this popular out-and-back dirt trail begins in town and follows Spring Creek, climbing gently for nearly 3 miles on a doubletrack used by hikers, runners, and equestrians. The trail then parts ways with the creek and climbs steadily on singletrack for another two miles to Dry Lake Campground.
The tastiest refreshments a couple of blocks from the Spring Creek trailhead include Table 79 Food Bar, home of the best elk and chorizo meatballs you'll ever eat and a delicious family-sized pork shoulder. This upscale dinner haunt is sure to restore your muscles, and tasty dishes like shrimp ceviche, hummus, and burgers are half-priced for happy hour.
Nothing is better after a great ride than a cold brew. With a fabulous taproom in which to enjoy its offerings, the Storm Peak Brewing Company has a wide selection of locally made suds to fit the bill. You'll find a relaxing atmosphere in which you can play games, enjoy sports on TV, or simply soak in the sun on the large patio. The rotating 20-tap selection means that you'll always have something unique to hit the spot after time in the saddle.
Steamboat Bike Park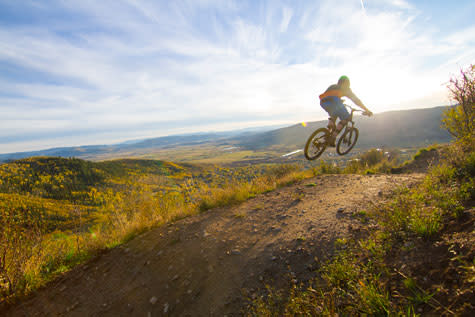 Saddle up your fat tires people, because Steamboat Resort has trail options for every level of mountain biker. The summer identity of the ski resort is a bike park featuring more than 50 miles of meticulously built trails, including smooth, wide dirt tracks that meander through the pines and aspens, fast-flow trails with high banks and dirt launches and rugged downhill-specific trails for adrenaline junkies who like to test their speed with gravity on their side. For those who prefer to keep their heart rates low, these trails can be accessed by chairlift with the purchase of a ticket or pass.
Situated smack at the base of Steamboat Resort right next to the gondola, Café Diva is the place to reward yourself for your dirt adventure on the mountain. Get yourself cleaned up and relax at this upscale gem, which serves an eclectic menu of snacks like pea falafels and crab-tomato bisque—plus colorfully presented entrees like Sea Bass or Colorado beef tenderloin. The Diva's wine list is long and its dish presentation masterful.
The newly renovated Bear River Bar and Grill in Gondola Square provides the distinctive high-energy vibe of an après ski patio with warmer weather and greener scenery.
Emerald Mountain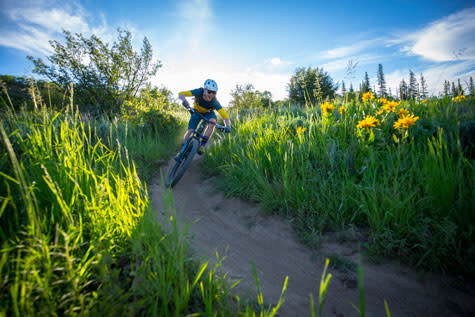 Home of Steamboat's first web of singletrack, there are close to 30 miles of dirt to be discovered here, tucked into wildflower meadows and pine and aspen groves. These trails are mostly geared toward intermediate to advanced cross-country mountain bikers, but the smooth and spacious Bluffs Loop can be tackled by beginners. There is also a BMX park at the base of the mountain next to the famous Howelsen Hill ski jump. Keep in mind that while it's easy to lose the crowd and spread out on these trails, you're likely to encounter hikers and pedestrians and must yield to them.
Located catty-corner over the river, Double Z Bar BQ is a must-visit for pedalers who appreciate good grillin'. Possibly the most classic barbecue joint in all of Colorado, this wood-paneled cabin smokes its meats slow with hickory and boasts its own special sauce. There's also a full bar and outdoor tables.
Serving up what might be Steamboat's best brunch, family-owned E3 Chophouse lies directly across the river from Emerald Mountain. The super juicy burgers served here, however, are tough to beat. Sourced from beef raised at its own E3 ranch, you will be hard-pressed to find a tastier way to end your day on the dirt.
You won't be the only one parking your bike at Mountain Tap Brewery after your ride. The stacks of carbon and aluminum frames are three-deep as weary travelers plop their padded bottoms on the picnic tables to tuck into a cold brew tapped from one of the silver tanks inside and a wood-fired pizza fresh out of the oven.
Cycling Groups and Bike Shops
Need additional help? Check out these local bike resources to help you get the most out of a trip to Steamboat.
Steamboat Ski and Bike Kare: Steamboat's long-standing go-to shop for repairs, rentals, bikes, and parts of all varieties.
Routt County Riders: Local advocacy organization for group rides, trail work, and trail condition reports.
Bike Town USA: Anything and everything you need to know about biking the Boat, from trail and roadmaps to the low down on events like the Steamboat Bike Festival held in September.
Written by RootsRated Media for Steamboat Springs Chamber.
Featured image provided by Alan Cressler