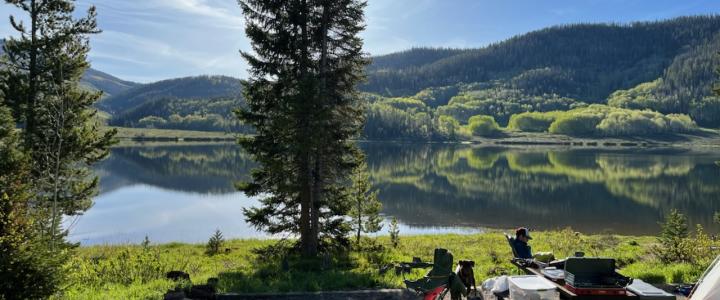 Camping in Steamboat Springs should be on your summer bucket list. It's one of the best ways to enjoy the great outdoors, unplug, and unwind. Whether you crave the solitude of dispersed camping or really need a flush toilet and shower at a developed campground, camping options abound in the Yampa Valley.
Popular camping spots in and around Steamboat Springs
There are numerous camping options around Steamboat Springs, but only one campground in town: the Steamboat KOA. If that campground doesn't work for you, stock up in town and head out to one of the many other options in the area.
State Parks
State Parks are a great place to camp in the Steamboat Springs area. Each State Park offers different amenities, so be sure to check each website for complete details. 
To the south, Stagecoach State Park offers site for tents, RVs or group camping. The nearby reservoir is great for boating and fishing.
To the north, Pearl Lake offers a quiet camping experience by a small, wakeless boating lake perfect for kayaking or paddleboarding. Further north, Steamboat Lake is the area's largest campground complete with several camping areas, a camp store, swim beach and large reservoir for many types of boating. A bit further up County Road 129, Hahns Peak Lake Campground is operated by the US Forest Service. Your Colorado State Parks pass won't work here but you'll find lots of solitude and great camping spots.
Buffalo Pass Area
About three and a half miles off County Road 36, you'll find Dry Lake campground, a developed but still primitive campground run by the US Forest Service. Further north on Buff Pass Road (County Road 38) are many dispersed camping options. Be aware that this popular area fills up quickly, especially on weekends. Spots are first come, first served, and never guaranteed.
Rabbit Ears Pass
Rabbit Ears Pass is a great place to find a quieter camp spot. If you like a developed area, check out Dumont Lake or Meadows campgrounds. There are also many dispersed spots on the surrounding County roads in the area. Keep in mind that Rabbit Ears Pass is about 15 miles southeast of Steamboat Springs and offers more remote options, so make sure you are well prepared before you find that perfect spot.
Looking for more? Check out our camping page for more options and information.
Know Before You Go
Camping in Steamboat Springs is a great way to great away from it all. But before you can enjoy your trip, you need to prepare. Here are just a few things to be aware of before you venture out.
Wildfire Danger
In recent decades much of Colorado has grown hotter and drier, increasing wildfire risk. And this season is no exception to that, so please do your part to help prevent wildfires and protect our great outdoors.
Keep campfires small and manageable.
Never let a fire burn unattended.
Do not build a fire at a site in hazardous, windy or dry conditions.
Use an existing fire ring or fire pit. If there is not an existing fire pit, and pits are allowed, look for a site that is at least 15 feet away from tent walls, shrubs, trees or other flammable objects. Also beware of low-hanging branches overhead. 
Never cut live trees or branches for fires.
Properly extinguish and dispose of cigarettes.
When putting out a fire, water it until you can handle the embers.
Always check local regulations- fire bans can and do change quickly and it is your responsibility to know. Your desire for smore's over a campfire isn't worth breaking a fire ban or potentially setting off a wildfire. Plus, you can easily make smore's over a propane stove! Be prepared enough that a campfire would be a luxury, not a necessity.
Reservations
Many campgrounds now require reservations, and some are reservation only. Double check the site you are interested before leaving home. People often cancel their reservations too, so if you can't find what you're looking for at first, keep trying!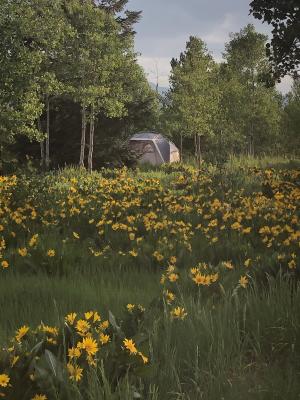 Leave No Trace
Whether you are in a developed campground or a dispersed area, channel your inner Yeti and leave no trace of your visit. Better yet, leave the area better than you found it. Learn more about Care for Colorado's Leave No Trace principles before you head out. 
Unpredictable Weather
Have you heard the saying in the Rocky Mountains, "If you don't like the weather, wait 5 minutes"? Trust us, it's true. Storm systems can come in quickly. Night temperatures dip well below daytime temperatures. Sometimes it snows in July. Being prepared is your best defense.
Dress in layers
Drink lots of water
Bring rain gear
Look at the weather radar
Know your limits
Keep Wildlife Wild
One of the most thrilling parts of being in the great outdoors is the proximity to wildlife. Here in Steamboat Springs, we share the habitats of many species, including moose, elk, bears, foxes, coyotes and many more. While they are great to look at and capture in photos, we need to all do our part to keep wildlife wild. Use our rule of thumb trick: If you can stretch out your arm and put up a thumb, the thumb should cover the animal completely. If you can still see the animal around your thumb, you are too close! That moose would look so good in your Instagram feed, but please use your zoom. Wild animals are unpredictable. And remember, don't feed the bears! They might love your leftovers, but it's dangerous and unhealthy for them to eat human food. Enjoy wildlife from a distance.