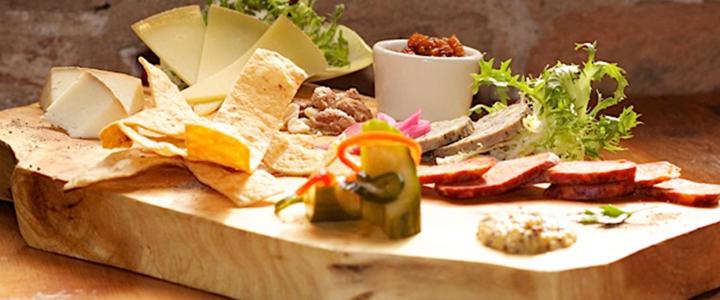 Here in cattle country, we're pretty spoiled by our selection of thick, juicy steaks. And even though we don't have an ocean out our back door, thanks to the miracle of jet-fresh seafood, we can easily have some delicious surf to complement our native turf. The restaurant renaissance that is happening in Steamboat Springs caters to both the casual and the sophisticated steak and seafood palates.
Well, fish doesn't get any fresher than live, so Harwigs' live Maine lobster tank is definitely something to behold. Harwig's has been serving gastronomic cuisine in Steamboat for over 35 years. With that kind of staying power in an industry with notorious turnover, there's got to be something amazing under the hood vent. The menu changes monthly, but always features Maine Lobster and Black Angus Filet. During the fall and winter months, try the porcini ravioli appetizer and move onto the Cervina Venison Duet. Have the sommelier assist you in pairing your meal with the perfect selection from their Wine Spectator award-winning list. While you're dining, peruse the upstairs art gallery or ask for a tour of the downstairs cellar. Harwig's/L'Apogee is a feast for all of the senses!
E3 Chophouse is new on the Steamboat culinary scene and brings the concept of ranch-to-restaurant to a whole new level. The owners of the restaurant, the Laroche family, serve all-natural beef from their family-owned E3 Ranch. They pride themselves on raising hormone-,steroid- and antibiotic-free E3 Black Angus cattle and have brought this healthy beef to the Steamboat locals and visitors who flock to their scenic downtown location. You can go big with a 24 oz. porterhouse topped with a crab cake and béarnaise sauce or keep it light with the beef carpaccio with grapefruit, charred jalapeños and cilantro. Start with the parmesan and truffle french fries and finish with the cast iron hot apple pie. If you're visiting in the warmer months, E3's riverside location is as prime as its beef with live music, Adirondack chairs facing the river and an outdoor fire pit for group gatherings.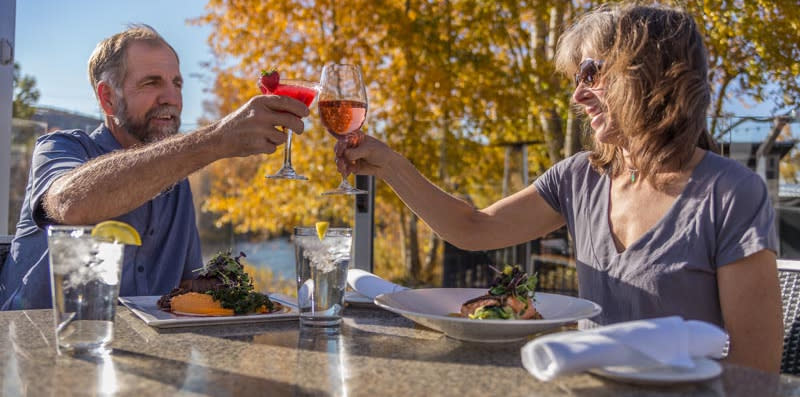 The Ore House at Pine Grove is a Steamboat family favorite and it's definitely a Steamboat steak and seafood staple. Housed in a 100-year-old barn that used to be one of Steamboat's most prominent hay ranches, the Ore House has been serving Steamboat for over 24 years.
They have every cut of steak imaginable as well as scallops, shrimp, trout, salmon and lobster tails. If you're looking for steaks and seafood, this is the quintessential surf and turf mother lode. Ore House is perfect for big groups with more nooks and crannies for private dining than any other Steamboat restaurant. The decor is rustically elegant, cowboy boots are encouraged and don't forget to swallow down a few of their delicious cinnamon ranch rolls while you're waiting for your perfectly cooked steak.
Aurum Food & Wine takes its name from the periodic table symbol for gold. And this feast is most definitely worth its weight in gold, if we do say so ourselves. We can't get enough of the hamachi tartar appetizer served with blood orange and avocado ponzu. Follow that up with a tasty strip steak with cabernet jus. Their seasonal menu pairs the chef's intuitive talent with fresh ingredients, so there are no guarantees you'll get to try the pan roasted golden trout with bacon and hazelnut brown butter, but you may get to sample their signature dessert. Strike culinary gold with the chocolate pot au creme with sea salt caramel mousse and a 23k gold flake. This spot also has a golden locale right along the Yampa River, so on sunny Steamboat afternoons the sleek dining tables on the deck beckon or if there's a chill in the air, cuddle up in the outdoor fire pit lounge.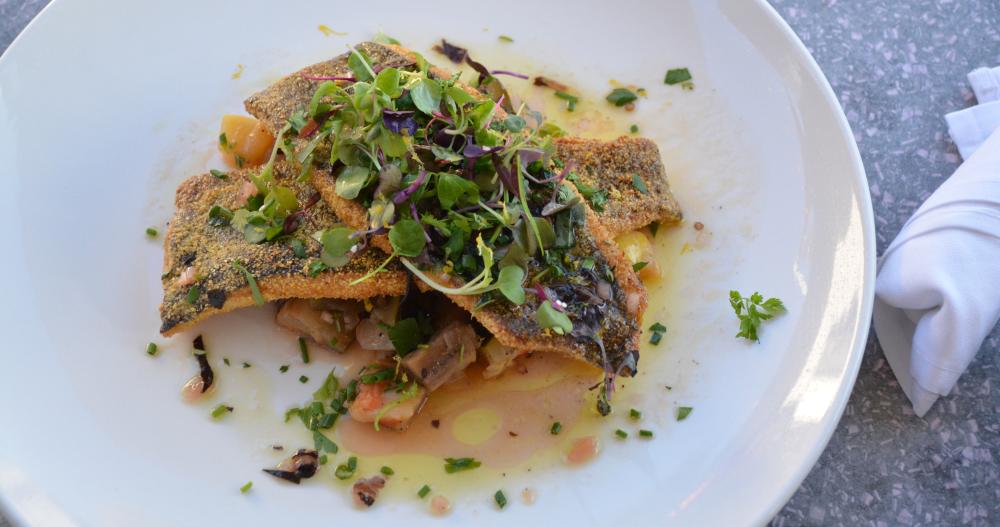 There are plenty more steak and seafood options at dozens of other Steamboat restaurants. Moooove on over here to see all of the steak and seafood restaurants in Steamboat and let us know your favorites in the comments below.