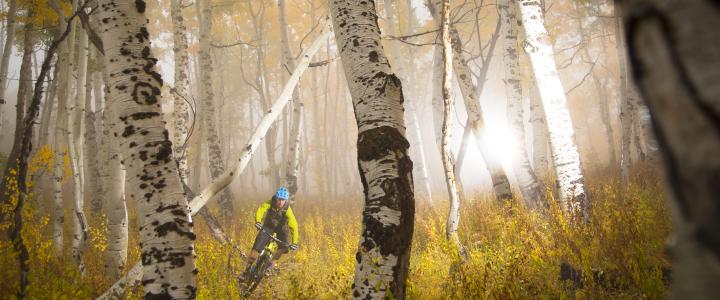 Steamboat Springs is known as Bike Town USA, and there's no better time to come experience some of the best mountain biking in Colorado than in the fall. Golden aspen leaves blanket the hillsides and temperatures cool down, making for stellar conditions to hit the trail. 
Dirt lovers, especially, have plenty to love in Steamboat, with more than 500 miles of trails in the area. That's a lot of trails to explore. To help you get started, here are a few must-hit trails when visiting this fun-loving mountain town with your mountain bike.
1. Emerald Mountain Loops
Distance from downtown Steamboat Spring: Two blocks
Mileage: Varies
Difficulty: Intermediate
Climbing: Varies
These loops offer the perfect warm-up and intro to the area, as the trails start just two blocks from town. Mountain bikers can't go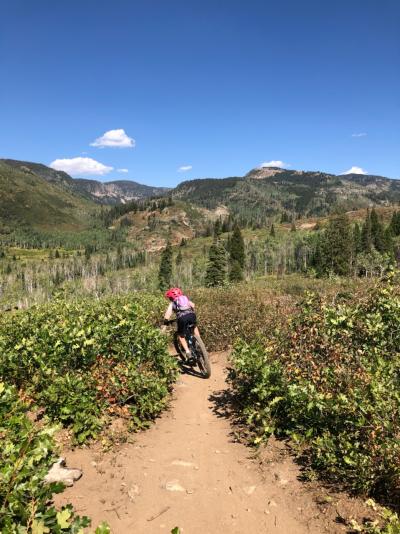 wrong with any of the trails in this spider web of loops, which are mostly intermediate. It's a good place for kids and beginners, but it's also fun and scenic enough that advanced riders won't be bored. The past few years have seen several new trails built like Morning Gloria, a scenic, winding way to climb up the mountain, and NPR (No Pedaling Required), a downhill-only flow trail that makes quick work of descending Emerald.
2. Spring Creek and Spring Roll
Distance from downtown Steamboat Spring: One mile
Mileage: 10.4 miles
Difficulty: Intermediate to advanced
Climbing: 1,435 feet
A long-time beloved local trail, Spring Creek was redesigned in 2019 to offer a downhill-only option named Spring Roll. The two trails parallel each other and open more diverse options for riding close to town. Riders can access Spring Creek from downtown Steamboat and ascend the multi-use trail for about five miles to the Dry Lake Trailhead.
Riders who want to take advantage of Spring Roll, the downhill-only trail, can access the trail at several points along the route. Fast, flowy, and breathtakingly gorgeous, the route lets riders whip through dense quaking aspen groves, pedal along a serene creek, and traverse across meadows filled with the state flower, the Columbine. Note that while the bike traffic on Spring Roll is downhill only, Spring Creek is still a multi-directional, multi-use trail, so be aware of other trail users. Slow down and yield when you rejoin the main trail.
3. Flash of Gold/Buffalo Billy's/Grouse Ridge
Distance from Steamboat: 6 miles
Mileage: 21
Difficulty: Expert
Climbing: 2,500 feet
This trail should get five stars for scenery alone, as it cuts through lush ferns, dense aspen groves, and across wildflower-covered meadows. The climb to the top of Buffalo Pass is casual, and the views are stunning. At about mile 6 on Flash, (left after the creek crossing) climb Buffalo Billy's for a more direct route to Grouse Ridge. Top out at 10,150 feet and get ready for a gnarly ride. At this point you can connect to other trails or turn around and experience Flash the other direction which is also very fun. Flash of Gold is a popular trail in the fall, so be sure to watch out for other users, including hikers and runners, and yield to them as well as uphill riders.
Grouse Ridge: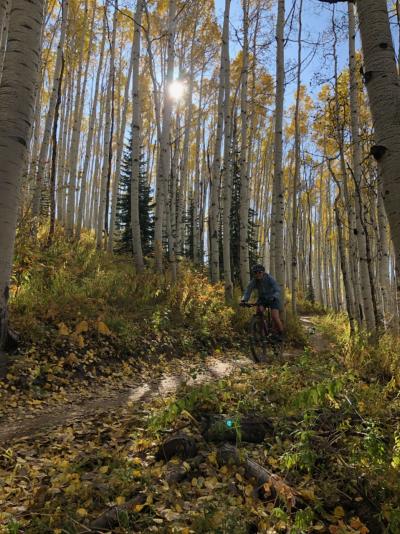 Grouse Ridge is a steep, experts-only technical trail that drops 1,500 feet in 3.5 miles. It's rocky, exposed, and a ton of fun. If you are looking to add more mileage, vistas, wildflowers, and excellent riding, this can be done from town via the Spring Creek Trail. It adds 11 miles and 1,500 feet of climbing.
4. The Divide Trail
Distance from Steamboat: 22 miles
Mileage: 26
Difficulty: Advanced
Climbing: 1,700 Feet
This ride is classic high-mountain Colorado mountain biking at its best. Starting from Rabbit Ears Pass at 10,400 feet and descending 4,400 feet down into the Steamboat Ski Area, it's a long, remote, and 100 percent worth the effort. A little bit of everything awaits intrepid riders here: roots, rocks, slabs, and flowy, high-speed tree runs. Be prepared to shuttle this ride as the start and finish are in two very different locations.
5. Beall-Ridge Loop
Distance from Steamboat: 8 miles
Mileage: 21
Difficulty: Intermediate
Climbing: 2,200 Feet
Drive out of town bit to Cow Creek to access this trail network and experience the back of Emerald Mountain. A gentle, rolling climb takes riders to the top of Emerald, whose views are remarkable. It's a great place for a breather, but you can also take a longer break over a picnic lunch, too. Then, it's a ripping descent down Ridge Trail to Cow Creek.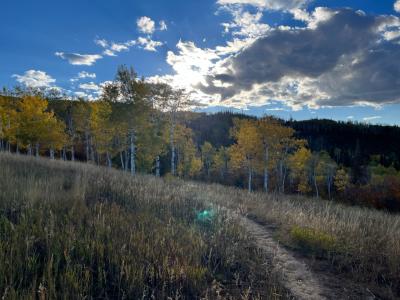 6. Mad Creek/Red Dirt Loop
Distance from Steamboat: 7.5 miles
Mileage: 10
Difficulty: Advanced
Climbing: 1,300 feet
This challenging loop is another fine choice for the advanced riders in the group. It's short, but what it lacks in distance, it makes up for with fun, technical action. As is par for the course with most riding in Steamboat, you'll find stellar views in a postcard-worthy setting. Tight singletrack, impossibly lush green vegetation, and dense aspens await lucky riders on this loop.
Distance from Steamboat: 6 miles
Mileage: 1.5
Difficulty: Easy
Climbing: 137 feet
Looking for a casual family jaunt with younger riders? This one fits the bill, and with a name like Panorama, it's safe to assume the views are amazing. (They are.) The Yampa River Valley, Flattop Mountains, and the Continental Divide are in full, glorious view. If you happen to visit during the fall, the trail should be a must-do when the aspens are turning. Bring a camera and prepare to be wowed.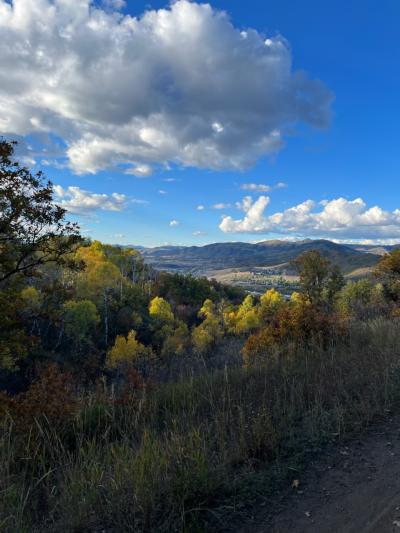 In a state with so much stellar riding, it's hard to prioritize the next road trip, and this short list of rides in Steamboat barely scratches the surface of the riding the area has to offer. To make the most of your ride, come prepared.
Lots of water and snacks are essential, even if you are riding close to town.
Weather in the Rockies can change very quickly, so check the conditions in advance, but also be prepared with a rain jacket and extra layer.
Know where you are going. Bring along GPS or maps; cell service is limited in some areas.
Respect the trail and other users to make your day, and everyone else's out there, more enjoyable. Uphill riders, pedestrians, and horses have the right of way. Don't be in too much of a hurry to be kind.
Looking for more? Read up on other biking areas here. There are also several fantastic mobile apps that will help you find your way around the trails, including Trailforks, COTREX, and MTB Project. Come take a spin and see why Bike Town USA offers some of the best mountain biking in Colorado.