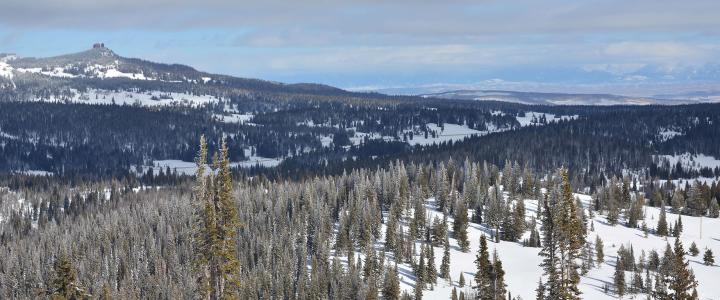 Steamboat Springs is known for its Champagne Powder®. Every day in the winter, people flock from across the globe to experience Steamboat's fluffy, perfect snow by throwing on a pair of skis or a snowboard and cruising down the local mountain. But what if your legs grow weary from repeated rides down Heavenly Daze? Or, what if you aren't someone who knows how to ski or board? What then? Do not fear! There are plenty of other fun snow activities for people like you!
Here are just a few to get you started:
Snowshoeing on Rabbit Ears
Rabbit Ears Pass has plenty of snowshoe hikes that meander through snowy pine trees and open fields with mountain vistas. If you own snowshoes, you can pull over on the West Summit parking lot (on the right-hand side of US-40) on your way into town from 1-70. If you need to get your gear, stop in at Ski Haus, where they rent snowshoes for only $10. Once you get to the parking lot, you really can't go wrong when choosing a trail. One of our favorite routes is West Summit Loop 1A, which is 3.7 miles long and has stunning views of the flat tops. Because most people will cross-country ski this route clockwise, it is smart to travel counterclockwise so that you can see people as they zoom by. In order to have the perfect snowshoe experience, I suggest waiting for a bluebird day, bringing lunch, and taking the time to enjoy the peace that a calm, snow-filled forest can bring. 
Cross Country Skiing at the Steamboat Nordic Center
If you are looking to glide through snow-kissed aspens and experience wide-open views of Sleeping Giant and Mt. Werner, (while burning over 500 calories!) then the Steamboat Nordic Center is the place for you. At the Nordic Center, trails are groomed daily, unless the snow is so great that the track has maintained itself overnight. The ten miles of trails for both beginner and intermediate cross-country skiers, coupled with a fantastic lunch spot, means there is plenty of terrains to spend the entire day at the Center. Plus, the trails are wide, so bring a friend and enjoy a good chat while you ski. 
Dog Sledding with Grizzle-T Dog and Sled Works
Although a bit more pricey than the other options, dog sledding is well worth the trip. Participants rave about how the experience surpasses any other (non-skiing) winter activity. The owners of Grizzle-T, who have been raising Alaskan huskies for over 35 years, state that they really enjoy showing people the "forgotten way of life" that is dog sledding. They even teach customers how to drive the sled as they zoom along a 12.5-mile backcountry trail. Grizzle-T takes the time to make sure its customers have an amazing experience. Of course, it is hard not to when you are surrounded by a gaggle of fun-loving dogs. 
Going to the Howelsen Ice Arena
If the frigid temps can't be prevented by layered jackets, go check out the Howelsen Ice Arena. In the arena, you will still get wintery "feels" without actually feeling like your toes are going to freeze off. This skating rink offers many opportunities for fun: figure skating classes, drop-in hockey, bumper cars, and public skating. In order to have a blast with family or friends, the public skate is priced at $9 for kids and $10 for adults. Make sure to check the calendar to find the right activity for you and your family. 
Tubing at Saddleback Ranch
Just 15 miles outside of Steamboat Springs lies a little western haven called Saddleback Ranch, where the horses and tubers run wild and free. There are plenty of tubing options, from one hour of tubing to all-day adventures where tubing is coupled with a nighttime sleigh ride and dinner. The tuber hill is groomed daily and has a tube tow, so you don't have to drag your "bucking bronco" from the bottom to the top of the hill. Once you tire of tubing (if that is even possible), be sure to check out the new warming hut where tubers can rest and chow down on warm snacks and drinks. When coming from Mt. Werner, there is a free pickup service as long as you call ahead of time. Reservations aren't required for a daytime tube, so saddle up and get to the ranch! 
Snowmobiling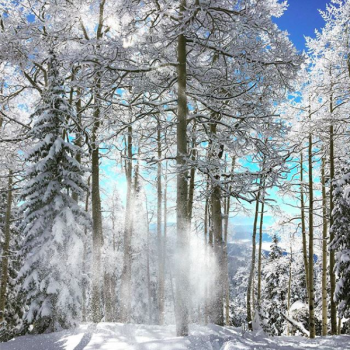 For years, the locals of Steamboat Springs have been exploring the surrounding national forests by snowmobile. However, this fun and exhilarating activity isn't just for people who call themselves native to the area. Thunderstruck Adventures makes snowmobiling accessible to all levels! You may have surfed Steamboat's legendary snow on fat skis or a snowboard, but riding on a snowmobile is a whole different animal. It essentially combines skiing powder with ATVing, creating a unique adventure. If you decide to snowmobile be prepared because even though you are sitting down, it can be quite the workout! You may even enjoy it so much that you want your own, in which case you can head over to Steamboat Powersports to pick one up for yourself. 
Which activity is right for me?
Some of these activities are calmer, some are more family-friendly, and some are perfect for your inner adrenaline junkie. If you have little ones, we would suggest going ice skating or tubing. Kids are notorious for loving anything related to sliding on ice or down a hill. If you are looking for a day of exploration, traipsing through peaceful, snow-covered trees with friends or alone, then you should check out snowshoeing or cross-country skiing. On the other hand, if adventure is what you seek, then try something new and go for a ride with some of the most majestic creatures in Steamboat (either the huskies or a snowmobile!). Remember that no matter what you end up choosing for your alternate snow activity, you are sure to have a fabulous time!
For more ideas and winter activities to choose from, view all of our winter activities here.