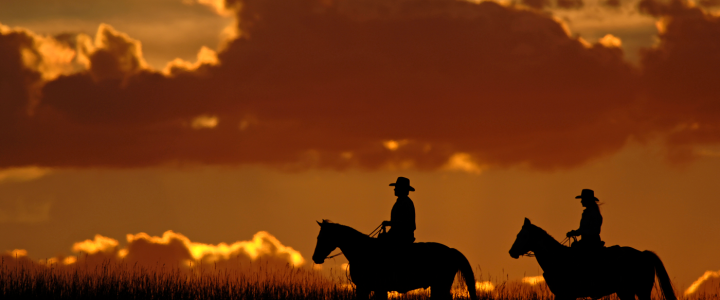 Enjoyed by many visitors and residents for embracing its "Old West" culture and traditions, Steamboat Springs is a place people come to from all over the world to experience the American West. Whether you're here to explore scenic mountain trails and rivers, connect with Colorado heritage and culture through local activities or are simply passing through town, here are a few great ways to tap into your western spirit:  
A western-style hat is a must-have in the wild west, and a custom one is even better. The team at Steamboat Hatter combines traditional methods of hat-making with their eccentric artistic flare to create one-of-a-kind, custom hats that suit each customer's unique style. If you decide to go custom, you can choose your style, color, hat band, and more to perfectly fit your head and personality. Stop in their shop at 111 11th street to check out their wide variety of styles, and you might even get to see the skilled designers at work.
No one place in Steamboat embodies the balance of classic western with modern life better than F.M. Light & Sons. Opened in 1905, this family-run business has been meeting the needs of locals and travelers alike ever since. Whether you're looking for classic western boots and hats to modern western attire, you're sure to find what you're looking for in their downtown store. Have little ones in tow? A trip to the store isn't complete without a picture with Lighting, the fiberglass quarter horse that stands proudly in front of the store.
One of the best ways to experience Northwest Colorado is on the back of a horse. Visitors and locals have been traversing the area on horseback for hundreds of years, and there is no better way to connect with the times of the early settlers. Local outfitters offer trips year-round, so no matter the season you can experience this calm, quiet way of exploring the landscape around Steamboat Springs. Check out Saddleback Ranch or Del's Triangle 3 Ranch for an authentic western experience led by knowledgeable, trusted guides.
With the heart of its operations hosted in a 1901 Queen Anne-style Victorian home, the newly renovated Tread of Pioneers Museum collects, preserves, exhibits, and shares the history and heritage of the Steamboat Springs area. Located in the heart of old town, this is the place to visit if you want to engage with the local and regional history of Native Americans, skiing, agriculture, mining, pioneer settlement, town development, and more.
Looking for some local action? The Steamboat Pro Rodeo Series at Brent Romick Area in downtown Steamboat Springs takes place every Friday and Saturday night from July through August. With the history of the rodeo dating back to the late 1800s, it is surely a great way to connect with Steamboat Springs' humble ranch town beginnings. Come on over and let Western cowboys and cowgirls entertain you with bareback riding, tie-down roping, bull riding, barrel racing, and more.
The list of ways to enjoy the "Wild West" is endless, but these are sure to get you off to the right start. Whether it's gained through a new hat or a new experience, our hope is the western spirit is something you take with you when you go.