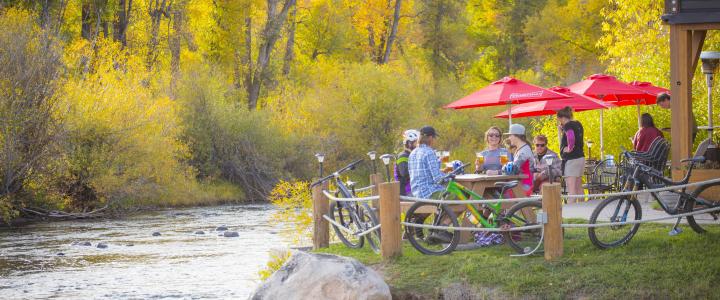 The cool breezes, stunning vistas and glowing colors make fall in Steamboat a magical time to enjoy all your favorite activities.
The Steamboat Chamber staff shares a few of our secrets to soaking up fall in Steamboat Springs.
Nikki Inglis, Public Relations
Mountain biking is at its best in the fall. The cool air and changing leaves around town mean a chance to take in the scenic vistas all while enjoying a high-energy adventure on world-class trails.
A fun, challenging loop from the Mad Creek trailhead takes you up to the historic Mad Barn, winds through a thick grove of aspens, and ends with a moderately technical descent on the startlingly beautiful Red Dirt Trail. View more on our biking trails.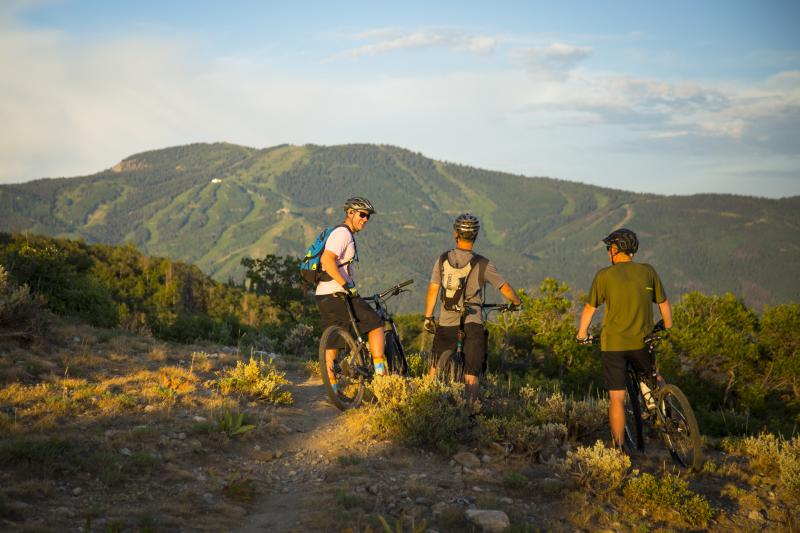 Tom Kern, CEO
Savoring every last drop of fall, I love to get out on the golf course as often as possible before winter arrives. The ranch-like setting of Haymaker Golf Course offers stunning views and a challenging links-style course and Rollingstone Ranch Golf Club is a gem with golden-leaf aspen trees lining many holes. View more on golfing in Steamboat.
Ashley Reed, Admin
I love to get the most out of the beautiful fall days by enjoying even my meals outdoors. Steamboat is filled with patios and decks that offer a relaxing atmosphere for drinks, apps, or a hearty, comforting meal. I love enjoying the views from the rooftop deck at Salt and Lime with a margarita in hand, or a warm breakfast at Creekside Café with the soothing sounds of Soda Creek bubbling by. 
Sara Tlamka, Membership
The Strawberry Park Hot Springs are a must-see any time of year, but there's nothing quite like a soak in the fall, nestled among a golden aspen grove in the late afternoon hours.
It's one of the most spectacular spots in the world to catch a sunset or a moon-rise, and is the perfect date-night destination. View more information on our hot springs.
Morgan McDougald, Web
Fall is a photographer's dream. The best way to capture Steamboat's golden season is to take a scenic drive up Buffalo Pass – 4-wheel drive or high clearance recommended – to the quiet, remote aspen groves eight miles up at the Continental Divide.
Just steps away from my car I can capture the changing leaves and local wildlife with my camera, while taking in all of the sights, sounds and smells of autumn.