Events and Activities Honor Steamboat's Unique Heritage & Lifestyle
Nothing is more quintessentially Steamboat than the annual Winter Carnival event in February. This five-day event celebrates our community's unique western heritage and relentless enthusiasm for snow sports. Originally created by the Steamboat Springs Winter Sports Club more than 100 years ago to help residents combat cabin fever, the Winter Carnival still brings residents out of the woodwork for several days of truly unique events in downtown Steamboat. The 2020 Winter Carnival, Light Up the Sky, will take place February 5-9th.
The History of Winter Carnival
The first Winter Carnival was hosted in 1914 on Woodchuck Hill (the current location of the Colorado Mountain College campus) and consisted of ski jumping and cross-country ski races. The 2nd Annual Winter Carnival added more festival-style street events that we still enjoy today. Steamboat resident, Claudis Banks, began the tradition of the Lighted Man in 1936. His original suit weighed more than 100 pounds and featured more than 200 lights! The Lighted Man remains one of the most beloved winter events in Steamboat.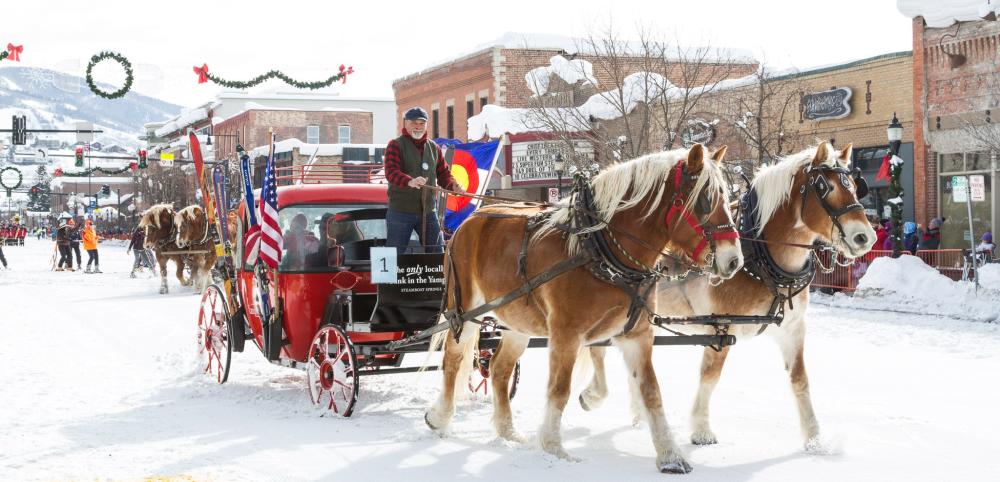 Winter Carnival Events & Traditions
On Saturday and Sunday, more than 100 volunteers and city officials work together to fill Steamboat's main street with snow for a variety of Street Events. Participants arrive with skis, snowboards, shovels, and horses for races, jumping, and more. The Donkey Jump and Shovel Race are community favorites, with adults and kids being pulled on skis and snow shovels behind horses. The Night Extravaganza on Saturday features illuminated skiers racing down Howelsen Hill, the Lighted Man, and fireworks. This year, a Guinness Book of World Records adjudicator will be present, as local resident Tim Borden attempts to set another firework world record with a firework weighing more than 1 ton! On Sunday spectators can enjoy another morning of street races and the grand finale parade. For a full schedule of events, please visit here.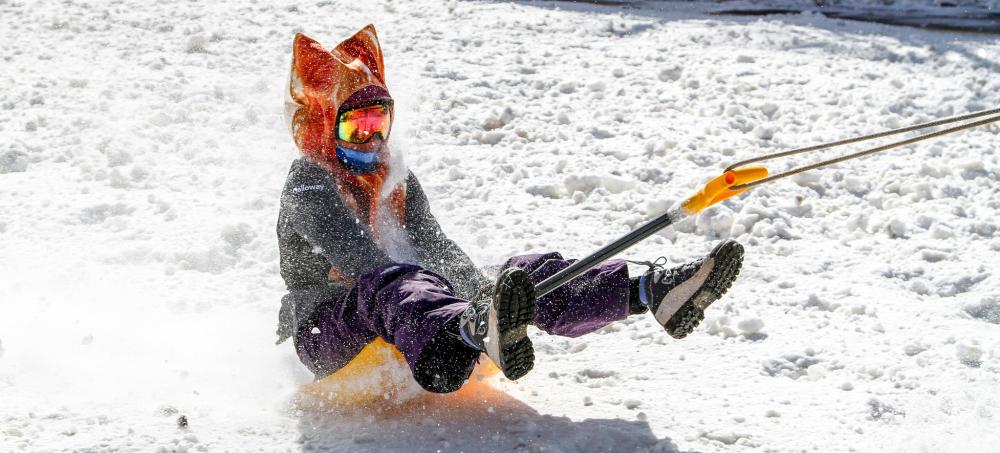 Light Up The Night
The poster for the 2020 Winter Carnival was designed by local glass artist, Jennifer Baker. Baker originally sketched the artwork for the poster on paper, and then created the final piece out of custom cut and fused glass pieces. The piece is called "Light Up The Night" and will be auctioned off as a benefit for the Steamboat Springs Winter Sports Club. The artwork shows the fireworks reigning down over Howelsen Hill and the ski jump landing. Winter Carnival posters can be purchased at  wintercarnivalsteamboat.com.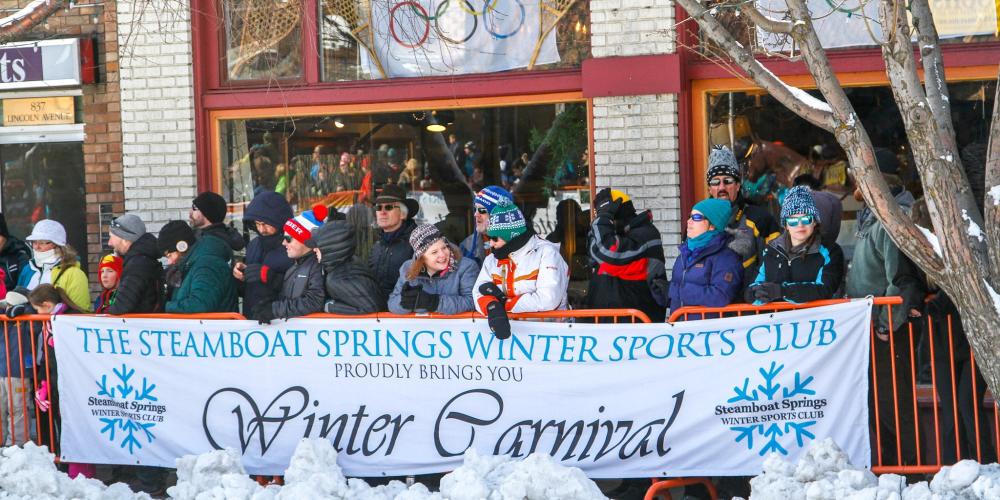 Make the Perfect Plans
Ready to enjoy the Winter Carnival like a pro? Buy your spectator button in advance for valid entry to all events. Dress in multiple warm layers, including wool socks, a hat, and gloves so you can comfortably enjoy your experience, no matter the weather. Pop into any one of downtown Steamboat's restaurants or coffee shops to warm up, grab a snack, or enjoy a meal. Saturday night enjoy dinner on Yampa Street for a view of the Lighted Man and fireworks display. On Sunday, get brunch downtown after the parade and enjoy Ski Free Sundays at Howelsen Hill.