Steamboat Winter Carnival
February 3 - 7, 2021*
*Tentative dates. Please check back for information on the upcoming 2021 Winter Carnival. With the uncertainty of COVID-19, we are hopeful that we can host the Winter Carnival and will have more details soon.
This celebration includes a variety of events that embrace Steamboat's western heritage and highlight our tradition of winter sports.
This unique event includes everything from kids pulled on skis behind horses down a snow-covered main street, to the Lighted Man at the Night Show Extravaganza who's battery-powered suit weighs 70 pounds.
Celebrate 107 Years of Winter Tradition in Steamboat Springs
Mention a parade and fireworks and people say that's typical. Talk about adults on shovels being pulled down main street behind horses or skiers jumping through fiery hoops and people stop to listen. In Steamboat Springs we do things differently, and with the oldest, continuous Winter Carnival west of the Mississippi, this event is certainly no different.
About the Winter Carnival
Winter Carnival was started by the Steamboat Springs Winter Sports Club (SSWSC) as a way to help residents cope with cabin fever during the height of the Colorado winter season.
The event continues to this day as a way to celebrate winter; as a reason for neighbors to gather; and as an opportunity for everyone to experience a piece of Ski Town USA® history and tradition.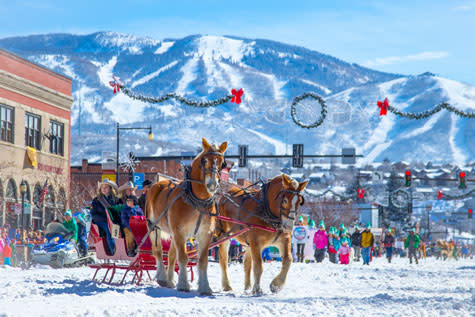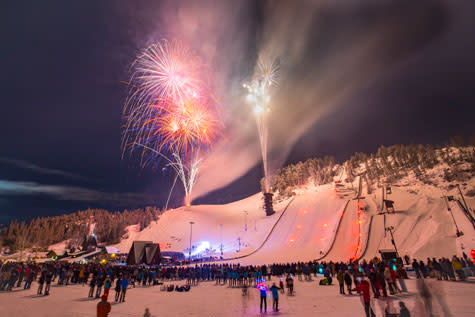 Schedule of Events
Saturday and Sunday highlight the event with the Winter Carnival Street Events and the Night Show Extravaganza. The Street Events feature local Steamboat Springs Winter Sports Club kids being pulled on skis behind horses right down main street in downtown Steamboat. A crowd favorite, the "Donkey Jump", sends kids soaring off a jump for up to 40, or even 50 feet.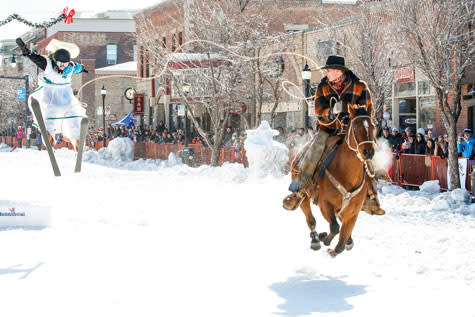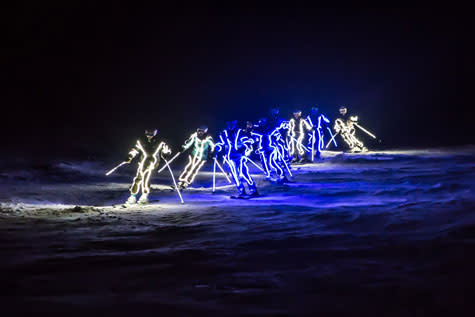 On Saturday, the Night Extravaganza on Howelsen Hill is lit up with colors as Winter Sports Club athletes flip through the air off the jumps while others descend down the mountain leaving a red glow outlining perfect ski turns.
The last down the mountain is always the twinkle light wrapped Lighted Man with roman candles shooting out of his backpack, which makes for a spectacular opening act for the fireworks show to close out the night.
See below for more details on the street events and full event schedule for Winter Carnival.
Winter Carnival Registration
Registration for the 2020 Street Events will take place online, and will open January 30, at 10 a.m. (MST).
Event Ticketing
A Winter Carnival button is required for entry and spectating at all events. Some events require tickets as well. Please be sure to check the schedule for details.
Winter Carnival buttons are for purchase at the following local businesses: Steamboat Springs Winter Sports Club - Howelsen Hill Lodge, Yampa Valley Bank, City Offices, Steamboat Springs Chamber, Steamboat Art Museum, Info Center at Steamboat Resort, UCHealth Yampa Valley Medical Center, Resort Group, Sotheby's International Realty, Wyndham Vacation, and Olsen Development. Please note that buttons can only be purchased with cash or check. Buttons purchased by credit card must be purchased at the Winter Sports Club office. Show your support of the Winter Carnival and the Steamboat Springs Winter Sports Club by making your purchase.
Plan Your Winter Carnival Vacation
Peruse our suggested itinerary for ideas on how to plan your Winter Carnival vacation with your family and friends. Let us guide you through the Winter Carnival event schedule, as well as experiencing all the winter activities Steamboat has to enjoy!
Winter Carnival Video Playlist
View our Winter Carnival video playlist below for an inside look at the amazing events that take place during the carnival, including an interview with Leif Howelsen, son of Carl Howelsen (founder of the Steamboat Springs Winter Carnival), that shows us the history and tradition behind this wonderful event.
Parade Application
The Diamond Hitch Parade will be held on Sunday, February 9, 2020 at approximately 11:30 a.m., immediately following the Street Events on Lincoln Ave. Participants will line up at 11:00 a.m. Anyone is welcome to enter the parade. Register Here
Volunteer and Sponsor
Find information for options on how you or your business can be a part of this unique and traditional Steamboat winter event. For more on volunteering, please contact Sarah Konopka, 970-875-7009.
Sponsorship
With the aim of maximizing benefits for sponsorships and streamlining the process for event partners, the Chamber believes that combining sponsorship for both the Winter Carnival Night Extravaganza and Street Events will provide our members and the local business community with increased visibility, and a more streamlined process to become a sponsor of Winter Carnival. Our events team will partner with the Steamboat Springs Winter Sports Club and will continue to produce the classic downtown Street Events on Saturday and Sunday, while the SSWSC will take the reins of managing sponsorship for the entire 2020 Winter Carnival. For more sponsorship information please contact Ellen Campbell, Director of Development for the SSWSC at (970) 879-0695, ext. 115 or ecampbell@sswsc.org.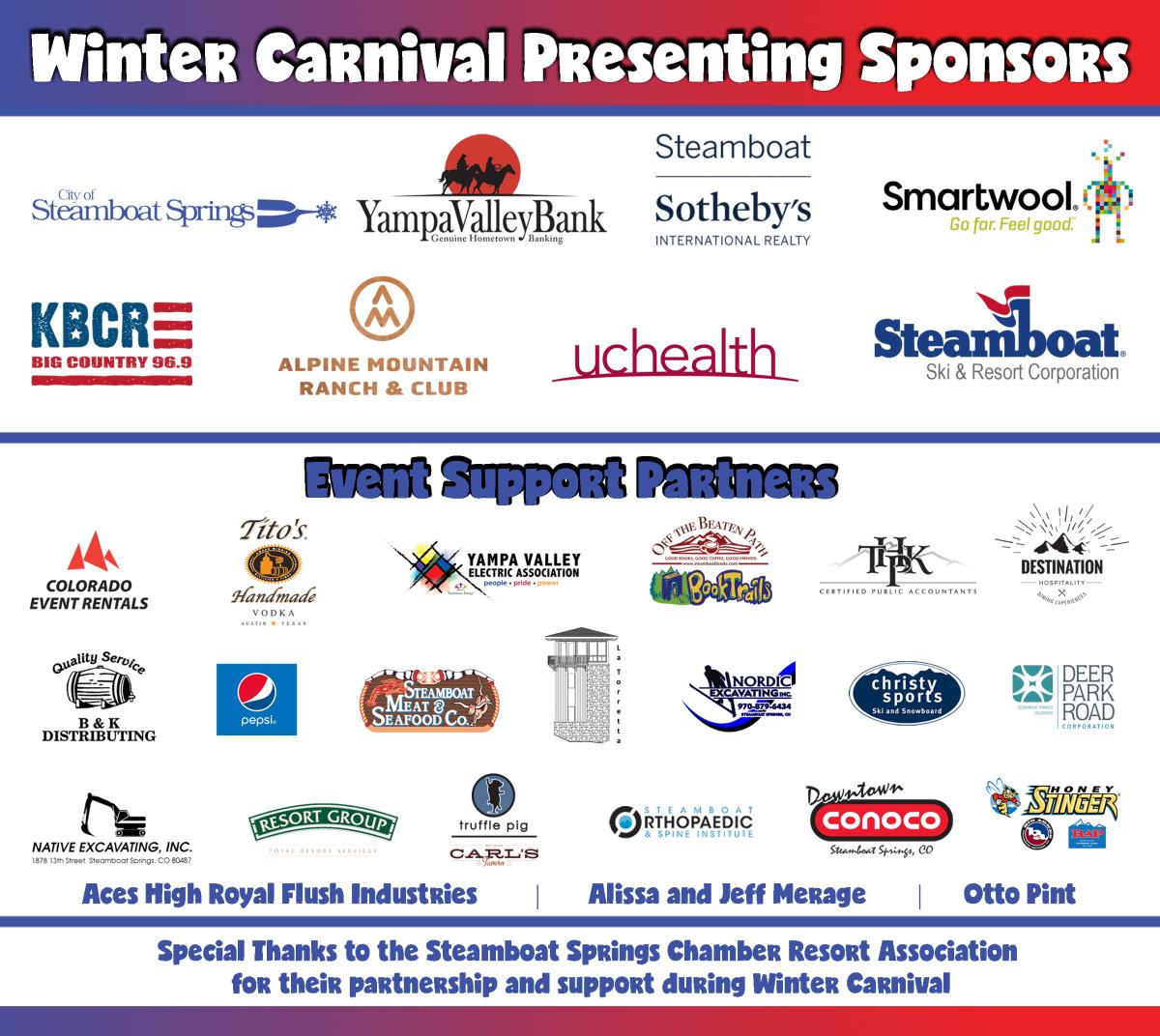 Thank You to Our Partners