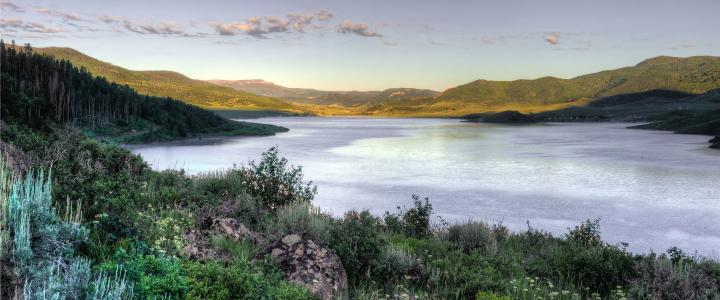 When exploring what Colorado vacation to plan this year, consider traveling to Steamboat Springs. Surrounded by soaring mountains and grassy valleys, Steamboat Springs, Colorado, is a hub for adventure and natural wonders. There's no better way to explore Steamboat's corner of heaven than to head out to its four state parks—Pearl Lake, Steamboat Lake, Stagecoach, and Yampa River. Each park has its own character and offers plenty of outdoor experiences, including angling, birdwatching, boating, camping, and hiking, as well as rugged mountain scenery. So whether you want to climb a peak, catch a trophy trout, spot nesting ospreys, or paddle a kayak along a rocky shoreline, make a plan for great adventures at these Colorado state parks near Steamboat. Here's how to do them right. 
1. Pearl Lake State Park
Glistening Pearl Lake is nestled in a wooded valley below Lester Mountain northwest of Steamboat Springs. The 105-acre lake is the centerpiece of Pearl Lake State Park, with superb fly fishing, wakeless boating, lakeside camping, and hiking along the western shoreline. Designated a Gold Medal lake, Pearl Lake is renowned for its feisty cutthroat trout population, along with brown and brook trout and arctic grayling. (Fishing is allowed with flies or artificial lures only, with a two-fish bag limit.) Hand-paddled watercraft, including canoes, kayaks, and standup paddle-boards, find calm water surrounded by rounded mountains. Get on the lake by renting a paddleboard, kayak, or canoe at the boat ramp.
Several trails explore the woods and meadows at Pearl Lake State Park. Take a hike on the Pearl Lake Connection Trail from the campground to the lake's dam at its south end. Return through open forest along the western shore for a 1.2-mile hike. Watch for wildlife, including herds of mule deer, porcupines, beavers, muskrats, and more than 200 bird species. Hikers occasionally spot moose browsing in marshy areas and majestic sandhill cranes nesting in willows. After a day of outdoor fun, head back to the park's 35-site campground for a campfire, s'mores, and starry skies. If you don't want to rough it, bed down in a yurt. The campground is popular, so the park recommends making reservations at ReserveAmerica.com.
Pearl Lake State Park is gorgeous in the summer with wildflower-covered meadows and in autumn when quaking aspens paint a golden tapestry across the mountainsides. The park is also open all winter when more than 300 inches of fluffy snow blankets the frozen lake and mountains. While the park facilities are closed, the area is open for snowshoeing, cross-country skiing, snowmobiling, and ice fishing.
2. Steamboat Lake State Park
Pyramid-shaped Hahns Peak dominates the northern skyline of Steamboat Lake State Park and its spacious 1,053-acre lake northwest of Steamboat Springs. Surrounded by eye-candy scenery, Steamboat Lake has been named the favorite among Colorado State Park visitors, and with excellent fishing, boating, sailing, swimming, stand-up paddleboarding, canoeing, hiking, and camping, it's no surprise why. Steamboat Lake, one of three Colorado lakes designated a Gold Medal fishery, offers plentiful trout, some more than 20 inches long, in its cold water. Cast a line for brook, rainbow, brown, and cutthroat trout from either the shoreline or a boat.
The lake, with areas zoned for both wakeless and wake boats, boasts ideal conditions for high-altitude sailing, powerboats towing water skiers, and jet skiing, while kayaks and canoes ply still waters in coves and inlets. It's also one of the best stand-up paddling sites in Colorado—just be sure to stay safe by watching for bad weather and afternoon wind. Rent a fishing boat, a 22-foot pontoon boat, canoes, kayaks, and stand-up paddleboards at the Steamboat Lake Marina.
Landlubbers can hit three trails for easy day hikes. The mile-long Tombstone Nature Trail loops through the forest near the visitor center; the Willow Creek Trail traverses wildflower-filled meadows between the marina and Sage Flats, and the Poverty Bar Trail interprets the area's rich mining history. Ambitious hikers trek up a nearby 1.4-mile trail to the rocky summit of 10,839-foot Hahns Peak and forever views across Steamboat country. The park is a camper's paradise with 188 campsites in two campgrounds as well as 10 cabins. Make reservations early, especially for the lakeside sites on Bridge Island. Steamboat Lake State Park also attracts winter recreationists with sled-dog racing, ice fishing, snowmobiling, snowshoeing and cross-country skiing. Stay warm in heated cabins or campsites with electrical hookups on chilly winter nights.
3. Stagecoach State Park
Stagecoach State Park and its 771-acre reservoir sprawl across a mountain valley 17 miles south of Steamboat Springs. Stagecoach Reservoir, formed by a dam on the upper Yampa River, is a beautiful spot with placid water reflecting mountains and fluffy white clouds. The off-the-beaten-track park offers not only plenty of recreation for water enthusiasts but also trails for hiking and mountain biking, wildlife watching, and some of Colorado's best fly fishing on the lake and in the tailwater below the dam. Avid anglers catch trophy-sized rainbow trout, averaging 14 to 18 inches long, and state-record northern pike up to 46 inches long. Deep pools in the half-mile-long Yampa River tailwater make for an ideal trout habitat with cold water gushing from the dam and plentiful aquatic insects. Toss a fly out for brook and brown trout as well as the huge rainbows. The tailwater river section is catch-and-release only.
The shark-shaped reservoir, evenly divided into wake and wakeless sectors, is perfect for boating with a variety of watercraft, including pontoon boats, jet skis, power boats, sailboats, canoes, and stand-up paddleboards. Rent boats and essential gear at the Stagecoach Marina. A sandy beach and swimming area—perfect for hot summer afternoons—is tucked into a shallow cove on the north lake shore. Stagecoach offers six trails for hikers, mountain bikers, and equestrians. The Overlook and Lakeview Trails on the north side of the lake are fun hikes, while the longer Elk Run Trail, following the south coast, offers wide views and plenty of quiet. Keep an eye out for animals, including elk, mule deer, beaver, red fox, and jackrabbits on the sagebrush hills. Birders can discover more than 200 species of waterfowl and shorebirds in the wetland habitat at the far western end of the reservoir. Hike the Wetlands Trail with two observation blinds to spot birds and animals. Stagecoach is open all winter for ice fishing, snowmobiling, and cross-country skiing. The park office loans out ice fishing gear and snowshoes—for free!—all winter.
4. Yampa River State Park
Yampa River State Park stretches along the undammed Yampa River for 134 miles from west of Steamboat Springs to the eastern border of Dinosaur National Monument. The undammed Yampa, one of the last free-flowing rivers in the United States, twists through canyons and sagebrush-covered hills in Colorado's unpopulated northwestern quarter. Thirteen points in the state park provide river access for anglers, rafters, kayakers, birders, naturalists, and hikers. The best areas for spectacular vistas and water sports are Juniper Canyon, Duffy Mountain, and Cross Mountain Canyon, a sheer gorge sliced through a mountain. The park also features a large campground near Hayden and four primitive campgrounds along the Yampa, as well as scattered picnic areas. North of the Yampa is Elkhead Reservoir, a detached unit of the park.
The Yampa River offers some of Colorado's iconic river runs for rafts and kayaks, with dramatic scenery and flatwater interrupted by small rapids. Do-it-yourself boaters and guided raft trips put in the water at designated boat launches for wet adventures. Isolated Juniper Canyon is the best trip, with Class III and IV rapids, while Little Yampa Canyon offers excellent views from wide river bends. The difficulty is always dependent on the river flow, ranging from 500 cubic feet per second to over 13,000 during spring runoff. Local rafting outfitters offer river trips for every budget and time frame. Anglers visit the state park for both warm-water and cold-water fish. The upper Yampa is perfect for trout, northern pike, and smallmouth bass, while the warm lower Yampa offers pike, bass, and catfish. There are more than 12 miles of trails thread along the river in the state park. Ask for hiking suggestions, and take weekend nature programs at the park visitor near Hayden.
There are endless places to visit in Colorado - but Steamboat Springs encompasses so much of the state's natural beauty in these four state parks alone. A Colorado vacation simply isn't complete without a visit to Steamboat Springs. Adventure is waiting for you!